About Us
Kanopi emerged from a love of treehouses.
Treehouses are amazing structures in the sky. Incredible works of craftsmanship and creativity that exist in a larger context of their surroundings. Kanopi vowed to build a web agency upon that same foundation: pairing creative solutions with sustainable and strong architecture, while keeping the client's entire ecosystem in mind. Read more about the history of Kanopi and the origin of our name.
Why Kanopi?
Women-run & inclusive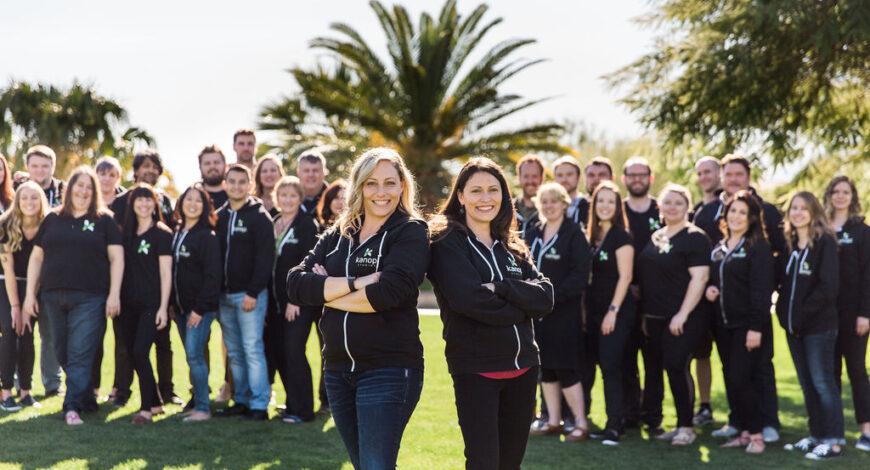 Women led, family owned, & more inclusive than most.
Anne started Kanopi in 2013 with her sister Jill. Under their leadership, it's grown into a world-class website strategy, design, development, and support agency with 75+ employees . . . and counting.
But besides being woman-owned and led, we are more inclusive than most agencies in the tech space (though we can always do better). Some stats as of January 2023:
86% of leadership are female or non-binary
48% of all employees are female or non-binary
51% of employees are over the age of 40
25% are persons of color
5% are people who are disabled
11% identify as LGBTQ+
In a year-end survey, conducted in 2022, our employees reported a 98.5% happiness and satisfaction rating – our retention rate reflects that at 93%. Employee happiness is crucial for us as it translates directly into great client work.
Mission-focused clients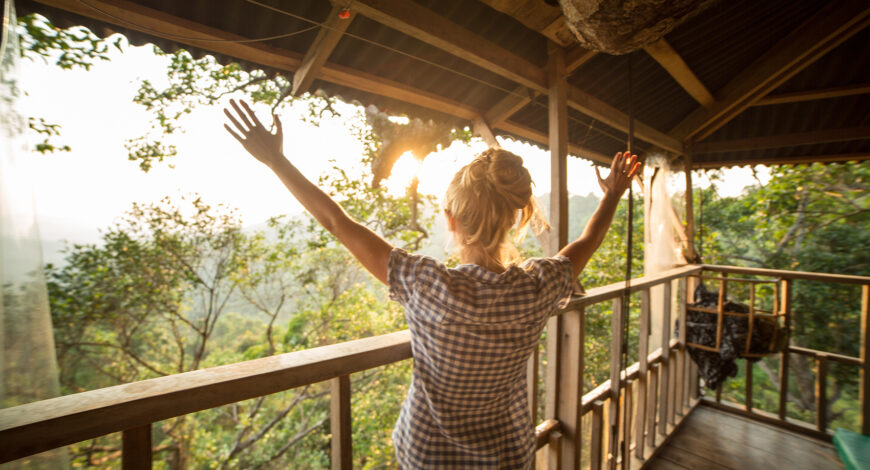 Our clients are good for people and the planet.
Kanopi wants to do good by and for the world, so our client base is made up almost exclusively of organizations that have a mission that creates and supports positive change. This means we are heavily concentrated in non-profit work and higher education, in addition to do-gooder corporate and healthcare clients.
We won't work for any organization that deals in oil, gas, weapons, or plastics (unless it's recycling or sustainability-related). We also don't work for religious organizations, start-ups, or anyone who wants a site that's little more than an online brochure.
Our ideal client understands that their website is an investment towards the long-term growth and evolution of their digital presence as it supports their organization. As we like to say, the day your site launches is the first day of your website, as websites are constantly evolving. So we prefer to work with clients who are invested in long-term growth and quality relationships.
We design, build & support websites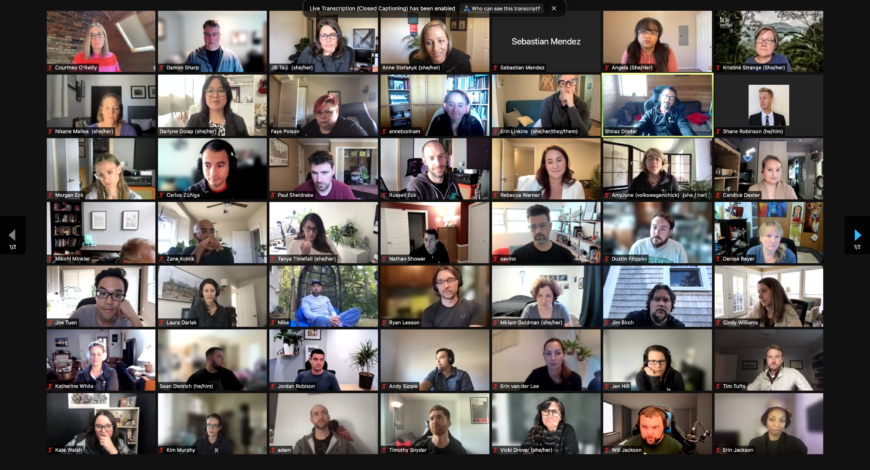 We can support your site at any stage of its lifecycle.
One of Kanopi's superpowers is that we have mastered a holistic approach to websites. We don't simply build a site for you and walk away after launch.
Our approach to building beautiful sites is about adaptive execution. We are nimble from the start, breaking down the process into small, manageable pieces in order to make incremental progress. It also means we can pivot quickly as priorities change, without wasting time or money.
We are also able to jump in at any phase. Need a new site from scratch? We can do that. Need just one portion of the process? We can do that too. Need support post-launch? We've got this. Basically, we understand that websites are organic and constantly evolving. So we empower you at any stage of your site's lifecycle so you can grow your brand with confidence.
Our support is unmatched
You'll get the White Glove treatment.
Many agencies offer support after launch, but nobody does it quite like Kanopi. While any agency will manage the standard bug fixing and security upgrades, we take it a lot further by offering strategy and design as well as development in support.
We also offer Website Growth Plans, where we craft smaller projects for smaller budgets that create huge impacts for clients. This can be anything from a specific accessibility need, to the design of a specific landing page to create a conversion, or a specific feature that needs developing.
Another rarity? We also are great at touching other people's code. It's tough to find an agency that will take on a site built by someone else, but our expertise in doing so makes the process seamless.
In short: whether you've been with Kanopi for a while or you are new to us, we can jump into your site at any point in its lifecycle and make it work better for you.
Accessibility is imperative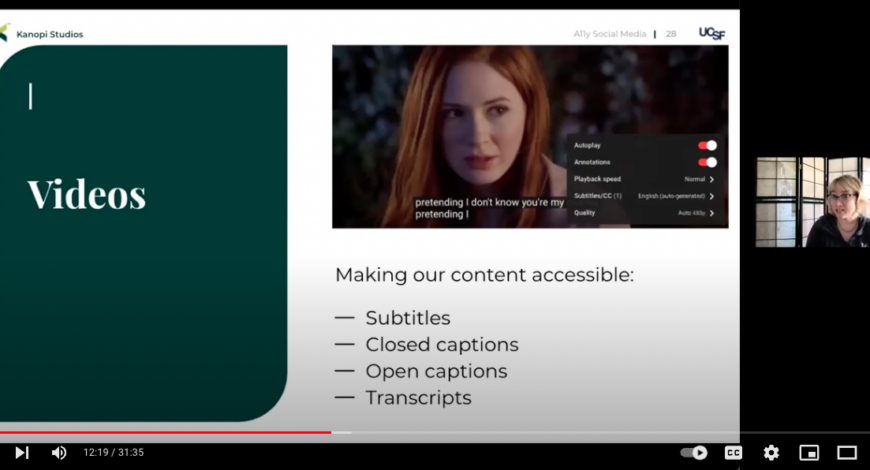 The internet should be accessible to all. Period.
As part of our commitment to diversity and inclusion, we believe that sites should be accessible for all users. So we bake accessibility practices into every step of our process, from initial design through launch.
We are also experts on accessibility, with several team members with IAAP certifications. Our staff also give frequent presentations and write about accessibility and inclusion.
Every site we build or support is a minimum of AA WCAG compliant. So you can be sure that your site will meet the proper standards. We even have one client site that's AAA compliant.
Design matters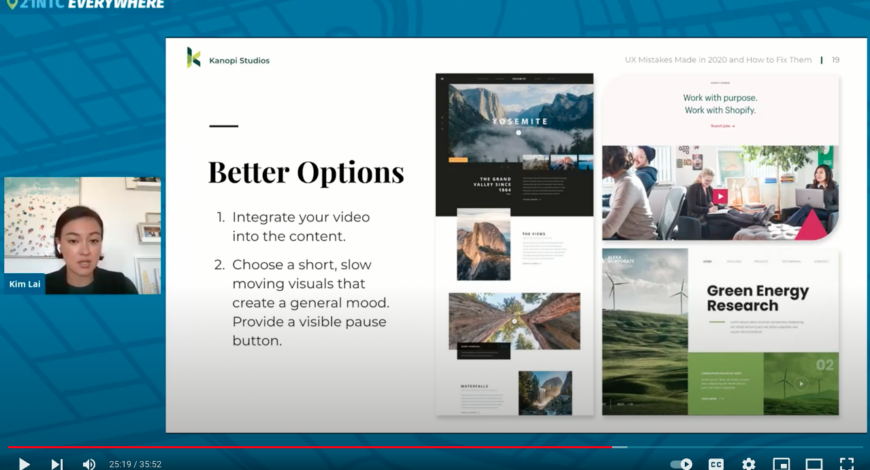 Supporting humans on both sides of the screen.
Design is critical to our practice. We are always looking for new ways to make a site visually engaging while also preserving a superior user experience and meeting business goals.
We never use templates and we don't succumb to trends. Every project begins with strategy work so we can understand your users, their needs, and how to best align them with your goals. That's the user experience part.
Then our designers create an artistic expression of your brand; they'll visually fuse the initial strategy and user experience to the functionality that will be fulfilled during development.
We understand that data is critical, so all our designs are informed by data. But we never lose sight of what's appealing to the humans who use it. Our designs are purposeful as we bring your brand vision to life.
We're values-driven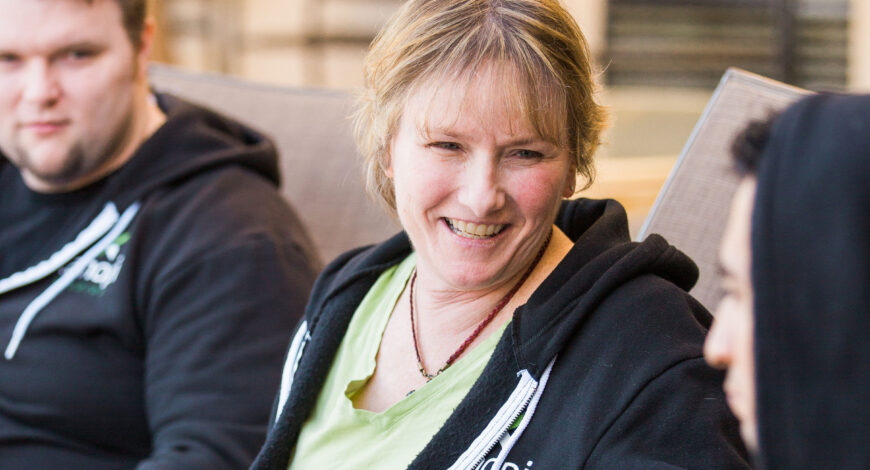 Our seven values guide our work.
Our values guide us so we can work in harmony with each other and with you to create great outcomes.
We value human connection. We are #BetterTogether.
We value being #Nimble and helpful.
We value #Clarity.
We value that when something is complex, we #OwnIt.
We value contributing #Trust daily.
We value supporting our #Community.
We value expressing #Gratitude.
We give back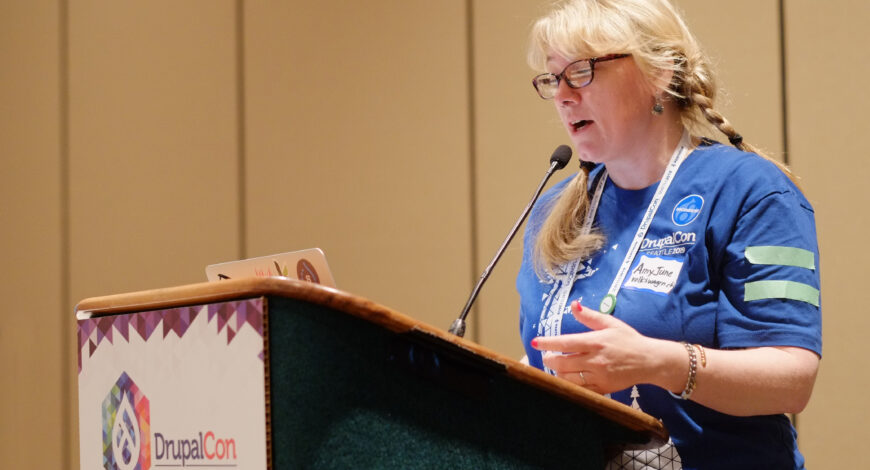 We donate time, knowledge, and money.
Because community is one of our values, we believe in giving back time (and money) to enrich and support our open-source community. We offer 4 hours per month on Kanopi for employees to contribute toward the Drupal and/or WordPress communities, or mentoring in another capacity during work hours. If employees contribute in their spare time, we have a program to reward that too.
In addition to donating time, we are also a founding sponsor for Discover Drupal, the Drupal Association's new initiative to unlock opportunities for people who have been underrepresented in the open-source community.
Lastly, we give financially every year to Code 2040, in addition to other charitable organizations.