Carlos Zúñiga
Drupal Technical Lead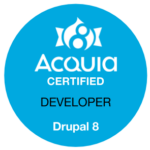 Carlos is a Tech Lead and web developer with a decade of experience working with Drupal. As one of Kanopi's main engineers working in support, he specializes in Drupal theming but also develops custom Drupal modules.
Carlos enjoys the unique challenge of handling support requests: it allows him to be creative as he endeavors to implement the right solutions over the foundation on which the site was originally built. He has to adapt to the specifics of each site (modules, libraries, themes) and still come up with the best solution in a clean and time efficient manner.
His daily activities vary widely as every site is different and comes with its own challenge. Tasks range from fixing small bugs, to implementing new features, or building new sections on a site, fixing errors, applying updates and/or building new sections on their sites to improve the user experience — anything a site requires to become or keep being an important part of a client's business.
Carlos also appreciates getting to work with with an incredibly talented team full of nice people that he really enjoys having around, even if only virtually.
Outside of work, Carlos loves drumming, working out, going to the movie theater, walking and playing with his dog, reading, and listening to audiobooks.
---
Skills
Drupal module development and theming, HTML5, CSS3, Sass, LESS, PHP, JavaScript / jQuery, MySQL, Bootstrap, ZURB Foundation, Responsive theme development, Image editing (GIMP / Photoshop)
Favorite Game
Dungeons & Dragons
Favorite Places
Guadalajara!. Vancouver. San Francisco. The beach, any beach. Brussels
Did you know?
Carlos graduated at the top of his class.