Jay Darnell
Drupal Technical Lead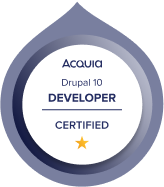 Jay has been building websites since 1995 — in the days when they were still handmade from parchment — and has been working with Drupal since 2009. As our Drupal tech lead, he's fond of crafting technical solutions and ensuring all aspects of the site work together in harmony. He describes the best part of his job as helping clients use technology for the benefit of their businesses, their users, and ultimately the greater good.
---
Skills
Client communications, Drupal 7/10 module development and theming, PHP, Javascript/jQuery, HTML5, CSS3, Sass, MySQL.
Favorite game
Dungeons & Dragons. We had a feeling about this when we noticed the job application Jay submitted was actually a D&D character sheet. Incidentally, he's a Level 14 Tech Lead with a +5 Drupal attack bonus. And his true name is Jaydarn The Wise.
Favorite places
Wellington, New Zealand, Bruce Peninsula National Park, Ontario, board game cafes and used book stores, and long road trips with his family. We reckon this must be because Jay possesses that extremely rare human gene that makes him deaf to the phrase, "Are we there yet?"
Did you know? 
Jay is a published illustrator. In fact, if we had a physical office space, we would definitely tap him to paint the cool mural in the lobby.