All great nonprofit websites empower users to join an organization on their journey as they make a real difference in the world, inviting donors, volunteers, staff, and other site visitors to become part of the solution for the issue the nonprofit is working to solve.
These sites should provide straightforward steps that guide the user along their support pathway and steer them towards reaching the nonprofit's goals — all while weaving the visitor into their stories of success.
In addition, great nonprofit websites must overcome common challenges. They need to optimize the omnichannel experience, speak to an audience with generational differences, and stay current with world events and fundraising campaigns.
We understand these challenges.
Kanopi Studios partners with several nonprofits to develop, redesign, and continuously support their websites. These partnerships give us a solid grasp of what makes an excellent nonprofit website.
Let's take a look at the anatomy of a winning nonprofit site. We also offer best practice tips to help you do more than meet metrics. We want to help you advance your organization's mission by exploring what makes up an impactful nonprofit online presence. Get inspired by what we think are the top 20 nonprofit websites and why.
Table of contents:
The Anatomy of a Winning Nonprofit Website
1. Rooted in User Research
The best nonprofit websites know who their users are and what motivates them.
Successful nonprofit marketing teams ask questions and explore how their donors behave on a regular basis to identify changing trends.
They break down barriers that exist in the donation consideration process.
2. Tells a story of strength and hope
Users want to be a part of a winning team and know that their time and donations will make a difference. Focusing on successes allows the user to envision the power of their participation.
Winning sites use a narrative that appeals on an emotional level as well as a practical one.
Stories of building others up both resonate and empower donors to want to be a part of an encouraging journey.
3. Provides Seamless UX
The best nonprofit sites have a content strategy that meets their user's needs, considering every touchpoint in their user's journey and how offline moments connect with online ones.
They understand the generational differences of their users and provide tailored UX that reflects this, from flexible giving options to coordinated online and print experiences.
4. It's Mobile & Sociable
Great nonprofit sites provide paired down mobile versions that respect bandwidth.
Donation and payment processes are a breeze on a phone or tablet, with more people giving on the go.
Signing up for events from the palm of your hand is straightforward, and it's easy to share with friends, family, and colleagues with the touch of a button.
Best Practices for Your Nonprofit Website
1. Place donors at the center of your success story
From mission statements and CTAs to donation pages, integrate donors into the story you tell online.
Make your users feel good; inspire them through uplifting and positive content.
Make it clear how their support changes things for the better; use tangible examples where possible.
2. Make it easy to donate
Keep design simple and uncluttered.
Use clear and basic words and a consistent tone of voice.
Focus on the user journey and explore how your users might navigate to and through your site in order to donate.
Make it easy for your users to share when they donate so they can also encourage and empower others.
3. Ensure your site is accessible
When using multimedia like video, images, and quotes, be sure to include alternative text for people using screen-readers.
Make sure all of your content can be read easily by following color contrast standards.
Check out our 4 best tools and technologies to ensure your site meets accessibility standards.
4. Take a continuous improvement approach
Continuously update content, from events calendars to social media feeds, to stay relevant and weed out content that doesn't support your mission.
Make sure to update your CMS and plugins when new versions come out to avoid any unintended downtime.
Is your website positioned for long term growth? Regularly review how your site is doing at helping you reach your goals.
Your nonprofit website should support you as your mission and needs grow. Download our How to Make Your Site Last eBook to learn more.
Additional Resources:
The 20 Best Nonprofit Websites
In Kanopi's eyes and in no particular order, here are the 20 best nonprofit websites:
1. The Ronald McDonald House
RMHC's powerful hero image invites donors into the world of someone directly impacted by donor support, with a compelling CTA to read Daniel's story.
Their red donate button with a heart icon catches the attention of site visitors.
The RMHC shares an engaging video filled with real families on their 'Get Involved' page to empower volunteers.
2. Girls Who Code
What we like about Girls Who Code's website design
Girls Who Code's inspiring mission statement takes center stage on their homepage hero, supported with imagery of girls they represent.
Their site includes vibrant and bold colors that meet accessibility contrast level requirements.
Their dedicated donation page provides a simple FAQ explaining how donations are spent and how to sponsor Girls Who Code if you're a company.
3. Golden Gate National Parks Conservancy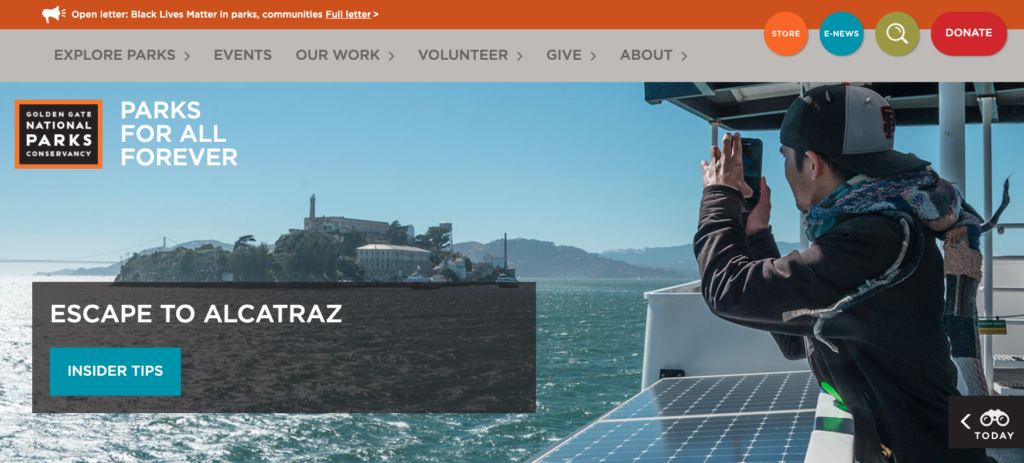 As part of Kanopi's continuous website improvement program, Golden Gate National Parks ongoing improvements have resulted in a 31% decrease in bounce rate.
Their embedded searchable directory within the homepage makes it easy for users to look up the park they're interested in quickly.
They have clear user pathways for park visitors, volunteers, and donors from the homepage.
4. Habitat for Humanity
Habitat for Humanity engages site visitors with an uplifting story of building strength, stability, and self-reliance through shelter, throughout the site.
The 'Match my gift' CTA with nearing deadline invites donors to act right off the homepage.
A static menu with quick links to their Facebook, Twitter, YouTube, Pinterest, and Instagram accounts alongside descriptive search functionality and a prominent donate button make it easy to connect with them.
5. Doctors Without Borders
Doctors Without Borders keeps visitors informed with up-to-date news and events, including a link to live online discussion about mental health from their homepage hero.
An engaging static infographic on where donor money goes appears in the footer on every page of their site.
Linked images and form labels include alternative text, making their site accessible for as many people as possible.
6. Equal Opportunity Community Initiative
The EOCI's branded online donation page provides a seamless giving experience.
They have quick links to essential resources, providing different users with a clear starting point as they begin their journey through the site.
Engaging photos of the organization in action within the homepage helps visually tell the success story of the EOCI.
7. David Suzuki Foundation
The DSF website is genuinely accessible, with concise and accurate alternative text for images on every page of their site.
Their straightforward user journeys for visitors who want to take action from the homepage, whether they wish to act online, locally, or in their own backyard.
The David Suzuki Foundation provides several flexible and innovative ways to give, including monthly and one-time donations, donating stocks, or virtual gifts.
8. Boys & Girls Clubs of America
The Boys & Girls Clubs of America provides a clear user journey starting point right from their homepage hero, with a drop-down menu for parents, teens, supporters, and educators.
They include donors in the success story they tell online, explaining how every donation helps get more kids on the road to a greater future.
Their up-to-date stories section lets donors hear directly from the people whose lives have been impacted by the Boys & Girls Clubs of America.
9. The Salvation Army USA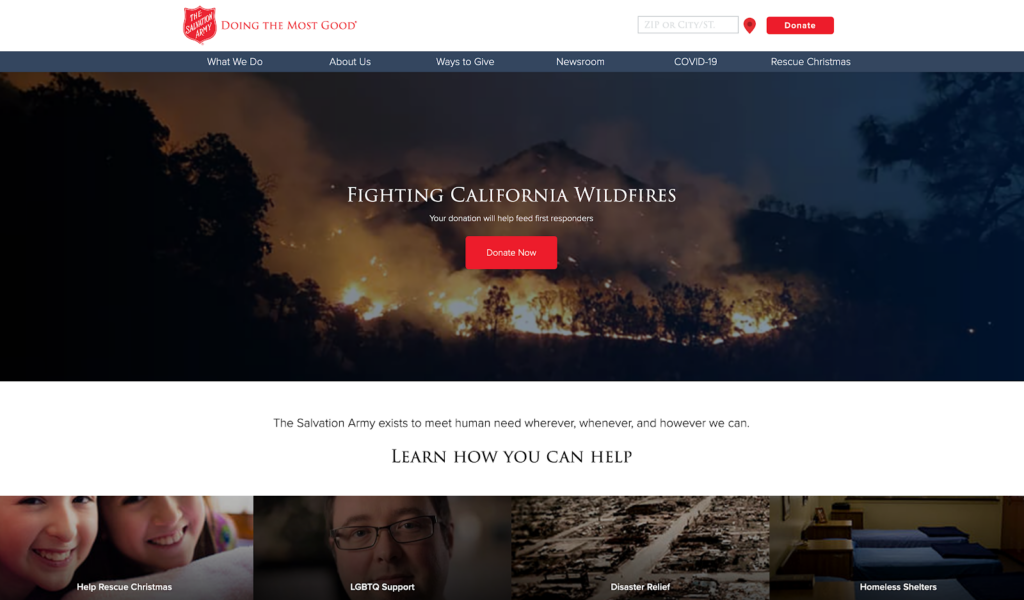 Their homepage hero with a compelling CTA makes it clear why people should act now and how.
Their site includes powerful films, making it possible for site visitors to hear directly from people whose lives are changed for the better through the Salvation Army.
Users can connect with the Salvation Army on Facebook, Instagram, YoutTube, and Twitter, straight from their homepage.
10. The Humane League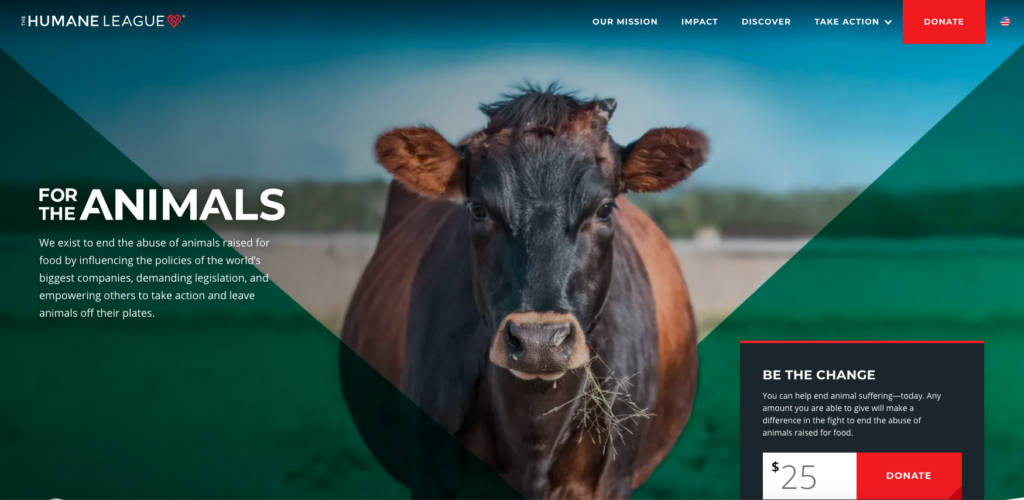 What's excellent about The Humane League's web design
The Humane League offers one-off and monthly donations directly from their homepage hero through a CTA that weaves potential donors into their success story.
Their design is uncluttered and straightforward and uses bold imagery to tell their story visually.
They use quotes and images of donors to empower prospective donors to take action.
11. Learning Network for Countries in Transition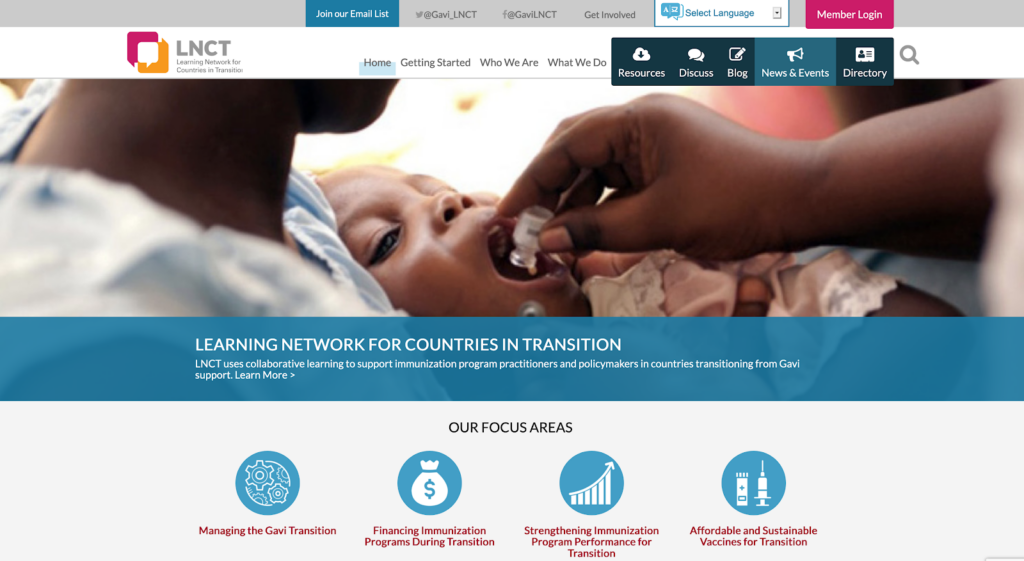 The LNCT provides a language selector at the top of the homepage to ensure their site is accessible to as many people as possible.
Interactive graphics display the organization's mission and invite visitors to learn more.
Partnering with Kanopi, the LNCT created a paired down mobile design to provide a clear mobile experience that respects bandwidth.
12. Feeding America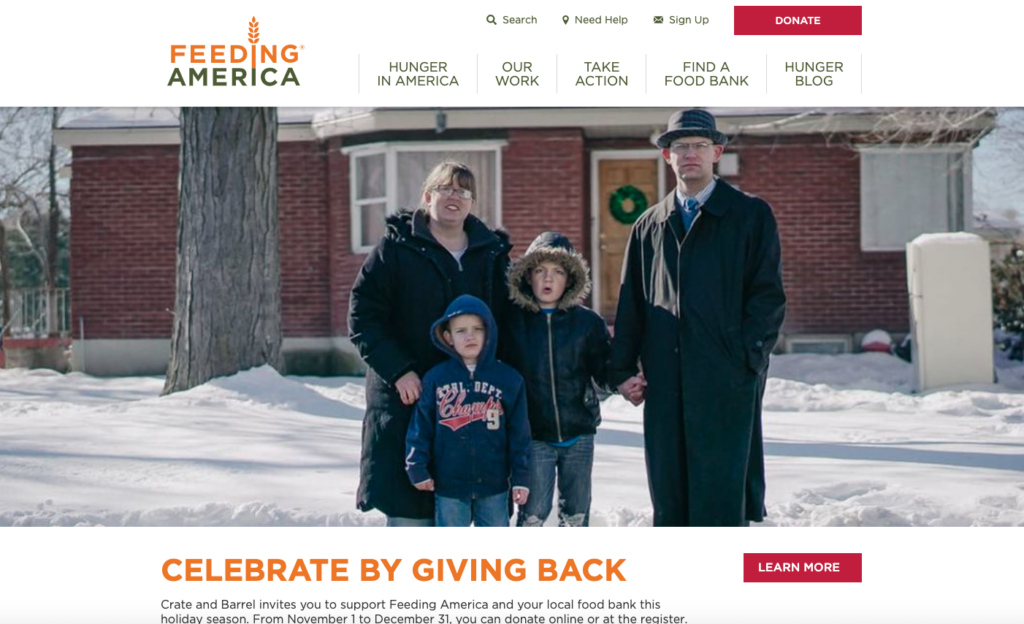 Feeding America tells people why and how they should donate through a clear CTA on their homepage hero.
They have straightforward user journeys for donors, volunteers, and advocates.
They use current imagery and film throughout their site to tell their success story through the people they help.
13. The Conservation Fund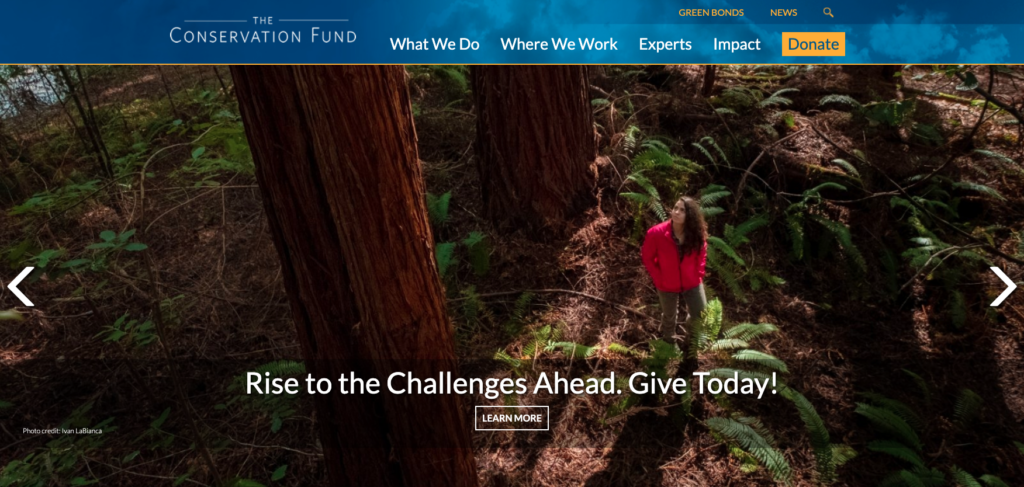 The Conservation Fund puts its partners and supporters at the heart of their impact story.
They use engaging video stories to help users visualize what their donations go towards.
Quick links to their Facebook, Instagram, and LinkedIn accounts are static across all of their pages, making it easy for site visitors to connect with them in other ways.
14. American Heart Association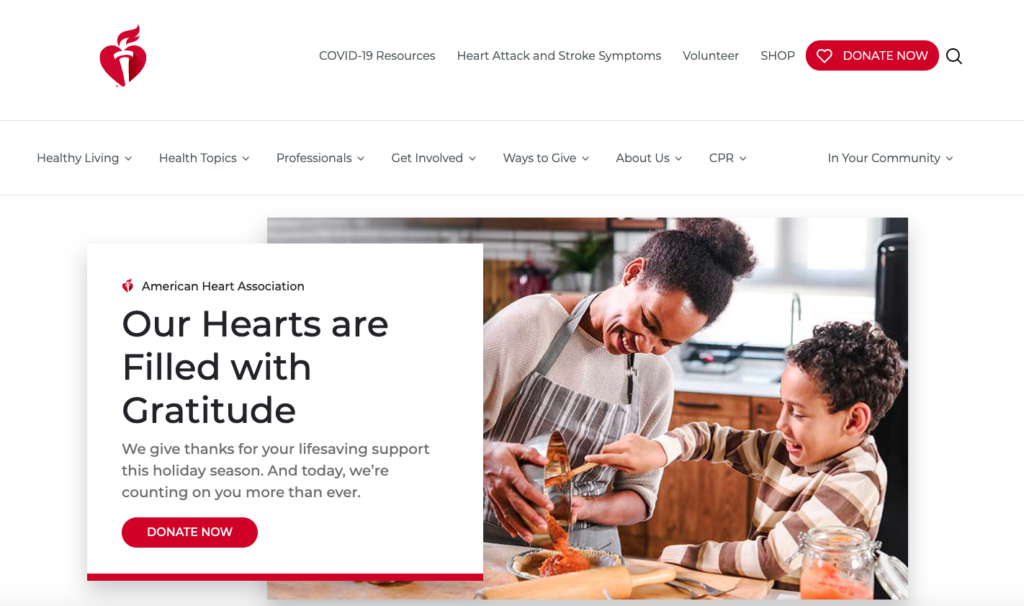 The AHA uses distinct colors that meet contrast standards, making the content on their site accessible to everyone.
Their powerful CTA 'Help Stop the Silent Killer' firmly plants prospective donors into the story they tell.
They provide flexible ways to donate, including information on their donation page about how the AHA uses donor's money to address COVID-19.
15. The National Council for the Blind in Ireland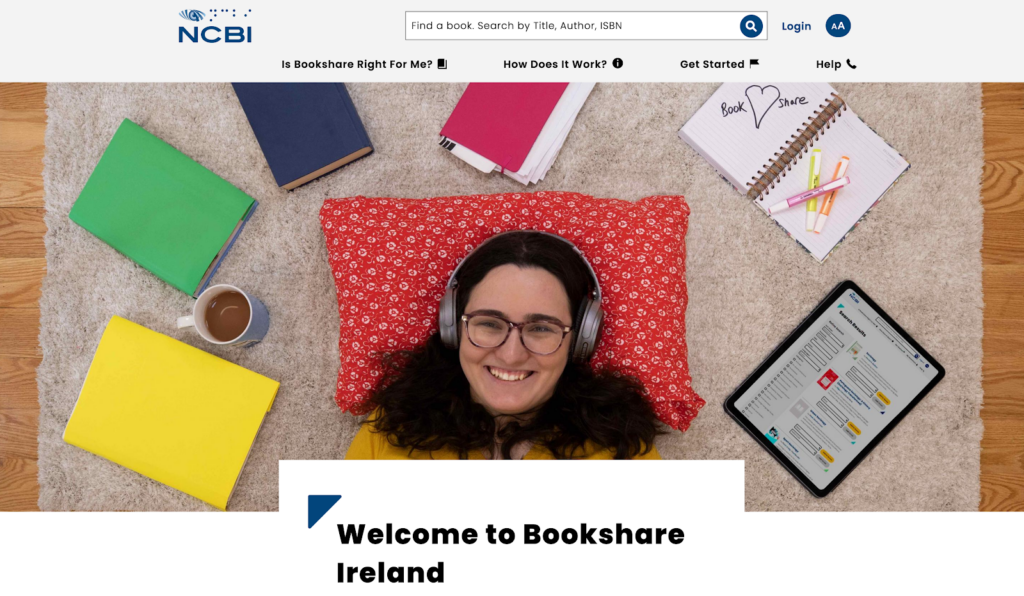 Kanopi is proud to partner with NCBI, creating a site accessible to all that's AAA compliant with high contrast, large text, and font zoom.
Fun graphics, bright colors, and relatable student pictures keep visitors engaged.
There are straightforward user journeys for students, leisure readers, and educators that begin from the homepage.
16. World Wildlife Fund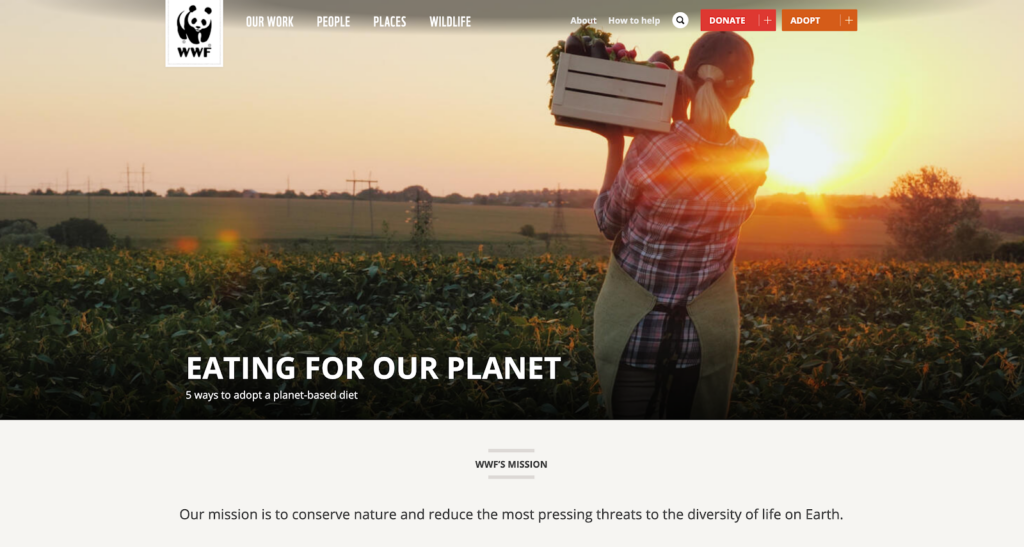 Eye-catching 'Donate' and 'Adopt' CTA buttons invite users to act directly off the homepage.
The WWF makes donors the lead character of their success stories throughout their site.
Their monthly giving page includes compelling film and imagery, together with the option of a gift to help users decide to give regularly.
17. The Nature Conservancy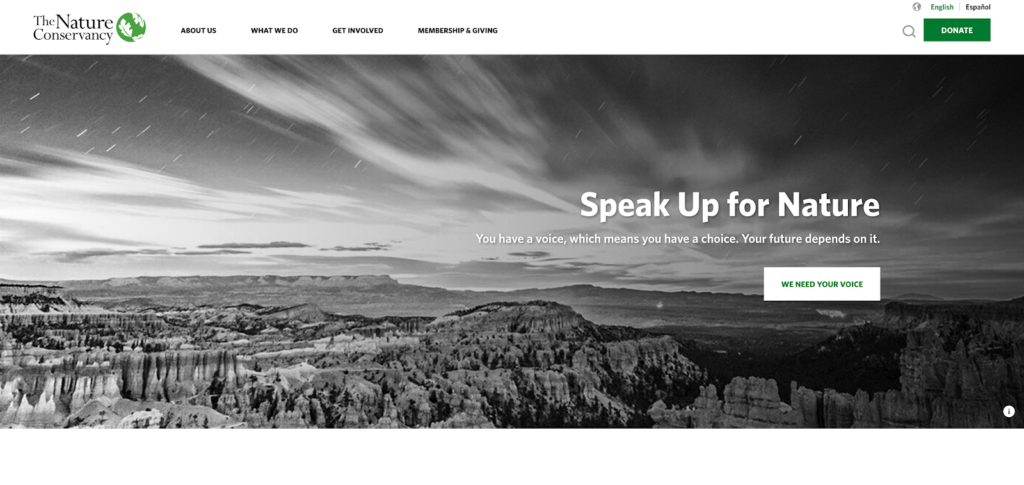 The Nature Conservancy utilizes inspiring imagery to help users visualize their mission.
All of the images on their site have descriptive alternative text, making their site accessible to people who use screen readers.
Their intuitive donate page provides a payment process suitable to your location and makes it easy to share with others with quick share buttons for Facebook, Twitter, Instagram, or email.
18. Care
What's great about Care's web design
From letter-writing and advocacy to donating and volunteering, Care provides flexible and creative ways to support their cause online, including their reimagined Care Package in response to COVID-19.
An eye-catching responsive infographic tells site visitors how much of their expenses go to program services in their static footer.
Care's up-to-date news and stories section keeps supporters informed and engaged.
19. St. Jude Children's Research Hospital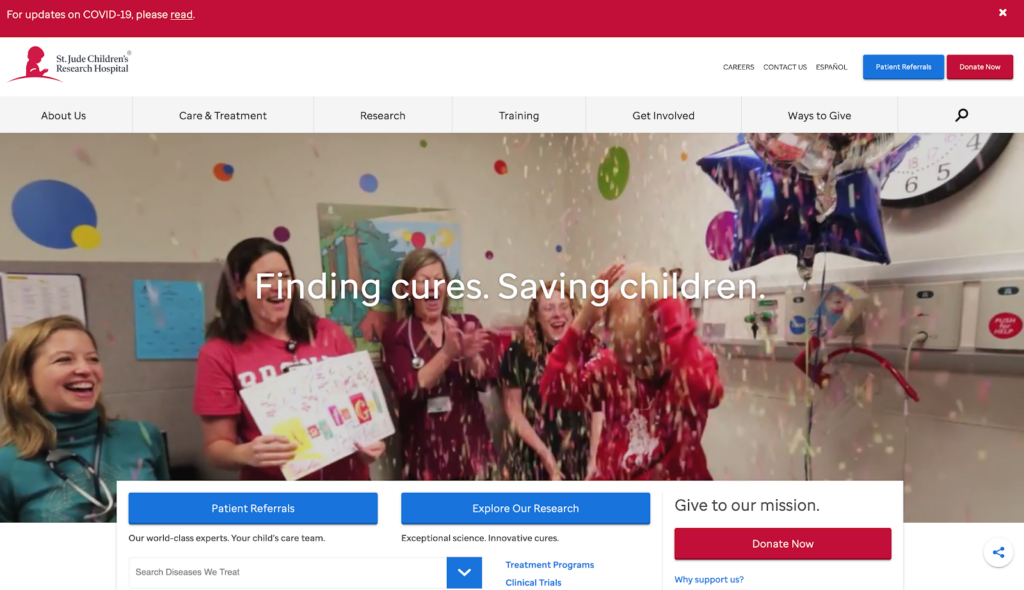 Users can translate St. Jude Children's Research Hospital's website into Spanish, making their site accessible to more people with just one click.
Their drop-down search menu, listed by the diseases they treat, is built with their users in mind and helps site visitors get to the information they need quickly.
They weave donors into their success stories and explain the impact of giving simply and concisely.
20. The Michael J. Fox Foundation
The Michael J. Fox Foundation tells a hopeful story, inviting users to 'Celebrate Science' from their homepage hero CTA.
Their content focuses on their donors and the difference they make through their support throughout their whole site.
Moving and empowering quotes from people with Parkinson's explain the importance of research and how each person's action affects millions of people.
Additional Resources:
Empower your Donors by Optimizing your Nonprofit Website
Any site optimization should begin with targeted user research. Because user needs and behaviors change, it's crucial to stress-test assumptions about who your users are and their needs.
Following our best practice tips to make your site stand out:
place your donors at the center of your success story,
make it as easy as possible to donate,
ensure your site is accessible to everyone, and
take a continuous improvement approach.
Not sure where to begin with keeping your nonprofit site in top shape? Take a look at our Ultimate Guide for Nonprofit Website Maintenance to help get you started.
Want to expand your team's capacity with the right partner? Teaming up with Kanopi could be just what your nonprofit needs! Contact us today to help advance your mission online through a powerful, easy to use website.
Additional Resources: