All great nonprofit websites empower visitors to join an organization's journey to make positive change in the world, inviting donors, volunteers, staff, and other supporters to become part of the solution.
These sites should provide straightforward steps that guide each user along their support pathway and steer them towards reaching the nonprofit's goals, all while weaving the visitor into their stories of success.
In addition, great nonprofit websites overcome common challenges. They optimize the user experience, speak to an audience with generational differences, and stay current with world events and fundraising campaigns.
We want to help you advance your organization's mission by exploring what website elements make an impactful nonprofit online presence. This guide highlights what we believe are the top 30 nonprofit websites and why they stand out. Along the way, we'll include tips and best practices for making your organization's site the best it can be.
Ready to learn more about the top nonprofit websites to emulate? Let's dive in!
The 30 Best Nonprofit Websites
Each of the websites on this list is notable for its user-friendly experience, powerful and visually-appealing branding, accessibility, and adaptability. As you browse this list, take note of the website elements that you may want to incorporate into your organization's site. There's no shame in borrowing from other sources that inspire you!
Without further ado, in Kanopi's eyes (and in no particular order), here are the 30 best nonprofit websites:

Ronald McDonald House Charities accommodate families with children undergoing medical procedures or treatments, allowing them to stay in RMHC lodgings for free. This helps save families money by letting them avoid hotel costs, while also providing a little peace of mind while their children are undergoing treatment.
Why the Ronald McDonald House web design makes an impact:
RMHC's powerful hero image invites donors into the world of someone directly impacted by donor support, with a compelling CTA to read their story.
Their red donate button with a heart icon catches the attention of site visitors.
The RMHC shares an engaging video filled with real families on their "Get Involved" page to empower volunteers.
Girls Who Code seeks to close the gender gap in the technology industry by engaging and training girls in computer science and coding skills. They've served 450,000 girls through their variety of summer camps, clubs, and college prep programs.
What we like about Girls Who Code's website design:
Girls Who Code's inspiring mission statement takes center stage on their homepage hero, supported with imagery of girls they represent.
Their site includes vibrant and bold colors that meet accessibility contrast level requirements.
Their dedicated donation page provides a simple FAQ explaining how donations are spent and how to sponsor Girls Who Code if you're a company.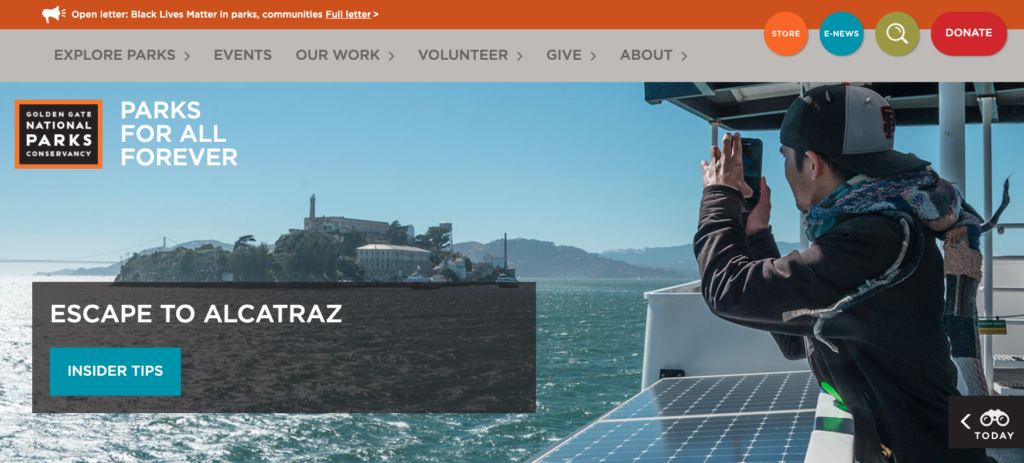 The Golden Gate National Parks Conservancy is dedicated to preserving the Golden Gate National Parks to be enjoyed by current and future generations. To accomplish this aim, the Conservancy focuses on four main areas: trail and park improvements, education and youth programs, ecosystem and wildlife conservation, and community programs and social impact.
What's great about the Golden Gate National Parks Conservancy's web design
As part of Kanopi's continuous website improvement program, ongoing improvements have resulted in a 31% decrease in bounce rate.
Their embedded searchable directory within the homepage makes it easy for users to look up the park they're interested in quickly.
They have clear user pathways for park visitors, volunteers, and donors from the homepage.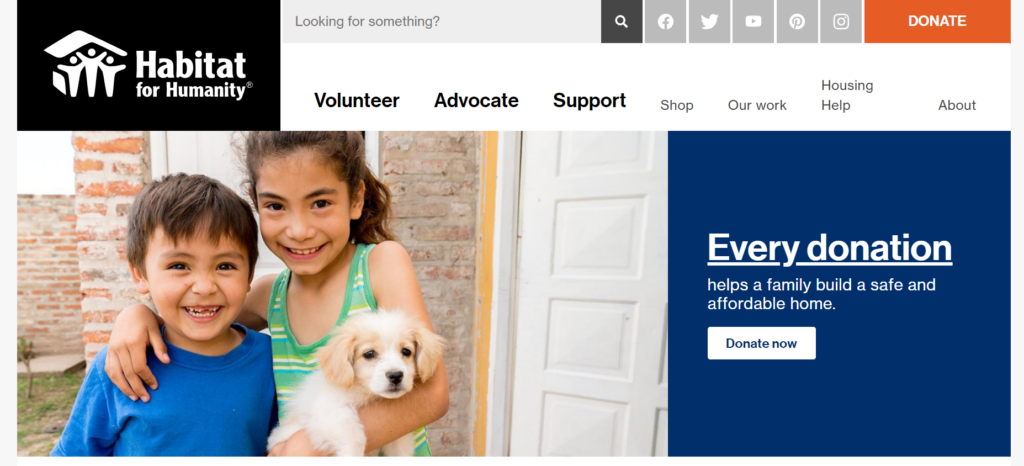 Founded in 1976 in Americus, Georgia, Habitat for Humanity is a nationwide nonprofit that helps individuals build, refurbish, or preserve homes. New homeowners contribute a certain amount of "sweat equity" to help build their new house in exchange for an affordable mortgage.
Why Habitat for Humanity's web design stands out:
Habitat for Humanity engages site visitors with an uplifting story of building strength, stability, and self-reliance through shelter.
Multiple "Donate Now" CTAs encourage donors to act right off the homepage.
A static menu with quick links to their Facebook, Twitter, YouTube, Pinterest, and Instagram accounts alongside descriptive search functionality and a prominent donate button make it easy to connect with them.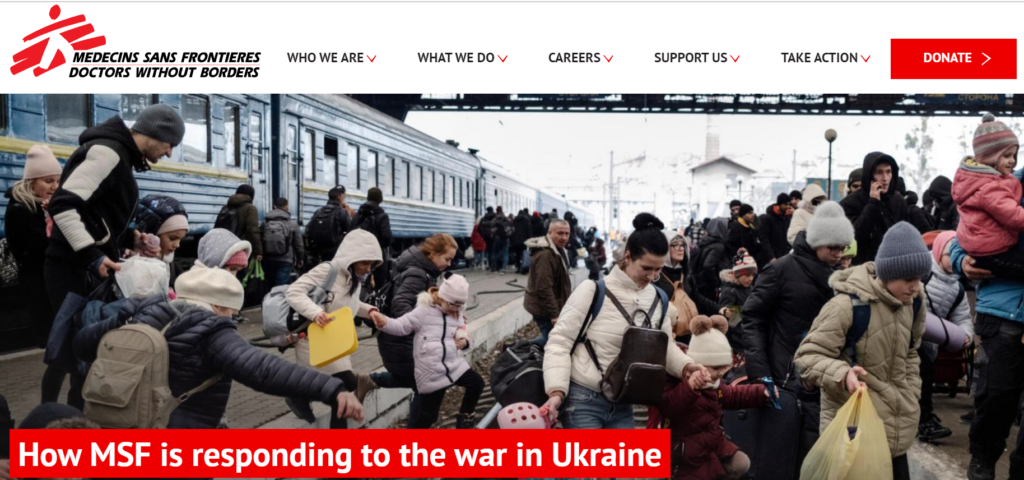 Doctors Without Borders is an international non-governmental organization dedicated to delivering medical aid where it's most needed, typically in war zones or countries impacted by disease. The organization's commitment to independence and impartiality allows its volunteers to take action in instances where politics or bureaucracy might slow other humanitarian response efforts.
What's excellent about the Doctors Without Borders web design:
Doctors Without Borders keeps visitors informed with up-to-date news and events, including a link to live online discussion about mental health from their homepage hero.
An engaging static infographic on where donor money goes appears in the footer on every page of their site.
Linked images and form labels include alternative text, making their site accessible for as many people as possible.
Based in Toronto, the Equal Opportunity Community Initiative (EOCI) is committed to improving the lives of vulnerable children, providing them an equal opportunity to reach their full potential. They prioritize five pillars to reach these goals: education, training, community, social mobility, and essential life needs.
Why Equal Opportunity Community Initiative's web design stands out:
The EOCI's branded online donation page provides a seamless giving experience.
They have quick links to essential resources, providing different users with a clear starting point as they begin their journey through the site.
Engaging photos of the organization in action within the homepage helps visually tell the success story of the EOCI.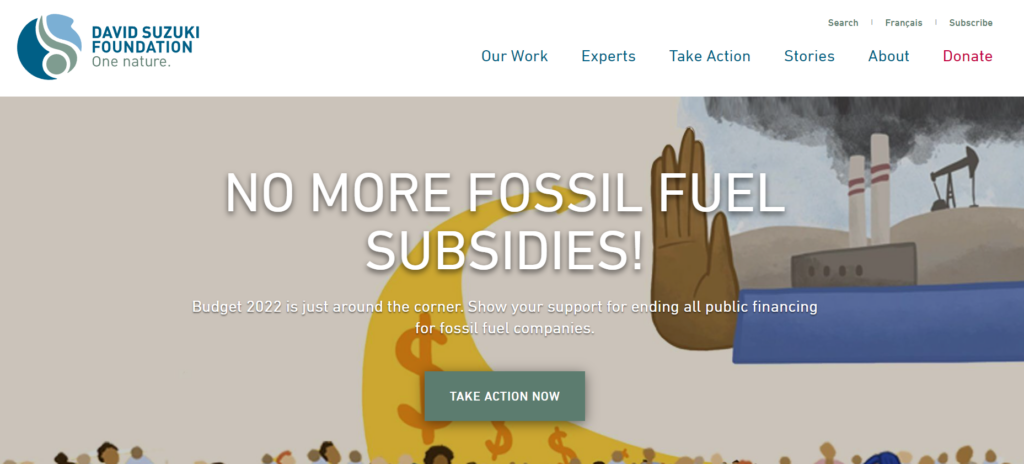 The David Suzuki Foundation is dedicated to fighting climate change, restoring nature, and creating more sustainable communities. The foundation's initiatives range from protecting caribou habitats in Ontario to supporting youth-led climate-related lawsuits.
What we like about the David Suzuki Foundation's web design
The DSF website is genuinely accessible, with concise and accurate alternative text for images on every page of their site.
Their straightforward user journeys for visitors who want to take action from the homepage, whether they wish to act online, locally, or in their own backyard.
The David Suzuki Foundation provides several flexible and innovative ways to give, including monthly and one-time donations, donating stocks, or virtual gifts.
The Boys & Girls Clubs of America provide after-school and mentorship programs for kids. Clubs can be found in all 50 states, helping young people prepare for their futures, break the cycle of inequity, and improve their overall stability and well-being.
What's excellent about the Boys & Girls Clubs of America web design:
The Boys & Girls Clubs of America provides a clear user journey starting point right from their homepage hero, with a drop-down menu for parents, teens, supporters, and educators.
They include donors in the success story they tell online, explaining how every donation helps get more kids on the road to a greater future.
Their up-to-date stories section lets donors hear directly from the people whose lives have been impacted by the Boys & Girls Clubs of America.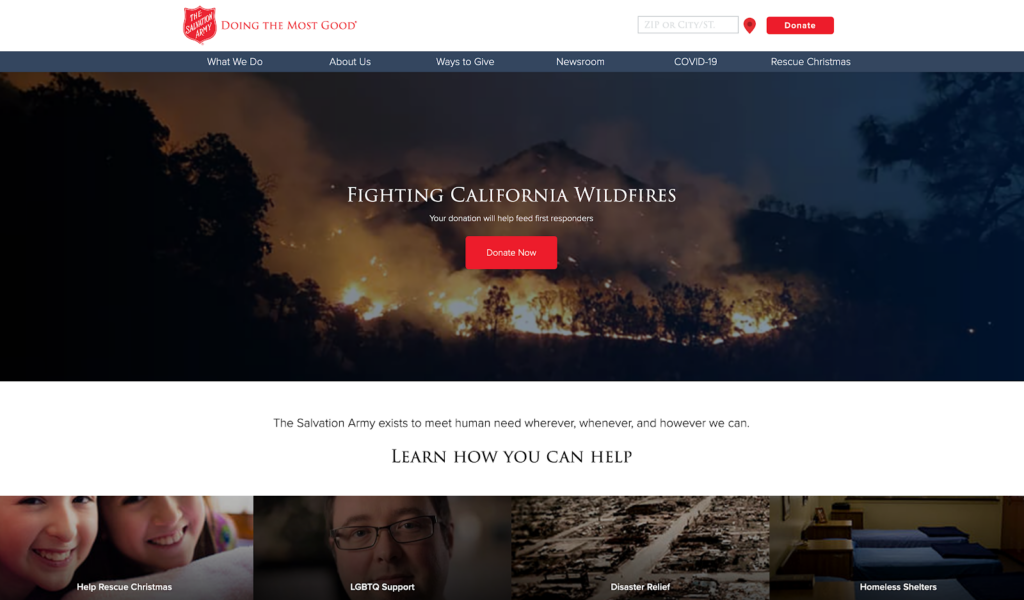 The Salvation Army is a Christian organization with a mission to combat homelessness and poverty and contribute to disaster relief. Supporters can help out by donating money or goods, hosting a fundraiser, or volunteering.
Why the Salvation Army USA web design makes an impact:
Their homepage hero with a compelling CTA makes it clear why people should act now and how.
Their site includes powerful films, making it possible for site visitors to hear directly from people whose lives are changed for the better through the Salvation Army.
The main services are broken down clearly on the homepage as well as a straightforward explanation of how the Salvation Army works to meet local needs.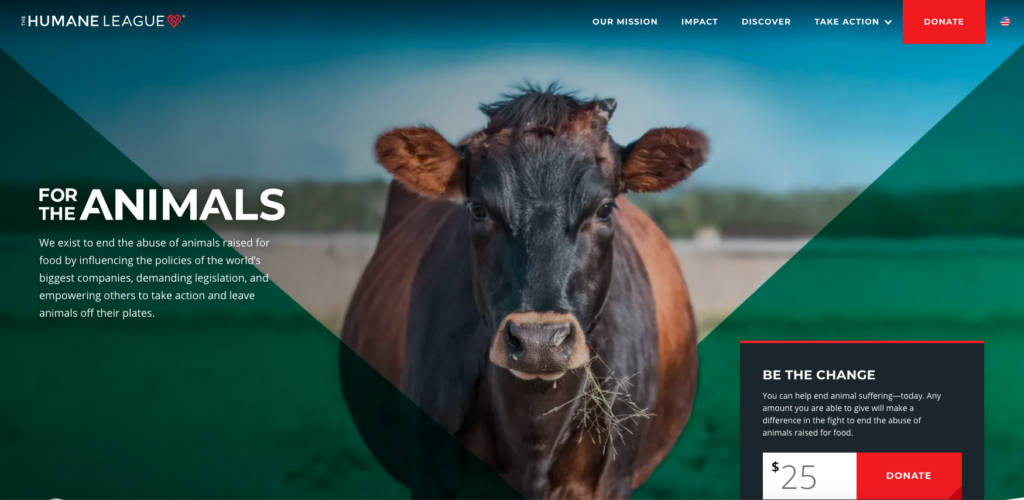 The Humane League seeks to end the abuse of animals raised for food production. The organization runs advocacy campaigns to encourage the world's largest food companies to adopt more humane animal welfare policies.
What's excellent about The Humane League's web design:
The Humane League offers one-off and monthly donations directly from their homepage hero through a CTA that weaves potential donors into their success story.
Their design is uncluttered and straightforward and uses bold imagery to tell their story visually.
They use quotes and images of donors to empower prospective donors to take action.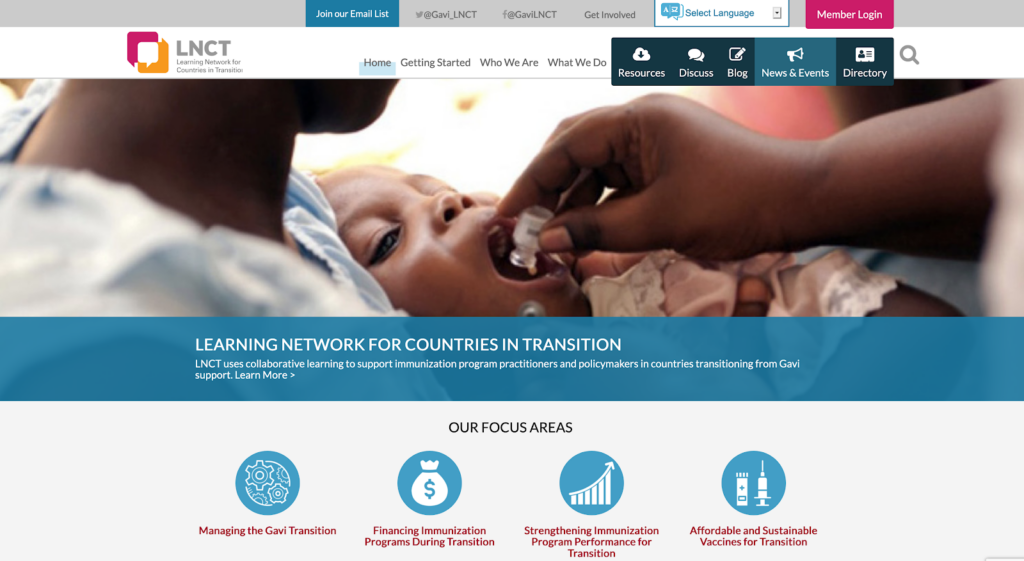 The Learning Network for Countries in Transition (LINCT) brings together immunization practitioners in a peer-to-peer learning network to share knowledge and advice. This allows different countries to strengthen their immunization programs' capacity and success.
What's great about the Learning Network for Countries in Transition's web design:
The LNCT provides a language selector at the top of the homepage to ensure their site is accessible to as many people as possible.
Interactive graphics display the organization's mission and invite visitors to learn more.
Partnering with Kanopi, the LNCT created a paired down mobile design to provide a clear mobile experience that respects bandwidth.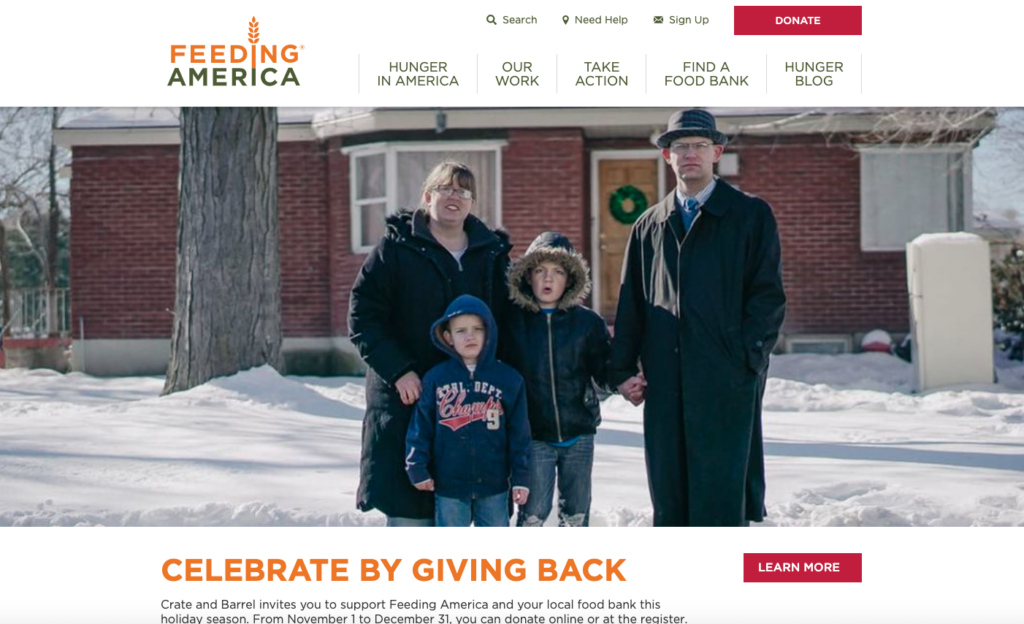 Feeding America is a hunger-relief organization dedicated to providing greater food security across the U.S. Their programs include mobile pantries, disaster food assistance, SNAP application assistance, and more.
Why Feeding America's web design stands out:
Feeding America tells people why and how they should donate through a clear CTA on their homepage hero.
They have straightforward user journeys for donors, volunteers, and advocates.
They use current imagery and film throughout their site to tell their success story through the people they help.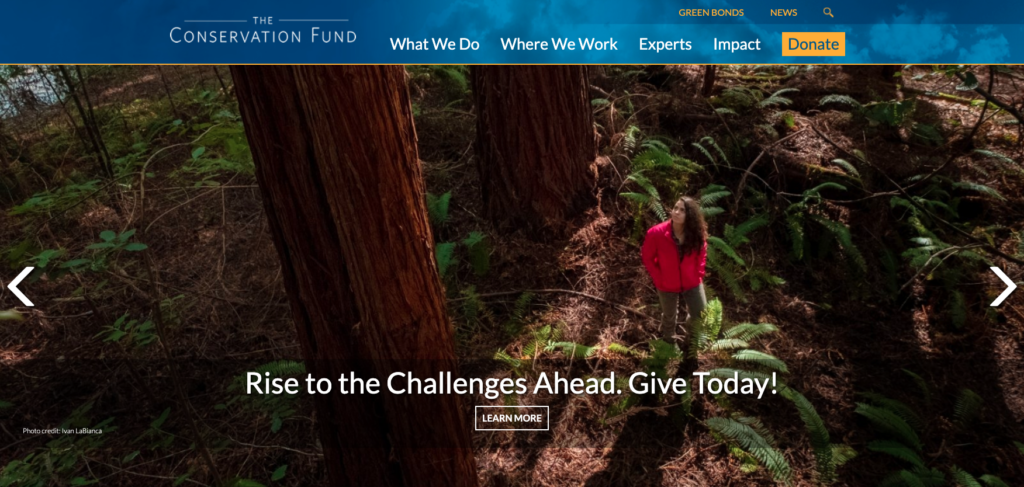 The Conservation Fund seeks to protect America's critical land and water through conservation and mitigation solutions. The organization is backed by a strong network of regional experts working to implement community-level change.
What we like about The Conservation Fund's web design:
The Conservation Fund puts its partners and supporters at the heart of their impact story.
They use engaging video stories to help users visualize what their donations go toward.
An interactive map shows the locations across all 50 states where the Conservation Fund has launched effective projects.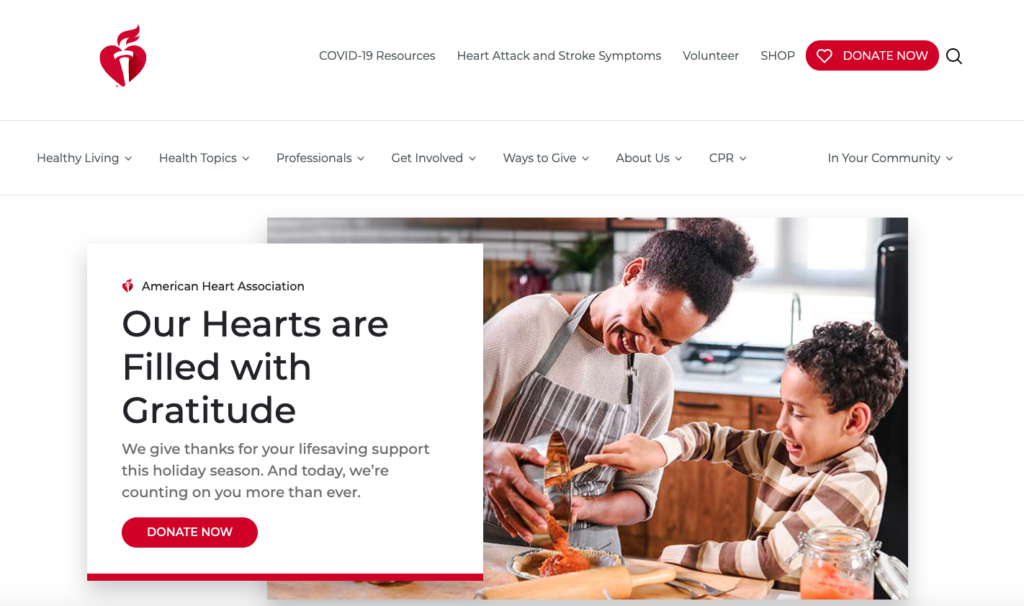 The American Heart Association (AHA) prioritizes fighting heart disease and stroke through research and public education. The AHA website serves as an online donation hub as well as a valuable educational resource for learning more about various health topics.
What's great about the American Heart Association's web design:
The AHA uses distinct colors that meet contrast standards, making the content on their site accessible to everyone.
Their powerful CTA 'Help Stop the Silent Killer' firmly plants prospective donors into the story they tell.
They provide flexible ways to donate, including information on their donation page about how the AHA uses donors' money to address COVID-19.
The National Council for the Blind in Ireland (NCBI) provides support and services to the vision-impaired. Their Bookshare website offers the largest accessible digital library in Ireland.
Why The National Council for the Blind in Ireland's web design makes an impact:
Kanopi is proud to partner with NCBI, creating an accessible site that's AAA compliant with high contrast, large text, and font zoom.
Fun graphics, bright colors, and relatable student pictures keep visitors engaged.
There are straightforward user journeys for students, leisure readers, and educators that begin from the homepage.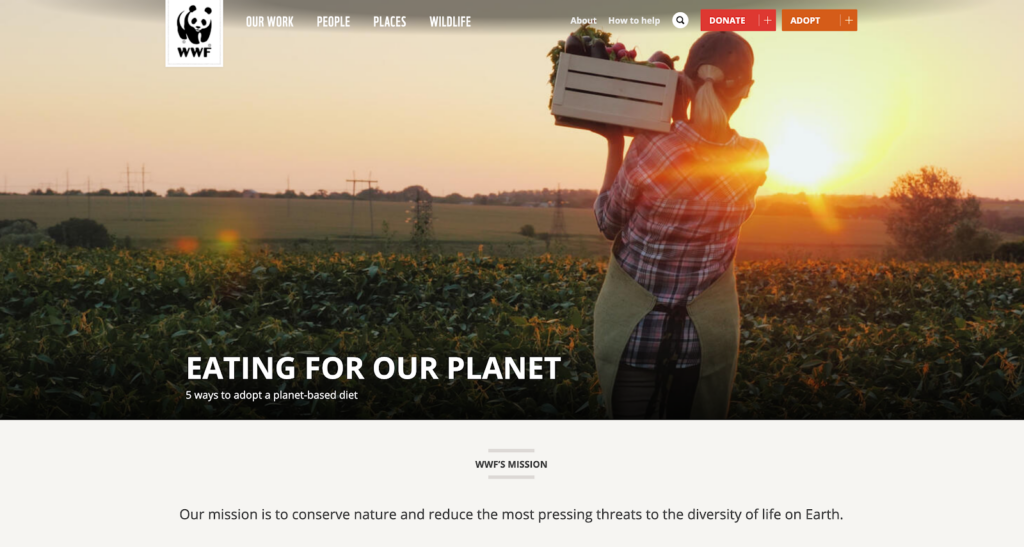 The World Wildlife Fund (WWF) is an international conservation organization dedicated to reducing the negative impact of human activities on the environment. The WWF is the world's largest wildlife and conservation organization, working in over 100 countries.
What we like about the World Wildlife Fund's web design:
Eye-catching "Donate" and "Adopt" CTA buttons invite users to act directly from the homepage.
The WWF makes donors the lead character of their success stories throughout their site.
Their monthly giving page includes compelling film and imagery together with the option of a gift to help users decide to give regularly.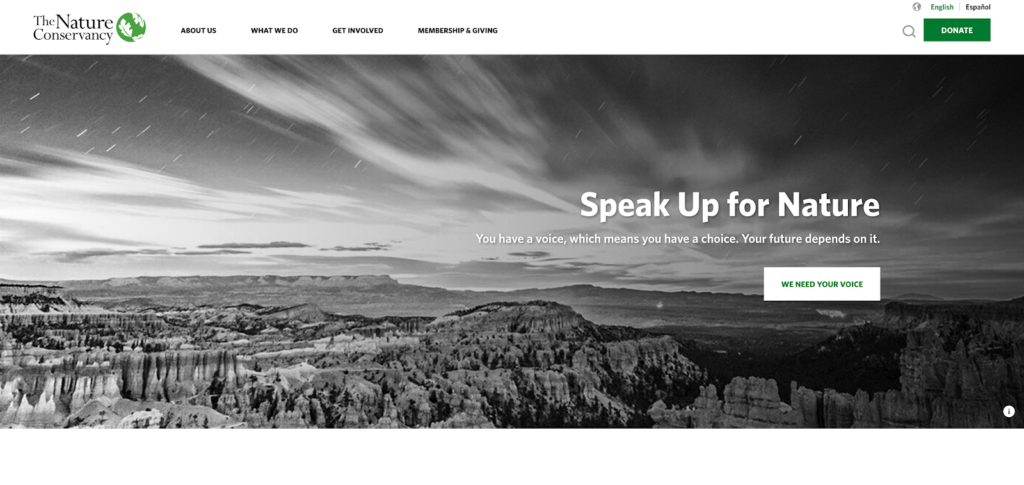 The Nature Conservancy seeks to tackle climate change, protect water and land resources, and build healthier communities to protect the global environment. They have lofty goals to achieve by 2030, including reducing CO2 emissions, helping 100 million people who are at risk of being impacted by severe climate change, and conserving 10 billion acres of ocean.
Why The Nature Conservancy's web design stands out:
The Nature Conservancy utilizes inspiring imagery to help users visualize their mission.
All of the images on their site have descriptive alternative text, making their site accessible to people who use screen readers.
Their intuitive donate page provides a payment process suitable to your location and makes it easy to share with others with quick share buttons for Facebook, Twitter, Instagram, or email.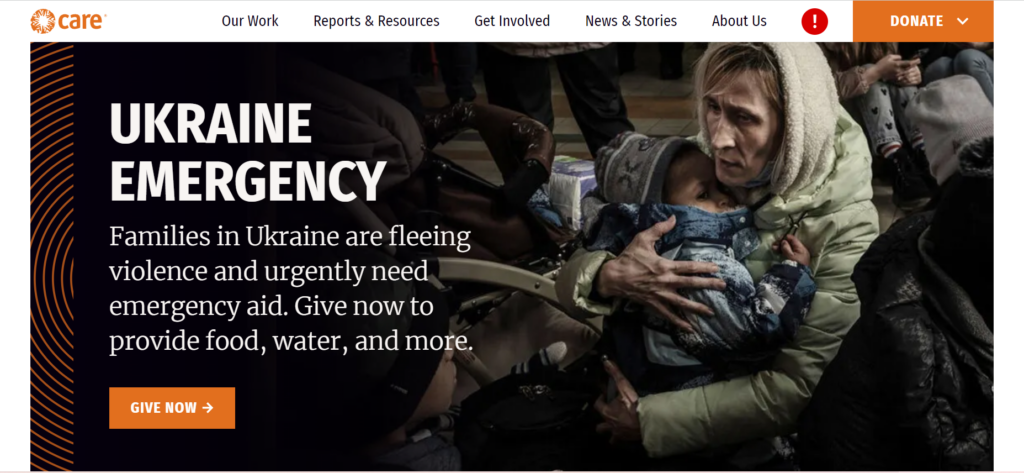 CARE's mission is to end poverty and achieve social justice. Their work extends to many areas, including fighting hunger and malnutrition, strengthening resilience in the face of climate change, and reducing the educational and economic gap to help women succeed.
What's great about CARE's web design:
From letter-writing and advocacy to donating and volunteering, CARE provides flexible and creative ways to support their cause online, including their reimagined CARE Package in response to COVID-19.
An eye-catching responsive infographic tells site visitors how much of their expenses go to program services in their static footer.
CARE's up-to-date news and stories section keeps supporters informed and engaged.
St. Jude Children's Research Hospital seeks to research, treat, and ultimately defeat childhood cancer and other life-threatening pediatric diseases. They cover the costs of treatment, travel, housing, and food for families with children facing childhood cancer.
Why St. Jude Children's Research Hospital's web design makes an impact:
Users can translate St. Jude Children's Research Hospital's website into Spanish, making their site accessible to more people with just one click.
Their drop-down search menu, listed by the diseases they treat, is built with their users in mind and helps site visitors get the information they need quickly.
They weave donors into their success stories and explain the impact of giving simply and concisely.
The Michael J. Fox Foundation is dedicated to finding a cure for Parkinson's disease using research and the development of advanced therapies. They operate without an endowment and seek to act as quickly as possible to direct funding toward vital research and projects.
What we like about The Michael J. Fox Foundation for Parkinson's Research's web design:
The Michael J. Fox Foundation tells a hopeful story, inviting users to 'Celebrate Science' from their homepage hero CTA.
Their content focuses on their donors and the difference they make through their support throughout their whole site.
Moving and empowering quotes from people with Parkinson's explain the importance of research and how each person's action affects millions of people.
Covenant House provides support and housing for youths experiencing homelessness or trafficking. The organization offers a "continuum of care," from street and van outreach to crisis care and long-term support.
Why the Covenant House website is so inspiring:
Kanopi won two awards for our work on the Covenant website, helping this digital hub shine with updated integrations and donation processes, as well as an improved storytelling approach.
The homepage offers multiple opportunities to get involved, from donating to participating in a Sleep Out event
Their "Meet Our Kids" page allows children impacted by homelessness to share their own stories.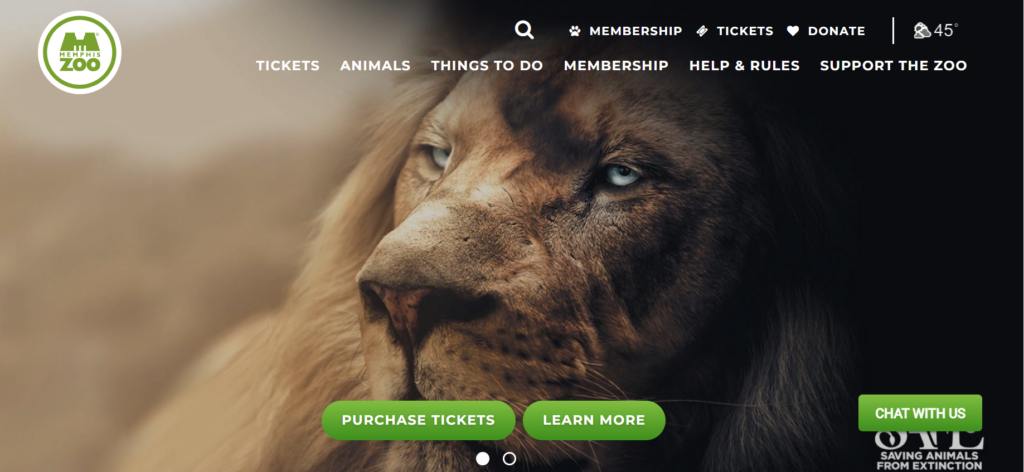 Located in Memphis, Tennessee, the Memphis Zoo is home to over 3,500 animals, 500 species, and 19 exhibits. The zoo is supported by ticket sales, a membership program, direct donations, and corporate sponsorships.
Our favorite elements of the Memphis Zoo website include:
Live animal cams turn the website into an engaging, interactive digital hub, rather than a static online experience.
A detailed donation page offers donors greater flexibility with descriptions of different types of giving supporters can participate in.
High-quality images of animals and zoo visitors provide a professional, immersive browsing experience.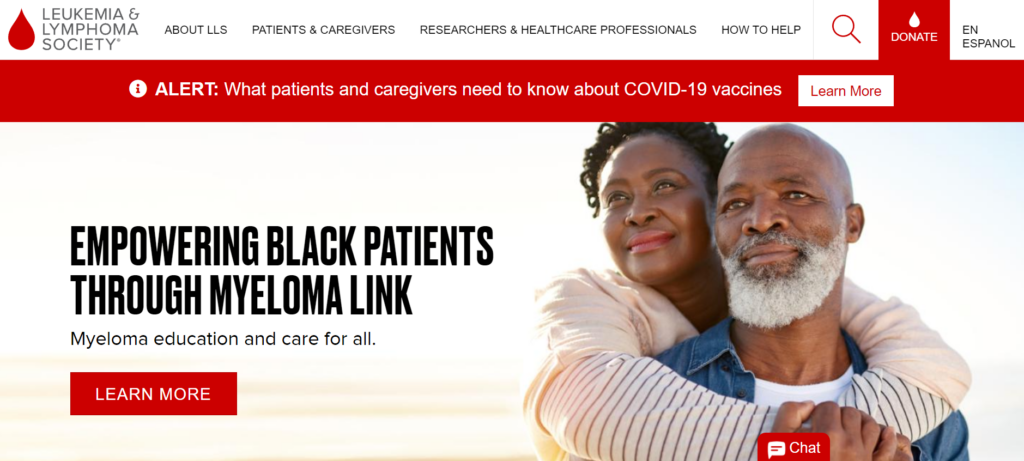 The Leukemia & Lymphoma Society (LLS) seeks to eliminate blood cancers through pioneering research, education, and advocacy. They work toward this mission by offering support for patients, caregivers, researchers, and healthcare professionals.
Here's what caught our eye on the LLS website:
The LLS homepage provides helpful resources for patients and caregivers, contributing to a stress-free browsing environment.
There are multiple ways to stay in touch via social media and email, allowing supporters to connect via their preferred platform.
The homepage highlights prominent news articles and other updates to help keep visitors informed.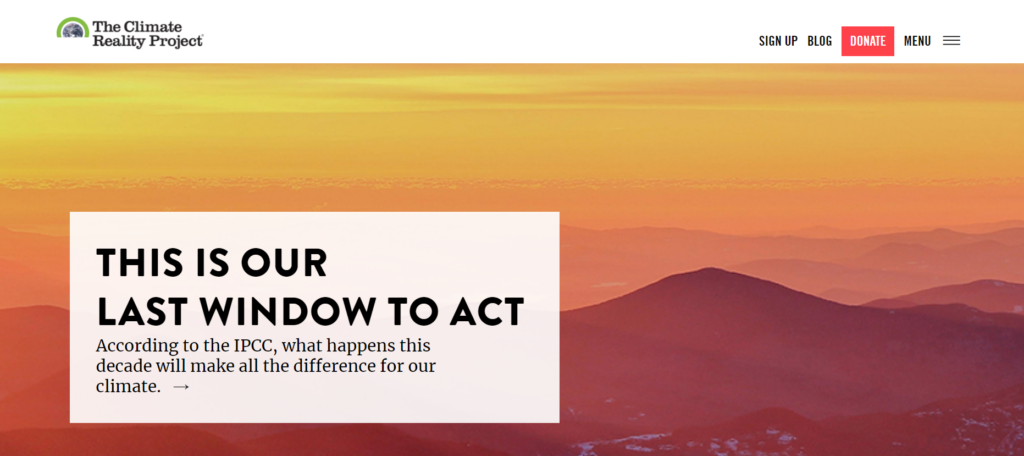 Founded by former U.S. Vice President Al Gore, the Climate Reality Project is another education and advocacy organization working to mitigate climate change. The organization's signature program is a leadership training corps that equips leaders fighting for climate change solutions with greater resources and knowledge.
Here's why The Climate Reality Project is one of the best nonprofit websites:
Bold calls to action on the homepage inspire visitors to get involved in fighting climate change, encouraging users to sign up for the organization's email newsletter.
User-friendly, concise educational resources help communicate climate change issues in an easily digestible way.
A streamlined online donation page that allows donors to show their support in just a few clicks.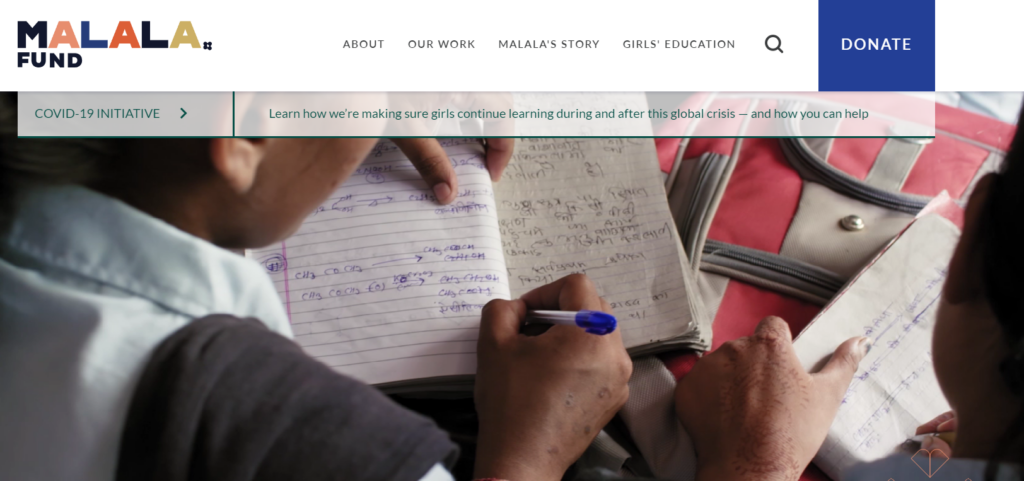 The Malala Fund helps girls pursue secondary education worldwide. The organization supports education advocates and activists, bolstering their work and connecting them to a global network that can provide support and professional development.
Here's why the Malala Fund made our best nonprofit websites list:
The engaging, eye-catching homepage video brings the organization's mission to life by showing the people it works with (which would be even better if the video were more accessible, with a pause or hide functionality).
Compelling statistics showcase the extent of education and gender inequality in each country that the Malala Fund operates in.
The website achieves a sleek look by making use of a mix of white space and pops of bright color.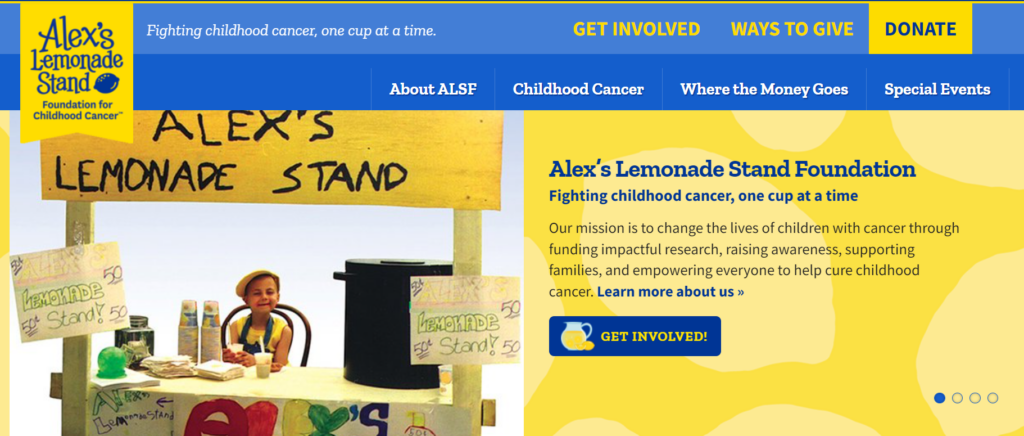 Alex's Lemonade Stand helps fund research, spread awareness, and support families with the goal of curing childhood cancer. Since 2005, the organization has funded over 1,000 grants at 150 institutions. Alex's Lemonade Stand also empowers kids to host their own lemonade stand fundraisers within their communities. Kids can host their own lemonade stand in their community, with the proceeds going to research projects and family support.
These features make the Alex's Lemonade Stand web design stand out:
The bold, playful colors and branding catch the eye while also appealing to the organization's kid-friendly mission.
The homepage's real-time donation tracker showcases donor appreciation as a central priority.
The robust virtual fundraising toolkit gives supporters opportunities to get involved immediately.
Girl Scouts invites girls across America to participate in building life skills such as leadership, entrepreneurship, and active citizenship. Typical Girl Scouts activities include camping, volunteering, earning badges, and, of course, selling cookies.
What stands out about the Girl Scouts web design:
Engaging, informative images show girls participating in rewarding activities, bringing the Girl Scouts' mission to life.
The full site is available in Spanish, increasing accessibility.
Clear user pathways provide resources for all involved, including the Girl Scouts themselves, volunteers, and parents and families.

The American Society for the Prevention of Cruelty to Animals (ASPCA) is a well-known animal welfare organization founded to be a voice for vulnerable animals. The organization's main activities include helping reduce overwhelming shelter intake rates, relocating animals to safe homes, and providing spay/neuter services.
Here's what caught our attention on the ASPCA website:
The organization is known for its heart-tugging commercials, and its website is no different. Compelling photos of animals in need engage visitors right when they land on the homepage.
The large DONATE button in the top right corner catches potential donors' attention and stays visible no matter where you navigate to on the site.
The "Team ASPCA" fundraising page provides detailed descriptions for different fundraising opportunities that supporters can participate in, from birthday campaigns to hosting a fundraising event.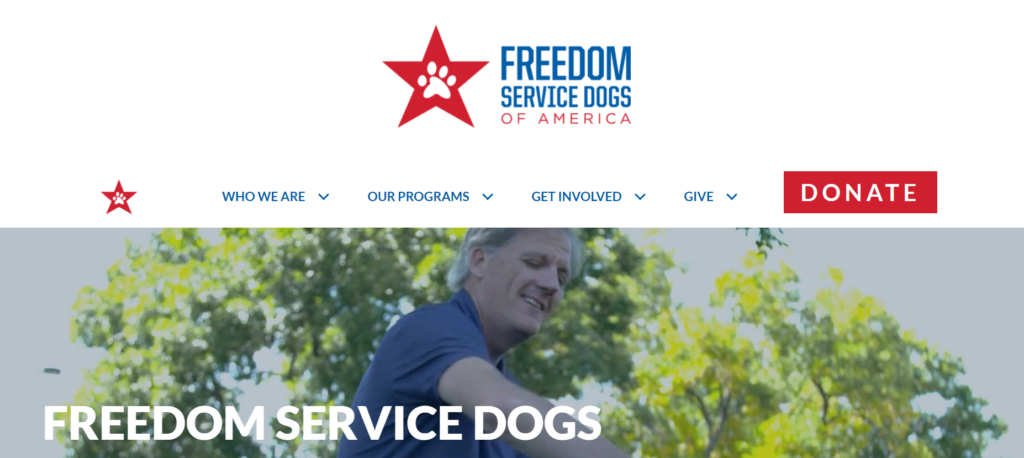 Freedom Service Dogs partners veterans as well as children and adults with disabilities with trained assistance dogs. The dogs are completely free of charge for each individual.
Here's why Freedom Service Dogs is one of the best nonprofit websites:
The monthly giving program is prominently displayed on the homepage, helping supporters easily become recurring donors.
The site has straightforward "about us" and impact information, reassuring donors and other stakeholders that their support will be used wisely.
The bold, eye-catching design captivates visitors with a red, white, and blue theme.
The Refugee and Immigrant Center for Education and Legal Services (RAICES) works to support immigrants and refugees by providing free and low-cost legal services to families and children in detention. The organization also offers social services such as resettlement assistance, transit support, and more.
What we like about the RAICES website:
The striking branding incorporates visually-appealing colors and font choices.
There are many easily-accessible resources for refugees and immigrants, from removal defense services to DACA renewals.
A self-service portal allows donors to take control of their engagement by updating their personal information and contributions whenever they want.
What Makes a Good Nonprofit Website?
As you can see, these nonprofit websites have several aspects in common, earning them spots in our list of best nonprofit websites. So, what should you take away from these examples when designing your organization's website?
Just like the sites on this list, your nonprofit website should:
Feature compelling graphics. Your graphics can mean the difference between someone getting involved and taking their support elsewhere. Kwala's guide to nonprofit graphic design explains that you should infuse your brand throughout your site and make artwork pop with effective colors and contrasts. Create a cohesive, visually-compelling design with a mixture of decorative illustrations, infographics, and images of your beneficiaries, staff, and on-the-ground volunteers.
Be rooted in user research. The best nonprofit websites know who their users are and what motivates them. Successful nonprofit marketing teams ask questions and explore how their donors behave on a regular basis to identify changing trends. Then, they break down barriers that exist in the donation process to encourage site visitors to give.
Tell a story of strength and hope. Users want to be part of a winning team. Focusing on successes allows the user to envision how their time and donations will make a difference. Stories of building others up both resonate and empower donors to join your nonprofit's ongoing journey.
Offer seamless UX. The best nonprofit sites have a content strategy that meets their users' needs, considering every touchpoint in their users' journey and how offline moments connect with online ones. They understand their users' generational differences and provide a tailored UX that reflects this, with flexible giving options to coordinated online and print experiences.
Be mobile and sociable. Great nonprofit sites provide paired down mobile versions that respect bandwidth. Donation and payment processes are a breeze on a phone or tablet, and signing up for events from the palm of your hand is straightforward. This makes these websites easy to share with friends, family, and colleagues with the touch of a button.
Offer easy and plentiful donation opportunities. Top nonprofit websites keep their design elements simple and uncluttered. They use clear, basic words and a consistent tone of voice. They make donating as straightforward and convenient as possible for every donor.
Be accessible. When using multimedia like video and images, be sure to include alternative text for visitors using screen-readers. Also, all of your content should be clear and easy to read by following color contrast standards. Use Kanopi's recommended accessibility tools to help test your site's accessibility, and don't forget to conduct plenty of manual testing as well to ensure compliance.
Your nonprofit website should support you as your mission and needs grow. Download our How to Make Your Site Last eBook to learn more.
Empower Your Donors with an Optimized Nonprofit Website
As a nonprofit marketing professional, you might have plenty of creative and innovative web design ideas buzzing around in your head, but no clear picture of how to implement those ideas. That's why working with a web design and development agency is often the best way for nonprofits to fully optimize their websites.
Web design agencies like Kanopi can help manage your website redesign process, using their years of experience, best practices, and visitor research to guide the way. Kanopi will support your nonprofit website development and design from start to finish, offering services such as:
User research
Content strategy
Website design and development
Ongoing support
Plus, working with Kanopi allows you to adopt a continuous improvement approach for your website, keeping it updated and effective as best practices evolve. We'll ensure your website is positioned for long-term growth and designed to help achieve your goals, whether that's growing your advocacy efforts or increasing your online donor audience.
Looking for a few additional resources to help strategize your web design approach? Check out these guides and resources: