The online world is rich and full of information. From watching Netflix to exploring your Instagram feed to looking up dinner recipes, there seems to be no end to the internet content available.
With such a truly saturated space, your nonprofit needs a focused and comprehensive digital strategy if you want to reach supporters in meaningful ways and increase fundraising for your mission. Otherwise, your message can get buried and you risk losing sight of your goal.
The best digital nonprofit strategy likely spans multiple tools and marketing outlets. Creating this type of strategy can seem intimidating, especially if you're not aware of how those tools and outlets support each other. This guide will dive deep into not only exactly what a digital nonprofit strategy is, but also how to best create one for your organization and some top tips to maximize those efforts.
Table of Contents
What Is A Digital Nonprofit Strategy?
Your nonprofit organization likely already depends on a few key tools to reach and engage your supporters. Your online donation platform facilitates gifts, your content management system (CMS) helps you create a beautifully designed website, and your marketing tools promote upcoming campaigns and engage donors.
However, it's not enough to just have an arsenal of working tech. In fact, it takes careful planning and coordination to ensure that your tools and marketing strategies not only work together but also support each other. That's where your digital nonprofit strategy comes in.
In simple terms, your digital nonprofit strategy is a focused plan that takes action on your fundraising and donor engagement goals through digital marketing methods.
Your overarching nonprofit goals, any budget constraints, and the technology you have all impact your digital strategy. This strategy then informs your online marketing efforts, with the two working together to maximize your nonprofit's impact.
The common tools and marketing channels nonprofits use for their digital strategy include:
Nonprofit website – Your website is an increasingly important part of your nonprofit digital strategy. Your nonprofit site centralizes your online engagement and is likely the first place supporters will look when they want to find out more about your mission and any upcoming events or campaigns. It's also where donors give! How you design your website and the content you add to it is crucial in your digital marketing efforts.
Online fundraising solution – This is how you accept online gifts from your supporters. It's important that the tools you use accurately capture donor data and protect their sensitive information.
Email/text communications – Sending your supporters marketing materials, whether through email or text, is a popular way to get the word of an upcoming campaign out quickly. Use your communication tools to further relationships with donors by sending them personalized messages, donor thank you letters, and other targeted content.
Social media content – More and more, people are finding out about exciting events and nonprofit efforts through social media content. Because of its easy shareability, it's a great way to not only reach your current supporters but also expand your audience. Encourage your followers to repost your content and thank them publicly for it on the platform!
One of the great things about your nonprofit digital strategy is that it naturally depends on tools and is generating valuable data. You can reference this data to continually refine your digital strategy and reach your target audience in more meaningful ways.
Steps To Creating A Nonprofit Digital Strategy
Your nonprofit digital strategy is unique to your organization, goals, and audience. These are some common steps that all nonprofit leaders will generally follow:
1. Determine overarching nonprofit goals
The first step to creating a successful nonprofit digital strategy is to establish your goals. This is the foundation of your entire strategy — each engagement and decision your nonprofit makes should be with your core goals in mind.
To begin brainstorming, consider these questions. Do you want to:
Raise a certain amount of money?
Increase awareness of your mission?
Grow your audience or base of supporters?
Increase a specific audience profile?
Generate new leads?
Once you have a general idea of the goals you want to accomplish, it's time to make them actionable. Start by:
Identifying gaps in your current nonprofit digital strategy and consider how you might tackle them for your updated strategy.
Analyzing data in your database to find a quantifiable target for your overarching goals. For instance, look at past successful fundraising campaigns to gauge what a realistic goal may be this time around.
Brainstorming the technology that will play a role. What digital tools and marketing outlets will you be using?
Determining your goals is crucial to guide your nonprofit digital strategy and to provide insight into the choices you'll make. Make sure your goals are specific and actionable, with clear targets and ways to measure success.
2. Define audience and web personas
If you want to make the most of your nonprofit digital strategy, you have to become familiar with the audience you're trying to reach.
Start with reviewing your past data to learn more about how your existing audience engages with your nonprofit. Looking to your website, Google Analytics, CRM, and email marketing metrics can give you clues into the types of supporters that engage with you online and the content that they best respond to. For instance, if past donors heavily engaged with your Instagram posts, then that's worth noting when creating your new digital strategy.
You can use this same data to create audience or web personas. Web personas are detailed profiles of your nonprofit's target audience. It's likely that your organization will use more than one web persona to account for the different types of people who support your nonprofit. With a clearly defined target customer in mind, it's much easier to tailor your digital content to speak directly to them.
To create web personas, you need to:
Research your audience. Some key audience details to take note of are age, location, income level, interests/activities, and donor behavior.
Document and organize information. If there are common data points, begin grouping them together to start creating a persona. This could by interests, needs, preferences, age group, corporate match eligibility, and more. How you segment your own supporters will depend on your unique organization and goals.
Bring personas to life. It's easier to create targeted marketing content for a persona when you think of them as real people. Consider giving your audience personas a name with a visual/face that matches their general description.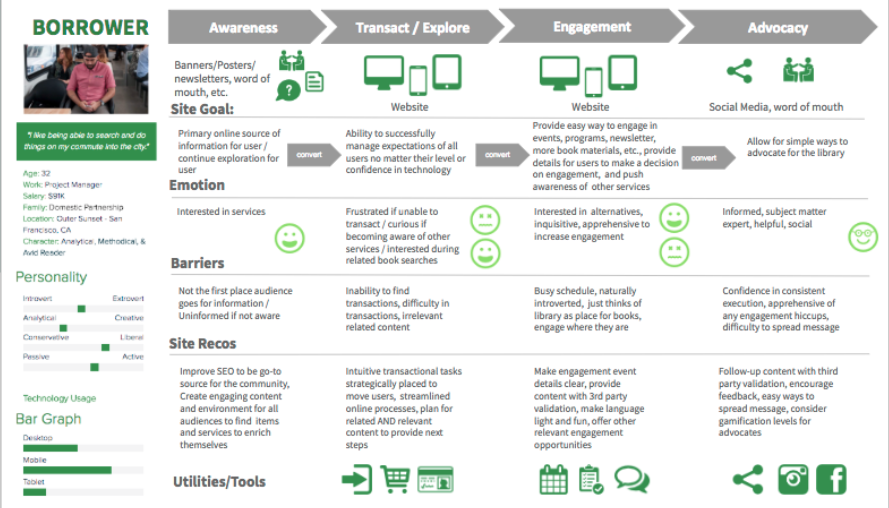 When creating web personas it's helpful to get as detailed and specific as possible. The above image is an example of how you might organize the details in a web persona and determine the best way to connect with that audience. From there you can produce website content and other digital materials catering to each persona, creating a more engaging and personalized user experience.
3. Consider any constraints
As you develop your digital nonprofit strategy and set your goals, you also have to consider any constraints. While it's nice to think that the sky's the limit, it's often unrealistic and can set your strategy up for failure.
These might not all apply to you, but here are some of the common constraints to keep in mind:
Financial budgets. Consider how much you can spend when it comes to developing, implementing, and executing new digital marketing and fundraising strategies.
Technological constraints. What is the current state of your organization's technological infrastructure?
Timing. Is the timing of the digital strategy aimed towards a certain date, such as Giving Tuesday, or an anniversary?
Staffing and labor. Is your current team enough to handle everything when it comes to your digital nonprofit strategy? Remember, you can also turn to volunteers or even a tech consultant for additional staffing.
4. Invest in the necessary tools
If you're looking to really bring your digital nonprofit strategy to the next level, you might have to invest in a new tool or platform. The internet is always changing, with new ways to engage online popping up all the time. It's worth it to review your current processes and make sure that it's meeting the needs of your growing nonprofit and supporters.
Today, nonprofits see their digital engagement with supporters occur in these locations:
Nonprofit website
Online marketing campaigns
Social media activity
Email marketing campaigns
Is your current nonprofit solution doing all it can for the above channels? Consider the gaps in your toolkit or ways your tools could work better together. For example, let's say your digital nonprofit strategy's focus is social media and peer-to-peer engagement. Do you have all of the necessary accounts and fundraising tools you need?
Or, let's say you're pushing corporate giving. Does your organization have the appropriate tools in place to promote matching gifts and drive more match requests to completion? This might mean embedding an employer search tool into your donation form for donors to research their eligibility or enabling autosubmission tools to let donors automatically submit requests to employers post-donation.
Often, nonprofits seek the help of a nonprofit technology consultant at this stage. The right consultant can perform an audit of your nonprofit's current tech solution and make suggestions. If your website no longer supports your growing organization, a consultant can help upgrade your current CMS platform or optimize it with extensions.
5. Align your messaging and content
Now that you have concrete goals and the tools to carry them out, it's time to think about your marketing content. This is the voice of your nonprofit digital strategy and helps tell your story.
When it comes to the story you want to tell, you not only have to be true to your mission but also figure out how to tell it in easily shareable and digestible bites. Short, but emotionally investing, stories are much more likely to resonate with supporters and reach new prospects via reposting and sharing.
The content of your digital strategy should address your audience first. Remember how we defined the audience and developed personas in an earlier step? This data can now be used to personalize the messaging and content to each persona group.
For instance, consider the persona of a completely new supporter. Let's imagine them stumbling upon your nonprofit website. To immediately connect with them through your content, consider embedding a high-quality image within your homepage of the community you help, along with some quick stats about why they are in need. This can capture the visitor's attention and introduce them to the most immediate goals for your organization.
6. Consider the channels you use
You already know that the most important digital channels to your nonprofit digital strategy are your website, social media accounts, email campaigns, and any other online advertising.
But how do those channels work together?
Your nonprofit website is the central hub for your digital strategy. It can connect supporters to your email list, social media accounts, and is where they can give online. Your website needs to be well designed, informative, valuable, and fully integrated with your other online fundraising and CRM platforms.
Social media platforms are great for reaching wide audiences. Consider where your current supporters are most active online and focus on those few platforms to promote any upcoming campaigns, advertise blog posts, and share fun, but relevant, videos or viral challenges. Try to post content that encourages supporters to share it with their own network.
Email marketing is an essential part of your nonprofit digital strategy. Not only can you use it to reach a wide number of people at once, but you can also even create segmented email lists to cater to more of your specific audience personas. Make sure to track open and response rates to determine which email outreach tactics work best.
Online advertising and other digital marketing strategies are important for increasing visibility. This can include online ads on different websites or links back to your organization from other reputable charity organizations. This can also involve SEO techniques that help boost the visibility of your website and blog posts during organic internet searches.
7. Measure campaign's success
The last thing you need to determine before you start employing your digital nonprofit strategy is how you're going to measure success. This should have been outlined during the goal-setting stage, but you can take it to the next level with some key tools.
For instance, use your nonprofit tech solution to compile reports and compare metrics based on the combined data from all of your tools and marketing channels. What types of data points and metrics should you look at? Here are some of the top ones:
Completed donations
Volunteer applications
Email subscriptions
Pledge signatures
Email open rates
Email response rates
Website bounce rate
Online donation page bounce rate
Compile reports on these metrics prior to the campaign and after. This gives you a direct look into how your digital nonprofit strategy impacted and helped your organization.
5 Tips to Make The Most Of Your Nonprofit Digital Strategy
The best digital nonprofit strategy is data-based and audience-centric. While how you make the most of your own strategy is dependant on your organization and mission, here are the top tips that can help all nonprofit leaders:
Optimize for a mobile experience. Did you know that roughly 1-in-5 American adults are "smart-phone only" users? At every touchpoint in your digital nonprofit strategy, it's crucial that you consider how this may look on a mobile device. Otherwise, you're missing out on some key opportunities.
Use email appeals. Even as new technology and platforms arise, email is still the best way to reach your supporters online. Make sure that donors are aware of your email list and embed forms for users to opt-in on your website, social media accounts, and other relevant places. And don't be afraid of being aggressive with your send schedule; data shows that while people may grumble about getting too much email, they still open, read, and interact with it.
Personalize messaging. Whenever you can, you should make your marketing content and messaging as personalized as possible. This is most used in email marketing, but can be implemented with text messaging and even within your website. For instance, consider creating specific landing pages for each of your audience personas to better target their needs.
Inbound marketing techniques. This involves all the ways you make it easy for supporters to find your nonprofit and is much more subtle than outright contacting them. For instance, creating educational blog posts, hosting events, implementing search engine optimization, and sharing social media posts are key inbound ways to build brand awareness. The more people see and recognize your nonprofit, the more likely they want to find out more and support your cause. Remember to always include a link to your nonprofit website and other specific landing pages so that supporters know how to take action if inspired.
Partner with a nonprofit tech consultant. Sometimes, partnering with a nonprofit tech consultant is the best method of truly optimizing your digital strategy. The right agency should work closely with your organization to become familiar with your goals, your audience, and current technology solution. Then, they can provide their expertise when it comes to optimizing that solution for your nonprofit's needs.
If you think a nonprofit technology consultant is what you need, explore our own services to see if Kanopi is right for you.
How Kanopi Can Optimize your Nonprofit Digital Strategy
A crucial component of any nonprofit digital strategy is the website. It's the centralizing factor of almost all of your online engagements and where donors can make gifts. As a top partner for nonprofits, we at Kanopi Studios have helped develop over 150 active sites.
When you partner with us, we don't just develop, maintain, and support your nonprofit website (though we are experts at it!). We like to think of ourselves as extensions of your organization. With thorough research and data analysis, we dive deep into your unique online audience and provide specific suggestions based on carefully crafted web personas.
We take a continuous improvement approach to website maintenance, as smaller and consistent fixes tend to be more beneficial to your website health than large systematic updates that only happen once a year.
Along with this, we also provide a website growth plan to help you make the most of your online presence even when our partnership is over. We don't just set up your website and hand over the reins — you'll get specific and customized next steps as to how to increase conversions and further expand your online platform.
Here are some more of our top services for nonprofits:
User-focused approach to content strategy, design, and site development.
CMS development for Drupal, WordPress, or Mukurtu.
Extensive research on nonprofit's goals, missions, and audience.
Accessibility and compliance consulting.
Technical SEO optimizations.
Updated knowledge on relevant privacy laws and legislations, like whether California's CPAA affects your organization.
User persona creation to map your supporters' journeys once they visit your site.
Staff augmentation to provide extra help when it comes to design or development tasks.