When we think about creating a website that's rooted in exceptional UX and carries users through a seamless and delightful pathway, the first place we start is by creating a buyer persona. Building personas allows you to step into the shoes of your customers and really understand them—a key success factor for any sales and marketing team. In fact, 71% of companies who exceed revenue and lead goals have documented buyer personas.

There are a few key steps you can take to build a persona, which we'll outline in this article.

But, first…
What is a buyer persona?
Simply put, it's a detailed description of your target customer, written as if the persona were a real person. It's documented in a way that lists everything from demographic information to hobbies, to pain points, and motivators. A persona is a tool you can use to create sales and marketing materials that have a specific target user in mind, rather than a generic one. By having this clearly defined target customer in mind, you can tailor your marketing messages and website content to speak directly to your target audience.
How do you use buyer personas?
Buyer personas help inform everything you do, from the words your sales team uses on a call, and the content you post on your website, to the way you write a social media post.
Your buyer personas empower every department to be more intentional with their messaging and actions:
Writers can align content with your target customers' needs and wants. Content that's written specifically for your audience will resonate with them better and lead them to take the intended action
Imagery and design can be informed by what would inspire and attract your personas
Sales materials can be customized to address the specific needs and pain points of your target personas
Your Development team can better plan, build wireframes, determine the scope, and align UX behaviors
How to Build a Persona in 5 steps
1. Research your audience
Knowing your current audience's demographics is a great first step in your persona exploration. Learn more about who is already buying from you! You can find a great deal of information by digging into your website analytics and social media analytics. Some of the key data points to collect include:
Age
Location
Income Level
Interests/activities
Buying behavior
If there are gaps in your data, you can consider gathering additional information through email surveys, online surveys, focus groups, and customer interviews.
2. Document and organize your information
Use your research to start documenting your buyer personas in a clearly laid out template, that captures a full view of who they are and what makes them unique. It should include what you've learned about their motivations and pain points through your research phase.

Key information you can consider including:
Name, age, sex, education level, job title
Role at the company (not necessarily job title. For example, "decision-maker")
Technology they use
Worldview (one sentence that sums up this person)
Motivation (overall goals, what gets them out of bed in the morning?)
Pain points (what's standing in the way of their success?)
Solutions they're shopping for
3. Bring them to life
Now that you understand your personas background it's time to give them some personality. When building your persona, it's helpful to give them a name and a visual/face. Search stock photo sites to find a good match for your persona's demographic data and behaviors (for example, their age, casual vs. formal attire).
By bringing them to life and really personifying each persona you can start thinking of them as real customers, and easily use the personas to support conversations internally.
For example, if your marketing team has a piece of content they want to produce, you can then ask: Is this content going to be helpful for "Techie Trey"? If so, let's be sure to address their needs and mindset when creating it.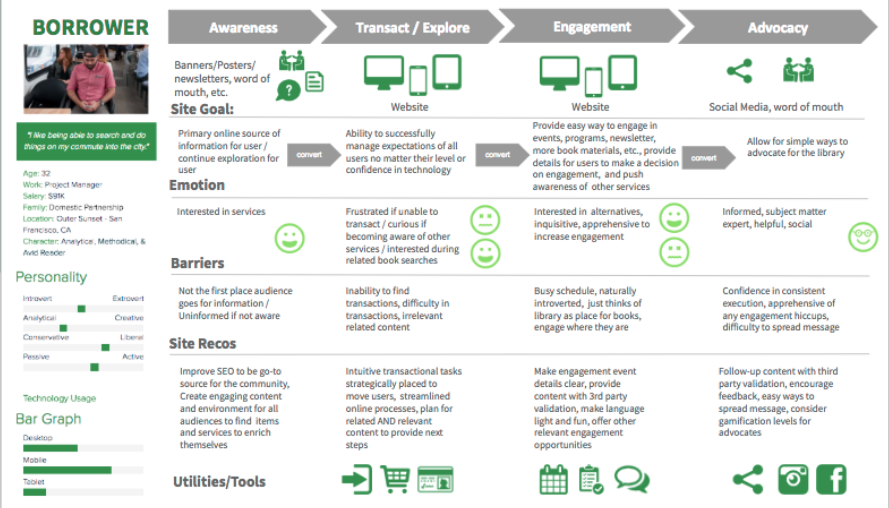 4. Speak to them
Develop messaging around your new persona(s) that will help inform the way you speak to your prospective customers on your various channels; website, social media, sales materials, etc.
Create a 30-second "Elevator Pitch": Create an easy way to present and describe your product to your persona. Be quick and concise.
Marketing Messaging: What is the best way to describe your product or service to your persona that will alleviate their pain points.
5. Invest in a Customer Decision Journey
Now that you've defined your personas, we highly recommend flowing those personas through a Customer Decision Journey (CDJ). This is a great way to understand how to engage with your audience in each step of their journey with you, and strategically create pathways that support their needs. This process also helps organize and identify what your most immediate approach should be to your content strategy and your website experience.

We can help with that! If you need help creating personas, mapping out a Customer Decision Journey, or anything related to awesome UX, we're here, ready, and willing to support you.