Virtual classes, limited in-person interactions, and other pandemic-related necessities have irrevocably changed the college experience for students.
In this chaotic time, higher education websites have been crucial for engaging students virtually. Even if prospective students weren't able to make it to campus for an in-person tour, they could learn more about campus life with virtual tours. Your alumni stayed in the know using your website's blog, and your donors continued showing support through your online giving opportunities.
But with prospective students becoming increasingly tech-savvy, your higher ed website must keep up with current trends or risk being outshined by other institutions. That's why we've put together this guide to explore the most important higher ed website design trends we've noticed take hold in the last year.
Even though we're using the word "trends" to summarize these phenomena, in truth, these website design choices represent a fundamental shift in higher ed website design. College and university websites are moving toward a more personalized, inclusive, user-friendly experience, and we don't see that going out of style any time soon.
Understanding this movement will allow you to keep your finger on the pulse of current web design practices and deliver an exceptional digital experience for all visitors.

1. Optimized user experience and journey
The user experience is the way visitors interact with your higher education website. Browsing your undergraduate majors, signing up for your newsletter, submitting a donation using your online giving form—all of these activities fall under the umbrella of user experience.
In 2022, higher ed website design is shifting toward simplifying the user experience to facilitate streamlined user journeys for every visitor. This means that whether they're a prospective or current student, faculty member, parent, donor, or community or business partner, every visitor can find the information they need quickly and easily.
For example, the University of Arizona's website offers an "I am" drop-down search option. Visitors choose the descriptor that best matches them and are sent to a webpage with tailored resources.
These customized experiences that speak to specific user groups are becoming more and more common as universities learn more about their target audiences.
To help visitors move through your content more easily, your college or university website should:
Offer clear next actions for each visitor segment. Give visitors a variety of prompts to help them move through your website content. For instance, take a look at how the Georgetown University website offers quick links for different website visitors:

Use concise, powerful calls to action (CTAs) to help move visitors through your site. Your CTAs should address common user questions and concerns to help connect individuals with the information they need.
Clean up your navigation. Keep your website menu short and straightforward, with a limited number of items. This keeps your navigation uncluttered and easy to use.
Make your site mobile-friendly. Ensure your site has an effective mobile-responsive design to offer an equally positive user experience across all devices.
2. More resources for underrepresented members of the student community
Higher education institutions have placed an increased emphasis on diversity, equity, and inclusion initiatives to ensure that all students feel welcome. Students themselves are noticing a difference—over half of students surveyed in the fall of 2021 said they perceived a noticeable difference in diversity on campus.
However, there's still more progress to be made. That's why colleges and universities have emphasized creating streamlined user pathways that connect students of color, members of the LGBT+ community, disabled students, first-generation college students, and other underrepresented groups with the resources and information they need.
For example, visit McGill University's website to see how this internationally-focused school places diverse student voices at the forefront of its homepage: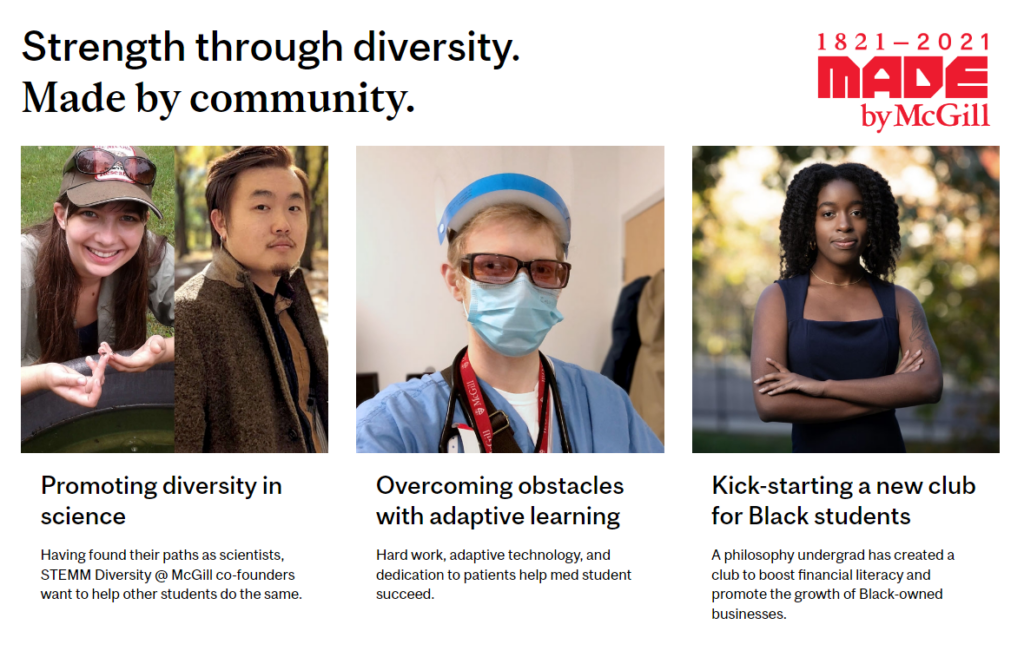 The Kenyon College Diversity & Inclusion page provides another example of how you can bring your school's commitment to diversity to the forefront. The page states the school's commitments to fostering a diverse and inclusive learning environment, then offers a variety of resources for underrepresented students. This provides current and prospective students with an easy way to access the support they need to reach their full potential.
3. Strong, inclusive visuals
Similarly, college and university websites have started leaning heavily towards the use of strong visuals that represent a wide variety of students. These images are authentic, showing moments of student interactions or campus life.
Especially common are large banner images that sometimes take up the entire top half of the homepage. For instance, take a look at Kenyon College's homepage. The page is dominated by a bird's-eye view of a quiet studying scene. This striking visual helps students visualize themselves participating in campus life. Plus, the minimized menu helps keep the initial homepage view uncluttered and streamlined.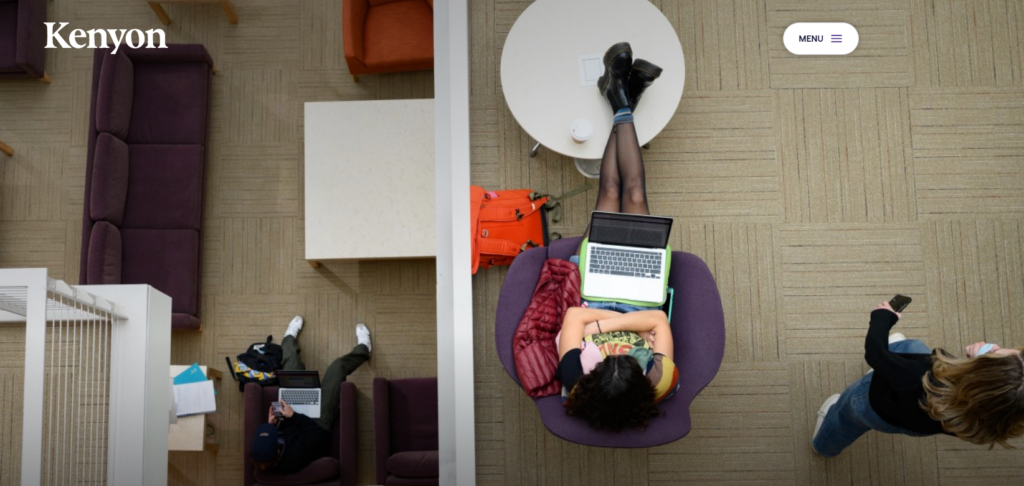 The most effective website visuals are genuine, candid, and rarely posed. Also, ensure your university's website photos accurately represent the diverse makeup of your student body. When prospective students see themselves represented on your website, they will feel more comfortable applying to your college.
4. Improved usability and accessibility
The best university websites know that an inclusive website is a fully accessible one. Accessibility means a website is usable and understandable by everyone, regardless of age or ability.
Accessible higher ed websites consider the wide range of human experiences when designing and structuring their pages and content. From long-term accessibility issues, such as color blindness, to users with short-term impairments like a broken arm, accessible websites offer an enjoyable and user-friendly experience for all visitors.
For example, the University of Pennsylvania's website hits several key accessibility requirements, including adequate color contrast as well as concise, descriptive image alternative text. Similarly, Cornell University uses bright, contrasting colors and illustrative alternative text.
To improve your site's accessibility, you can:
Follow the Web Content Accessibility Guidelines (WCAG) as you develop or redesign your website. These guidelines were created to establish a universal standard for website accessibility.
Explore Kanopi's list of best accessibility tools. Resources such as the A11Y project checklist and Lighthouse can help you assess your site's current level of accessibility and identify opportunities for improvement.
Test your website's accessibility manually. This is a crucial step that helps you note any instances of poor accessibility that automatic testing resources might have missed. To conduct thorough manual testing, try navigating your website with just your keyboard or zooming in to 200% to assess usability in that format.
5. Relaxed, playful tone
There's a common assumption that universities are prestigious, towering, and out of touch. Many universities are actively trying to change this narrative by presenting themselves as down-to-earth and approachable using their websites and other digital marketing channels.
This is especially evident in the tone that many college websites have started adopting. In 2022, university websites are taking a more relaxed, playful tone.
This is evident through the use of first and second-person pronouns to generate a sense of camaraderie and being "all in this together." For example, take a look at this brief text block from Oberlin College's homepage:

This speaks to prospective students' desire to grow and be seen as individuals while relating to them on a personal level. The use of "you" and "we" makes prospects feel like they've already been accepted into the Oberlin community before even stepping foot on campus.
6. Focus on mental health and wellness
In the past few years, college students' mental health struggles have hit crisis levels. Financial worries and school stress have always been major contributors to poor student mental health, but the pandemic added a new dimension to the crisis. Many students switched to hybrid or fully virtual class schedules, leading to a pervasive sense of loneliness and isolation across campuses.
As a result, 30% of students reported feeling depressed in the past year, and 95% of college counselors said that mental health is a growing concern at their school.
In response, universities have begun emphasizing mental health resources and wellness across their websites. For instance, Georgetown University has a webpage with mental well-being resources and counseling options for student, faculty, and staff mental health resources. The page even offers a few guiding questions to help visitors find the right resources for their needs.

Ensure your own higher education website showcases your mental health resources. By adopting an empathetic, understanding tone, prospective and current students will feel more comfortable taking advantage of available resources.
7. Pandemic-driven content
At the beginning of the pandemic, many universities were criticized for having a lax response or unclear guidelines for what students should do or expect. Now, many colleges are taking the lessons learned at the beginning of the crisis and implementing clearer guidelines. As an online communications hub, their websites are the perfect platforms to share information and keep their communities informed.
This includes real-time case-count updates, student and faculty resources, test scheduling, and other resources geared toward helping the university's community through the pandemic.
Rice University offers a COVID-focused microsite with testing statistics, university policies, and instructions for what to do in case someone is feeling sick or has been exposed to COVID-19. The University of Pennsylvania offers semester-specific guidance so students can have an online resource if they're uncertain about how to proceed in different situations.
8. Removing dark usability patterns
Dark usability patterns are tricks or deceptive design elements that are used to make a website visitor take an action that they didn't intend to, like signing up or paying for something they didn't mean to buy. Examples of dark usability patterns include hidden costs in a checkout or donation process or disguised ads that appear to be regular content or menu items.
These tactics haven't been overly used in higher education sites on the front end. However, higher education website developers are prioritizing removing dark usability patterns, even subtle ones.
Eliminating your site's dark usability patterns helps build trust among audience members and offers them a browsing experience free from sneaky or annoying interface interactions.
9. Microinteractions
Microinteractions are the small moments and design elements that users experience on your website that engage them more deeply. This encompasses everything from hovering over a button and watching it get larger or change colors to interacting with an in-depth infographic.
Think about the satisfaction and joy you experience when using Facebook's reaction buttons or sending an iPhone message with an animation. These small interactions engage and delight users, making digital browsing a more enjoyable experience.
Rice University's virtual tour is full of these microinteractions, starting with the rocket ship animation that appears when you hover over the "Launch Map" button.
The "Ready" CTA button on the Loyola Maryland homepage plays a similar role, changing text when hovered over to encourage visitors to click the button and "Discover the Loyola Difference."
Even though these microinteractions represent small moments, they can have a major impact on your visitors' experience using your website. By optimizing even these brief connections, you ensure every interaction users have with your website is a positive one.
10. Real-time updates
College and university websites are embracing their role as not just digital resources for learning more about their schools but also one that provides ongoing updates on everything from recent news to research developments.
Elements such as social media feeds, blog post updates, and news articles help keep higher ed websites fresh and relevant, showing visitors that the university is keeping up with current events and contributing to important conversations.
One example of this includes the social media feed on the Rhode Island School of Design's alumni website homepage. The feed pulls in recent Instagram posts, creating cross-platform content promotion and giving website visitors an easy way to connect with the university through social media.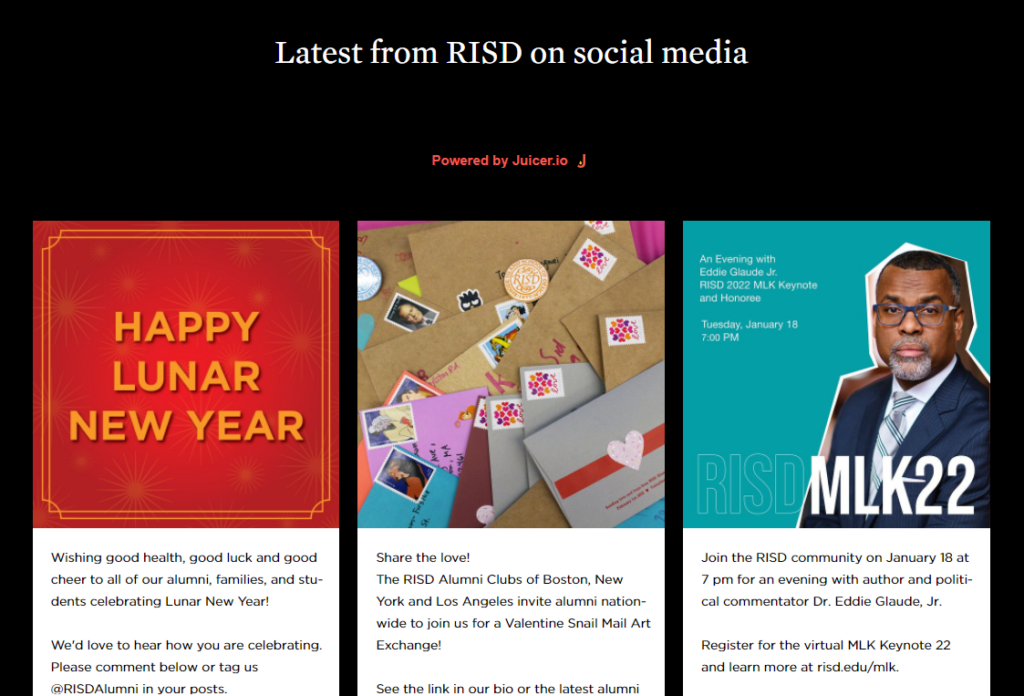 The University of British Columbia's website also offers an effective example of updated content. The homepage spotlights upcoming events, faculty members, community issues, research developments, and more.
By using your higher education website to feature news and current events, you can make it a helpful resource for not just your university's community, but a wider audience of alumni, sponsors, researchers, and prospective students who are interested in staying up to date with your institution.
How Kanopi Can Help With Your Higher Ed Website Design
Working with a website design agency allows your college or university to stay up to date with effective, usable design trends. At Kanopi, we offer web design services for all types of colleges, universities, and other higher education institutions.
We understand that a strong university website design starts with knowing your target audience, balancing their varying goals, and serving each segment equally. Here's a glance at the elements we assess and optimize through our process:
Research and Discovery: We conduct both qualitative and quantitative user and stakeholder research and testing. Then, we use our findings to create a vision board for your website to ensure we accurately capture your goals and strategy.
Content Strategy: We audit your existing content, assess your tone and style, and help create a more inclusive strategy that prioritizes accessibility.
User Experience: We craft user personas for each of your audience groups and create journeys and pathways that speak to each persona.
Website Design: We ensure your higher ed website has a top-of-the-line design that optimizes every user interaction.
Review our higher education design case studies and contact us if you're interested in taking your college or university website to the next level.
Additional Resources