Yale took home the People's Voice Award at this year's Webby Awards, and the Western Washington University Department of Design received an honorable mention at the Awwwards for its website redesign.
So what exactly makes a great college website? Here at Kanopi, we think higher education websites should:
meet the needs of their users AND the needs of the school;
be easy to use and accessible to as many people as possible;
have a great user experience (UX,) and
look great on any device.
Are you considering a rebuild or redesign of your college website and looking for inspiration? You've come to the right place!
We've pulled together what we think are the 15 best college and university websites and explain what they are doing right and why. We also outline web design best practices that can help you build a website for your institution that's a joy to visit and meets your user's needs.
Table of contents:
Kanopi has partnered with several colleges and universities over the years to build beautiful, easy to use websites that boost enrollment.
Why are university websites so important?
A university's website is the single most influential resource used by prospective students to hunt for a higher education institution.
Your college website matters — a lot.
A university website needs to meet the needs of many different users. Every site has to provide vital information to current students, staff, parents, and alumni. They need to be kept up-to-date with upcoming events, announcements, and information on classes, majors, and programs.
At the same time, a college's website needs to empower new students, donors and recruit staff. A university website must attract and inform through relevant, timely, and engaging content, tailored to several users, which is no easy feat!
Additional Resources:
College web design best practices
If you're looking to make improvements to your college or university website, these 10 best practices are a great way to ensure your web design makes the most significant impact possible. First and foremost, you should tell the story of your school and what you stand for, though all content on your site, through imagery, film, and CTAs to alumni stories.
Start with user research. Instead of relying on assumptions, carry out research to figure out who is actually using your site and understand their unique needs.
Focus on simple and uncluttered design. Less really is more.
Have short, powerful and personal call to actions (CTAs.) Get a little extra help optimizing your CTAs from us.
Implement a straightforward menu targeting your users' needs to help steer them on the right path through your site.
Ensure your site adheres to accessibility and compliance laws. See some of Kanopi's favorite tools and tech to ensure your site meets standards.
Update content regularly. Keep an eye on your events calendar, social media feeds, and announcements. Refer to current events to show your users you've got your finger on the pulse and can help them stay informed.
Incorporate multimedia like virtual tours and videos from faculty and alumni.
Ensure your CMS and plugins are updated when new versions become available, so your site remains speedy and secure.
Take a continuous improvement approach. Ensure you are getting the most out of your investment, and you are set for long-term growth.
Make it personal. Use empowering language, a friendly tone, and pronouns 'you,' 'us' and 'we' to build a digital connection with prospective students.
Want to better ensure your university website will support you for the long haul? Download our How to Make Your Site Last eBook to learn more.
Additional Resources:
The 15 top university websites
In no particular order, let's take a look at Kanopi's picks for the 15 best college and university websites:
1. Cornell University
What we like about Cornell's website design
A college website that's truly accessible to everyone? Cornell's a strong contender for that title. They use vibrant and bold colors that pass accessibility contrast level requirements, and their images include concise and accurate alternative text.
Their excellent mega menu packs a lot of crucial information into their homepage while remaining simple and easy to navigate.
Cornell's content reflects a friendly tone, and they use 'you' and 'your' pronouns to further engage visitors
An up-to-date events calendar and powerful imagery is the icing on the cake of this engaging college website.
2. McGill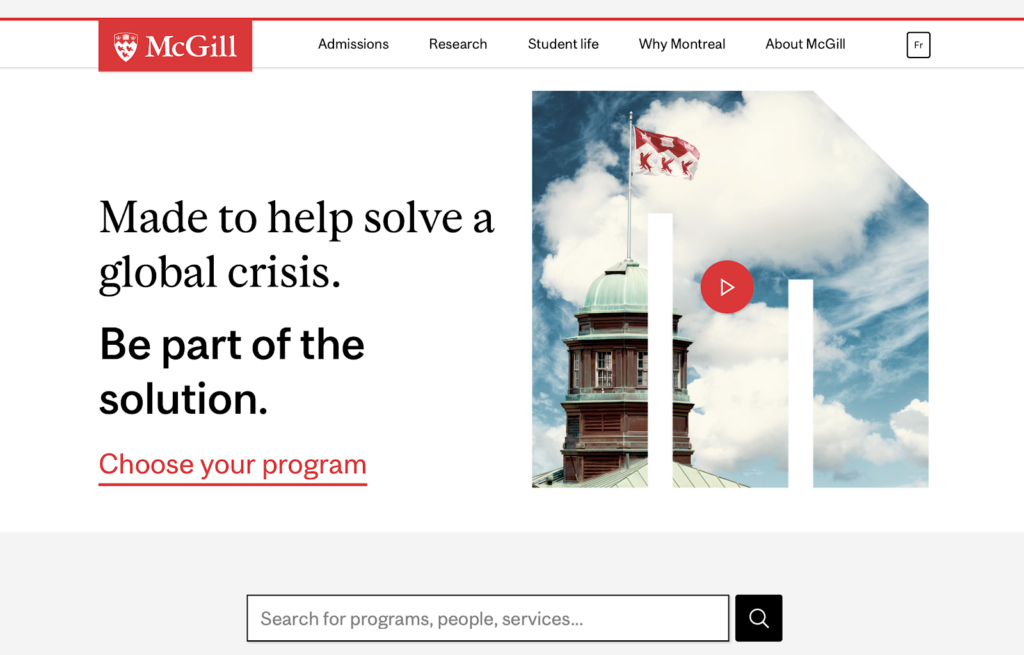 What's excellent about McGill University's web design
McGill's homepage is clean and minimalist while still providing essential content to its users.
Did you spot the empowering 'Choose your program' CTA? It's simple, straightforward, and it weaves prospective students in the University's success story.
They use real images and videos throughout their site, with their powerful 'Made by McGill Anthem' video taking center stage on their homepage. Films are a great way for prospective students to get a feel for your institution.
3. UCSF Pathology
We may be a little biased, as UCSF Pathology is part of Kanopi's continuous improvement program. We're proud of our ongoing work with the university to boost their online presence (a 26% increase in sessions per user) and better meet their users' needs.
The UCSF Pathology website's overall main menu design caters to their users, with the information they want and need prominent on the homepage.
A clear and descriptive 'Make a Gift' CTA helps people donate to the institution, directly off the homepage.
We also built a private, and secure internal site that allows faculty and staff to review and collaborate on their work.
4. Loyola University Maryland
What's great about Loyola's web design
We're big fans of Loyola's awesome hero image with a 'Ready' CTA that empowers prospective students as soon as they arrive on the site.
Further, a new and engaging hero image appears on every refresh.
Loyola provides clear user pathways for people researching undergrad, graduate, or continuing education studies, directly from the homepage.
5. University of Western Washington
This school's imaginative homepage hero allows users to move and position design imagery around the page with their mouse, perfectly reflecting their values and mission and engaging prospective students.
They bring the impact of donations to life by including images and details of what users' money goes towards under their 'Give' CTA, from a new Riso printer for their production lab to scholarships and field trips.
The University of Western Washington Department of Design's conversational and friendly tone of voice hooks users in and makes you want to read every last word of their content.
6. University of Pittsburgh at Bradford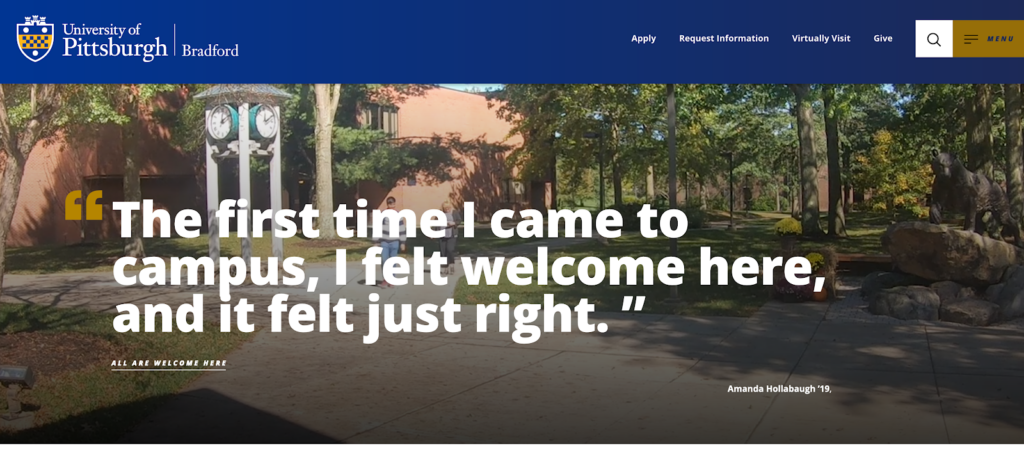 Another award-winning website this year, and deservedly so, the University of Pittsburgh at Bradford's engaging homepage hero includes a powerful student quote and message of 'all are welcome here'.
Their 'Virtually Visit' page shows how they are adapting as a result of current events to meet their user's needs.
From their main menu they provide clear user pathways for students, parents, faculty, alumni and the community to relevant subpages and resources.
7. UCSF School of Nursing
We had to include another Kanopi partner on this list as the UCSF School of Nursing has made massive strides to improve the UX of their site. Just 3 months after launching their redesigned site, their new home page 'Apply' CTA saw an engagement increase of nearly 10%.
Static and linked imagery has alternative text that's to the point, ensuring the site meets accessibility standards.
We helped the school bring their impressive alumni success stories front and center on their homepage, using engaging imagery, films and quotes.
8. Northwestern
Why Northwestern's web design stands out
We admire the school's homepage hero and its use of bold imagery to tell their alumni's success stories and creatively incorporate current events.
Their mega menu provides essential information to their users in a simple and straightforward way with prominent CTAs under each heading.
Northwestern's strong stance on diversity and inclusion is front and center on their homepage, welcoming students, faculty, and staff from different intellectual, ethnic, economic, and geographic backgrounds.
9. Stanford
Stanford's homepage includes brief sections on each of its popular landing pages, strengthened further with real imagery and quotes from faculty and students.
Notice how each page has its own CTA button? These help guide users to continue exploring the site.
The fixed navigation across the top of the homepage provides easy access to each page and stays at the top of your screen no matter how far you scroll down.
Stanford is clearly on top of current events, with prominent links to developing news stories in California and further afield.
10. University of Arizona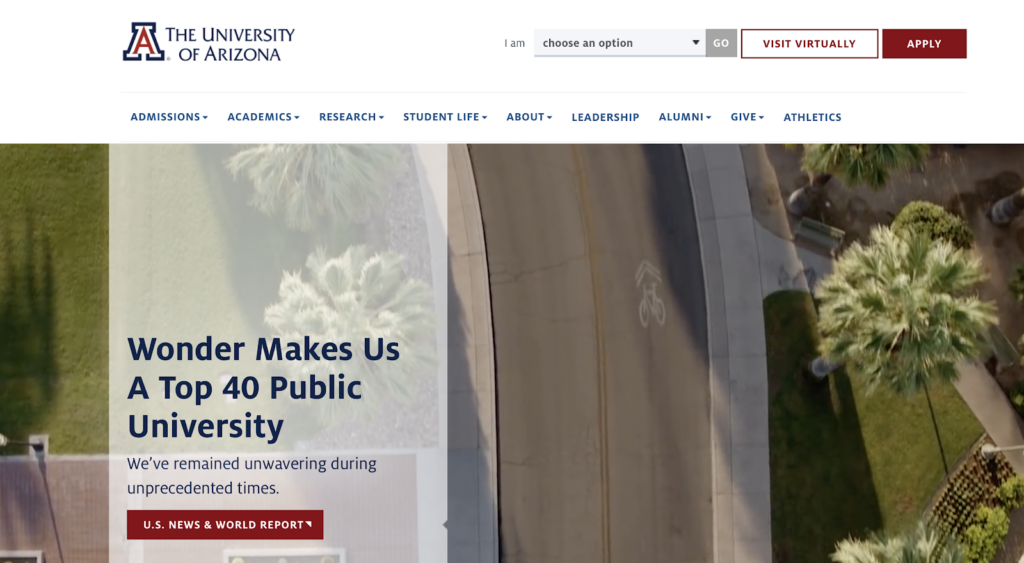 We love how the 'I am…' CTA starts the user on their pathway through the site, guiding students, parents, alumni, and more to subpages relevant and necessary to their needs.
Their friendly and humorous tone and use of 'you' and 'your' pronouns make their content fun to read, keeping users engaged throughout their site.
Kudos to the school for adding pause buttons for all background videos to be inclusive of accessibility concerns.
11. Oxford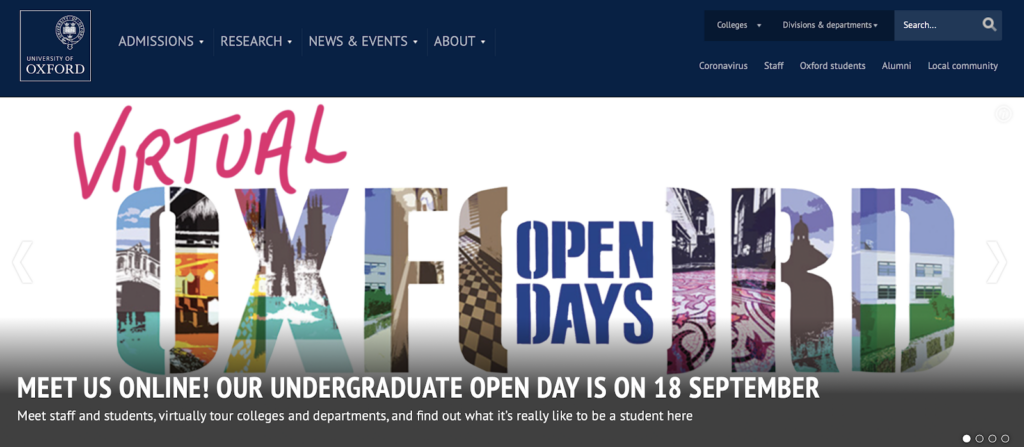 Oxford helps steer their users on a clear path as they begin their site journey from the homepage, featuring key pages like Admissions as well as easy to follow subpages.
The attention-grabbing rotating graphic provides recent news and announcements on their homepage to ensure their users know about current events happening at the university.
Their site's imagery is backed up by succinct and precise alternative text, making their site accessible to people using screen readers.
12. Notre Dame
Another frontrunner for the most accessible college website, Notre Dame's distinct and vibrant colors meet contrast standards. Their clearly defined link text lets users know exactly where a link will take them, if using assistive technology.
Updated imagery from classes and campus life reassures users that the school is taking the necessary precautions to protect them in light of current events.
Links to their YouTube, Twitter, Instagram, Facebook, and LinkedIn provide users with several ways to connect with the school online in a way that suits them.
13. University of Pennsylvania
As soon as users arrive on UPenn's homepage, they are greeted with an engaging hero with details about how the school is adjusting from the impact of current events and how they are supporting faculty and students to succeed through this unprecedented time.
UPenn is another example of a stellar college website when it comes to accessibility, with zero contrasting issues and concise alternative text for linked images, icons, and form labels.
Scrolling further down the homepage, users are provided with quick links to connect with the school through various online channels, including Flickr, Twitter, Facebook, LinkedIn, Instagram, and YouTube.
14. University of British Columbia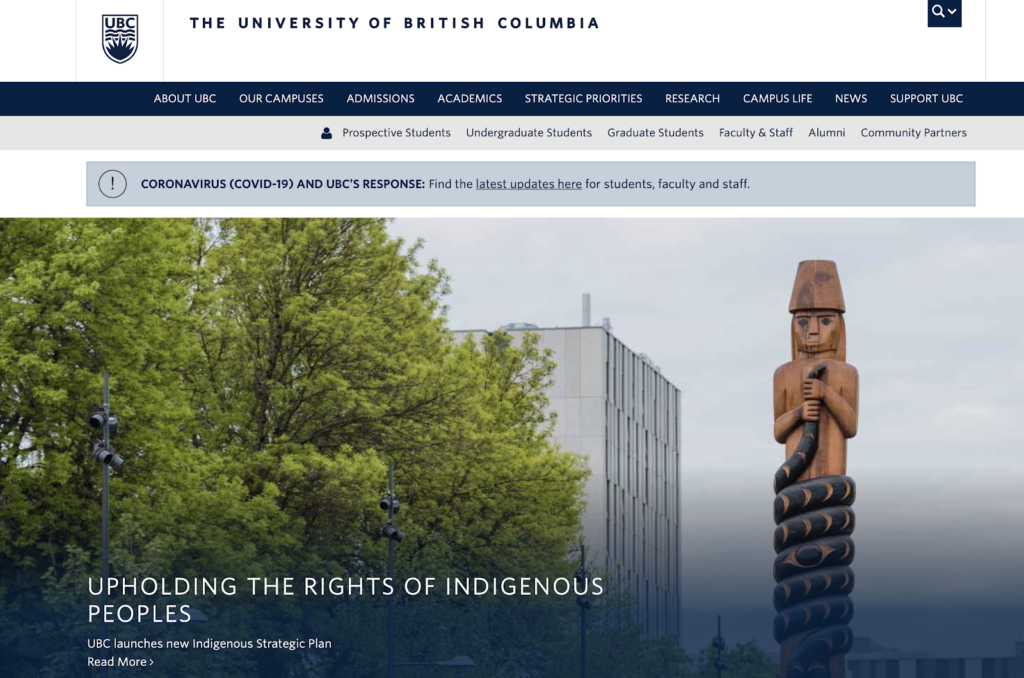 What makes UBC's web design great
We give UBC credit for meeting the industry-standard when it comes to responsive design — their site is a breeze to navigate on a mobile device.
The hero image is a single, simple CTA that drives the user to a topic the school feels is valuable and important.
A quick scroll to articles below the hero includes large, easy to scan titles with brief descriptions to encourage user engagement and are represented by relevant and realistic imagery.
15. UNT Dallas
Why UNT Dallas' web design makes an impact
We couldn't resist squeezing in one last Kanopi partner. Working with a modest budget, we helped UNT Dallas make small changes to create big wins including improved user pathways from the homepage and easier forms.
UNT Dallas' use of images and photographs helps tell their campus life story, assisting prospective students in getting a feel for the school.
Lastly, visitors are greeted with a live chat feature as soon as they arrive on the site, providing a quick way for users to get their questions answered.
Additional Resources:
How Can a Website Service Agency Optimize your University Website?
Targeted, user-focussed research can determine who is using your website and what their needs are. Users' needs change over time; that's why it's essential to stress-test any assumptions and ensure you provide your users with the content they need, where they expect it.
To truly understand your users and their needs, create user personas for your college website. User personas can help you interpret the people visiting your site's motivations and behaviors, allowing you to create a content strategy that helps them achieve their goals.
Not sure where to begin with creating a user persona? Take a look at our step by step guide on creating UX personas for web design.
A website service agency can help you optimize your college website by organizing content in a way that's both intuitive and visually pleasing. Expect a website growth plan once your website launches as well as continuous support as your website expands.
Kanopi offers flexible and tailored website support services. Contact us if you're interested in taking a continuous improvement approach to your college or university website. We'd love to hear from you.
Additional Resources: