With 89% of patients in the US Googling their health symptoms before going to their doctor, your hospital website is essential to serving your community's needs and providing accurate and trustworthy information.
There's no room for content errors or slow internet speed when it comes to people's health and well-being. Plus, it's critical to not frustrate users with simple things like directions, office hours, or contact information, particularly when they may be under the stress of health decisions.
Our professionals have worked with numerous healthcare clients to develop sustainable and successful hospital websites. To ensure your hospital's website is doing all it can for your community, we've created this guide discussing the importance of a hospital website, what a well-developed hospital site looks like in action, and things to consider when creating your site.

Why Your Hospital Needs A Well Developed Website
Before someone goes to the doctor, it's more than likely that they'll browse through a couple of physicians, make sure they're in their healthcare network, scroll through times for an appointment, and do it all online.
Not only are many of your regular hospital services now digitized, people will also turn to your website to answer medical queries, get updated on recent healthcare news, donate to your institution, and access an online health portal where they can update appointments and pay bills.
Here is why a well developed hospital website is necessary:
Helps craft a recognizable, highly reputable brand – When it comes to healthcare and services, individuals want the best care possible. If your hospital website doesn't exist or doesn't have updated resources and content, it's more than likely that people will take one look at it and deem your institution as unreliable. A well developed hospital website is critical if you want to create a brand that is trusted and reputable.
Allows you to differentiate your organization from other hospitals – Your hospital is likely not the only healthcare service in your community. In order to attract patients to your institution, you need to market it well. An optimized website plays a large marketing role.
Builds customer loyalty – Many times, when a patient chooses a hospital, they'll continue to go there (unless something prompts them otherwise). To build on this customer/patient loyalty, your website needs to establish itself as a reliable medical web resource so that individuals can continue to use it to make appointments, contact doctors, and pay bills.
Offers 24-hour patient communication and information – Patient care and medical questions don't stop after 6 PM. Your website is a critical tool that offers necessary 24-hour patient communication and information. Consider incorporating additional components like feedback forms, online chats, and other communication channels to show that not only are your resources always available but that you are always there to listen to your community.
Simplifies marketing for hospital events and needs – While your hospital doesn't conduct marketing the same way a business would, you'll still need a little bit of online promotion if you want to attract the maximum number of patients. Whether you have a hospital event coming up or you're making an appeal for donations, your website is the perfect place to market your initiatives.
No matter if someone is coming in for a quick check up or a visit to the ER, your hospital website is an integral part of their journey. To ensure it's serving your community to the best of its ability, your website needs essential requirements and specific site features.
Essential Requirements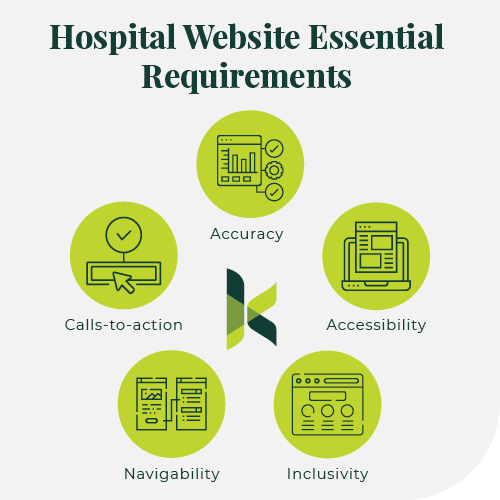 Accuracy – When it comes to healthcare, accuracy is non-negotiable. It's critical that your web content is consistently updated and provides the most high quality information available.
Accessibility – Medical websites should be clear and easy to use for the average user. This not only means that your website should be compliant with accessibility laws like the Americans With Disabilities Act (ADA) and the Web Content Accessibility Guidelines (WCAG), it also means the language and content should be approachable to everyone, no matter who reads it.
Inclusivity – Your hospital website content needs to represent the voice of all of your users, whether it's a patient, frontline worker, researcher, or caregiver.
Navigability – As soon as someone lands on your hospital website, they should be able to find the content or service that they're seeking. To ensure your site is easily navigable, consider mapping out the patient journey to better understand how people get to your site and what they do once they get there.
Calls to action (CTA) – Make sure that site visitors know exactly how to perform the desired action and when they should do it with key CTA placements. For instance, a "Book an Appointment" button on your homepage will help users who are seeking medical care take the necessary steps.
Site Features to Include
Your website serves the needs of your entire community, no matter if they need to make an appointment, talk to a professional, or look up the best place to park their car. Here are the website features that you must include:
List of services
Appointment booking
Contact details
Interactive advanced search functionality
Doctor/team information
Online chatbots
Online payment
Blog/News/Press releases
Description of departments
Online doctor advice
Feedback form
Hospital directions and parking information
There are a variety of features you might include on your hospital site and some that aren't even on this list. However, the above are the features you need. Keep your hospital web development on track by using this as a checklist to ensure you're doing everything you can for your patients, staff, and community members in general.
Hospital Web Development: 3 Sites To Be Inspired By
The best way to determine if your hospital website is up to par is to look at other successful site examples. Check out these three examples of hospital websites (the first two being Kanopi clients) to gain inspiration for your own site.
1. Global Brain Health Institute: Hospital Website Example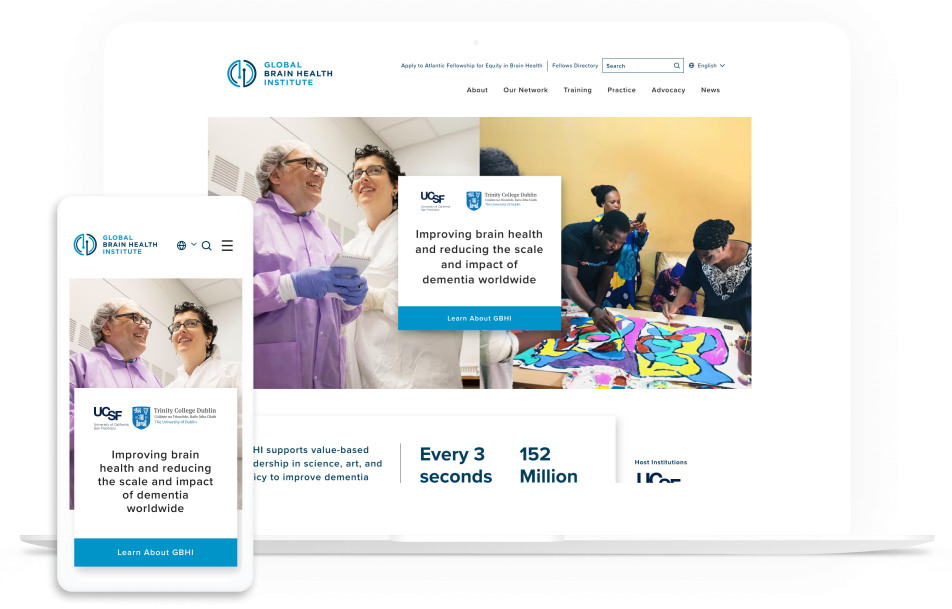 The Global Brain Health Institute (GBHI) is an organization dedicated to protecting the world from brain diseases and other health threats. In particular, they aim to reduce the impact of dementia in marginalized communities. The GBHI needs a website that positions the institute as a world-class organization and directs site visitors to their different projects and programs.
Here are some of their standout features:
A filterable list tagged with keywords that showcases GBHI's most important content.
Intuitive administrative interface so that key staff members can quickly make updates.
Easily-navigable site menu organized by the different audiences they serve.
Read our dedicated Global Brain Health Institute case study to learn more about Kanopi's role in building this website.
2. UCSF Osher Center for Integrative Medicine: Hospital Website Example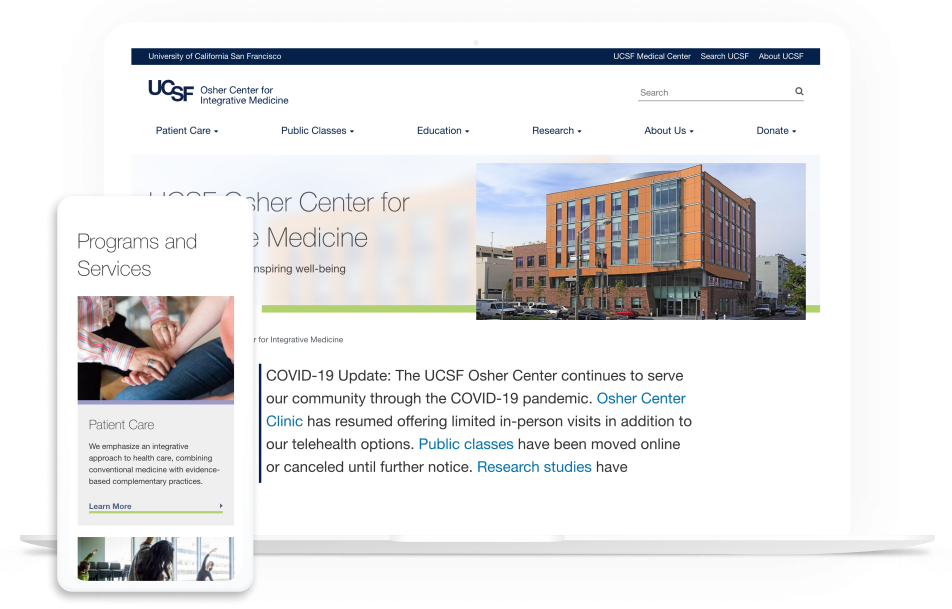 The UCSF Osher Center for Integrative Medicine is an integrative health institution in the San Francisco Bay Area. They aim to offer fully developed programs in research, education, and patient care to integrate modern medicine, healthy lifestyle practices, and other global healing approaches. Their site serves a variety of audiences, including patients, fellows, donors, students, and community members.
Here are some of their standout features:
Inviting and calming visuals with carefully chosen images and colors to convey a feeling of hope and healing.
Mobile-responsive elements allowing for wider audience use.
Flexible layouts so that site editors have the ability to populate pages with new content.
Read our dedicated UCSF Osher Center for Integrative Medicine case study to learn more about Kanopi's role in building this website.
3. The Cleveland Clinic: Hospital Website Example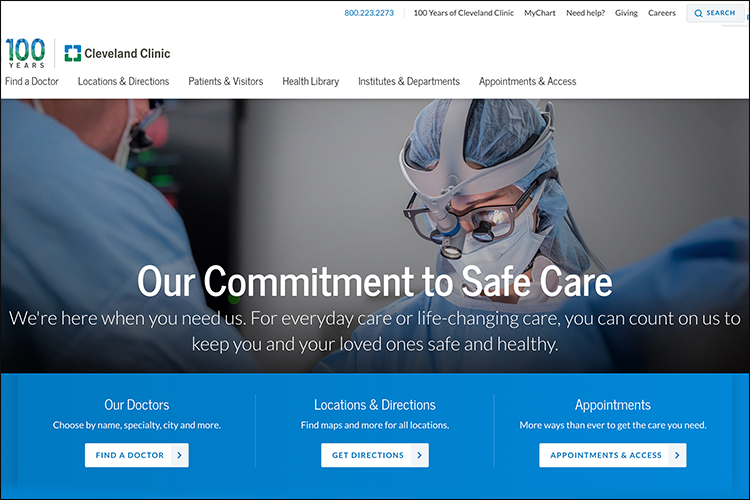 The Cleveland Clinic is a multispecialty academic medical center that combines clinical and hospital care with research and education. They have locations in Ohio, Florida, Abu Dhabi, Canada, and London, serving communities all over the world. To ensure that their services are available to everyone who needs them, they need a website that is easy to navigate and inviting.
Here are some of their website's standout features:
Clean and crisp branding with fonts and colors complementing the logo design.
Easily explorable site with an intuitive navigation menu.
Calls-to-action buttons on the homepage for these high demand services: "Find a Doctor", "Get Directions", "Appointments & Access"
Visit the Cleveland Clinic website to see it in action.
Creating A Hospital Website: Best Practices
You already know how important your hospital site is, but what are the steps you should take to make sure it is well developed and optimized?
As you're creating your hospital website and developing its content strategy, here are a couple of best practices and considerations that you need to keep in mind.
Hospital Web Design
When it comes to your hospital's web design, you must prioritize user experience. After all, your hospital serves the needs of everyone and should be able to provide the information anyone seeks in a streamlined and efficient manner.
As you're designing your site, these are the top considerations that we recommend keeping in mind:
Responsive web design – With 90% of the global internet population using a mobile device to go online, it's imperative that your hospital web design works on all different screen sizes. For patients or families already in the hospital or waiting room, the ability to quickly look something up on their phone or tablet is critical. Most content management systems (CMS) can create a mobile-responsive site, however, there are some easy ways you can do so on your own. For instance, use large buttons, a vertical layout, and avoid large chunks of text.
Bright colors – Adding color is a popular medical website design trend, with vivid and deep colors being sported on many successful hospital websites. Consider your site's color palette before diving into web development to make sure your website branding is consistent throughout its pages.
Accessibility – Having an inaccessible hospital website will not only turn away those who might need your services the most but paints your entire establishment in a negative light. Because of the industry that you're in, maintaining full compliance with the ADA and WCAG is essential. You want your entire community to feel accepted and at ease with your services, especially if it concerns medical care.
HIPAA and the HITECH Act
Your hospital website will have multiple services that likely involve taking in patient data, whether it's a health portal, appointment tool, or bill payment.
With this in mind, it's critical that your hospital web development and the tools you use follow regulations like the Health Insurance Portability and Accountability Act (HIPAA) and Health Information Technology for Economic and Clinical Health Act (HITECH).
HIPAA – This is an act created by the American government that aims to protect patient data like names, phone numbers, email addresses, social security numbers, and medical records.
HITECH – This is an extension of the HIPAA requirements that brings additional benefits and protection to patients. This establishes that patients should always have access to their health information online, and if hospitals do have a data violation, patients should be notified immediately. Plus, if hospitals suffer a breach that impacts more than 500 patients, it's necessary to inform the United States Department of Health and Human Services. Depending on the seriousness of the data breach, there are also various penalties and fees.
To ensure your website and tech stack complies with HIPAA and the HITECH Act, you need technical, physical, and administrative safeguards:
Tech safeguards include encryption software, data backups, and firewalls. Assess the state of your current healthcare cybersecurity system to ensure you have the proper safeguards in place.
Physical safeguards include material records or electronic devices with the aforementioned data with access granted only after the proper authorization.
Administrative safeguards include the guidelines your hospital sets up to ensure that internal procedures comply with HIPAA.
How can you ensure your hospital website will serve you long term? Download our How to Make Your Site Last eBook to learn more.
How Kanopi's Hospital Web Development Services Can Help
Now more than ever, a well developed hospital website is necessary to serve your patients and further your mission. To ensure that you're doing everything you can to take your own hospital website to the next level, partner with a website support and development agency.
Kanopi is a top partner for hospitals and has helped develop over 150 active sites thanks to our continuous improvement team. No matter what stage your hospital website is at, our team is prepared to either conduct a full website redesign project or even build it from scratch.
With our wide range of services, we work closely with your team to understand your services, the community you serve, your site visitors, and your mission to make the most of your hospital's online presence. Here are some of the services we offer:
Content management system support tailored to user needs— whether you use the Drupal or WordPress CMS, we have experts that can take each platform and customize it to align with your organization's needs and branding.
Custom module/plugin development so even if you can't find the right tool to perform a specific action, our coding team can step in to make it for you.
WCAG 2.1 AA accessibility standards to ensure that anyone can access and engage with your healthcare services as needed.
Custom integrations for an online health portal or other solutions that can expand your hospital website's capabilities.
Responsive mobile-first design because we know that your online hospital services should be accessible from any device and from anywhere.
Technical SEO strategy and implementation so that if anyone looks up your hospital's name, a specific doctor, or program, your hospital website is the first option on the results page.
Even after your optimized site is officially launched, Kanopi's work is not done. We also provide a full website growth plan to ensure that your site is sustainable for as long as possible and is there to support your hospital as it evolves.