Throughout my career of developing and designing websites for over a decade, I've been asked more or less the same question a number of times. The question is usually raised when I'm chatting to people at conferences or in meetings with new clients. People ask me to point to a site Kanopi has built for an organization exactly like theirs. In most cases, I respond with a question for them:
I ask, 'what problem is your web presence needing to solve?'
Whether a large corporation, a nonprofit, or a civil organization, the best websites all have a few things in common: they are easy to use, they meet their users' needs and they present smart content that supports key business objectives.
Does your website have a content strategy that speaks to your users? Do you have a clear user journey and are you making the right conversions? Does your site have the right layout for optimal flow?
Knowing what problems your web presence needs to solve is key. I've outlined a few common problems we see with websites, and how you can learn from verticals outside of your own that are solving similar problems to yours.
Focus on the problems you need to solve through your website.
Many companies still focus on what messages they want to deliver on their website rather than what their users need. This causes them to migrate towards the sites of companies with more or less the same service offer, product, or mission. While researching the competition is important, when it comes to building a great website, it's more valuable to focus on the needs of your unique users. What sites can you look to that are solving problems like yours fast and efficiently?
For example, let's imagine publishing company X wants a better website. They look for an agency that has developed a site for publishing company Y.
Publishing company X's site is built, exactly like publishing company Y's, but unfortunately neither meet their user's needs and publishing company X is left scratching their head as to why their web presence hasn't improved.
What if publishing company X instead looked at the problem their website is needing to solve? For example, the need for presenting a high volume of useful content in an accessible, inclusive way. They might realize that advocacy organization Z had the same problem — lots and lots of valuable content that wasn't easy to access. Publishing company X could use a similar search and filtering functionality used by advocacy organization Z. Functionality that is simple and easy to use which improved the experience for their users. Their users are now engaged, their questions have been answered and they've been motivated to take action.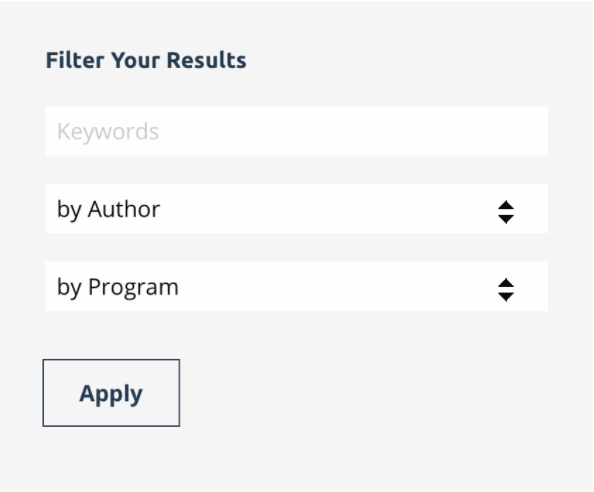 Instead of looking for an agency that has built a site for a company exactly like yours, why not ask if they've solved some of these common web presence problems?
Have you optimized the flow of a site by building the right layout?
Have you crafted a user-centered content strategy for a site?
Have you helped improve and get the right conversions for a site?
By partnering with an agency that has solved similar web presence problems to the ones you currently face, you're more likely to find the right solutions and ensure your website meets the needs of your users and supports the goals of your business.
With a diverse range of clients comes unique insight.
There are benefits to partnering with an agency that has a diverse range of clients. Agencies working effectively alongside fast-paced business clients tend to be quick and nimble in their approach. They are able to apply insight gained from their experience in the corporate world to their partnerships with clients in other verticals, such as nonprofit and civic.
Additionally, agencies working with clients in the nonprofit and advocacy sectors become acutely aware of fluctuating budgets and learn to do more with less when it comes to managing a sustainable and relevant web presence.
If you are able to partner with a team of engineers, themers, designers, and strategists who all have experience across a number of sectors, you'll gain valuable access to their cross-vertical knowledge and expertise that can then be applied to your own website.
Pitfalls of working with an agency that only works in a niche vertical.
Some agencies specialize in certain verticals, such as only working in higher education or with nonprofits. And to be fair, many of them are great at what they do! They know the market well, and can hit the ground running with several assumptions based on past knowledge and experience with other similar clients.
However, there can be disadvantages to partnering with an agency that only builds sites for one vertical or niche industry. You risk your web presence too closely resembling your competition due to tunnel vision or templated solutions, rather than having a site that supports your distinctive brand. In addition, the use of industry-specific templates can affect your web presence, having an impact on scalability and customization down the road. Assumptions can also be made about who your users are and what their unique needs are, if simply aligning to similar organizations.
If you decide to stick with an agency that specializes in your vertical, that's fine. Just make sure that they do the proper research about your organization so that they know what problems need to be solved for you, that they give you a solution that addresses your needs, and that they don't follow a template so that your final site looks just like your competitors,
Kanopi can help you find the right solution for your web presence woes.
From our mission-driven clients in healthcare, higher education, and human rights advocacy to our large business and civic organization clients, we have a track record of improving web presence and building sustainable sites across a number of industries and verticals. 
Partner with Kanopi to gain a better understanding of your user's needs and build a website that's beautiful and easy to use while helping you achieve your business objectives.