Full Build
Physicians for Human Rights
An accessible site that advocates for change
Client Overview
In 1986, Physicians for Human Rights (PHR) was founded on the idea that physicians, scientists, and other health professionals possess unique skills that lend significant credibility to the investigation and documentation of mass atrocities and human rights abuses. PHR uses medicine and science to give voices to survivors and witnesses, and plants seeds of reconciliation by ensuring that perpetrators can be held accountable for their crimes.
View Live Site
Services Provided
Continuous Improvement
Website Development
Staff Augmentation
The Challenge
While PHR was striving to advocate for others around the world, their website was worlds behind. The site was not responsive, the CMS was out of date and nearing end of life, and had no flexibility to accommodate either large amounts of content or complex layouts. PHR needed a scalable, sophisticated experience that would look great on any device and be in keeping with and supportive of their varied content.
The Process
Development
Working from provided designs; Kanopi Studios worked closely with the PHR team and their designer to help bring their vision to life. Kanopi built a system that not only delivered the aesthetics set forth in the designs, but also created an infrastructure that met PHR's day to day needs.
Content Migration
PHR's previous website housed lots of content and requiring the team to manually migrate it would have been a monumental task. Working from parameters set by the team, Kanopi was able to target and migrate specific content for the PHR team to finesse and fine tune in the new site.
The Solution
Translating designs to functionality
Working with a design partner who completed the discovery work and design, Kanopi implemented the strategy work as a strategic development partner. We created functional requirements out of the designs, and decided WordPress was the correct choice for the new CMS.
PHR generates so much content — and such a variety of content — that it was a challenge to present it all in a clean and scannable way. The designs brought the site visuals up to date, and greatly improved the user experience by creating visual layouts that met their high-volume content needs. Using Gutenberg, Kanopi was able to translate those seemingly simple designs into the complex functionality and content strategy needed, and give PHR a strong foundation on which they could present important content. This resulted in a more sophisticated and versatile system for editors, and an improved experience for site visitors. 
Migration and multilingual needs
Because PHR reports on crimes against humanity, their audiences and demographic can vary, and be specific to each country. PDF reports had multilingual needs, and there was over 10 years of content that needed to be migrated. 
Because we couldn't do a direct export, PHR provided a content inventory. Custom scripts were written to be able to map the data and migrate their content over to the new WordPress system.
Key Features
Featured Content Section on PHR Homepage
The new site utilizes highly customizable components that lets the PHR team select and present their content so the most urgent topics are visible to their users.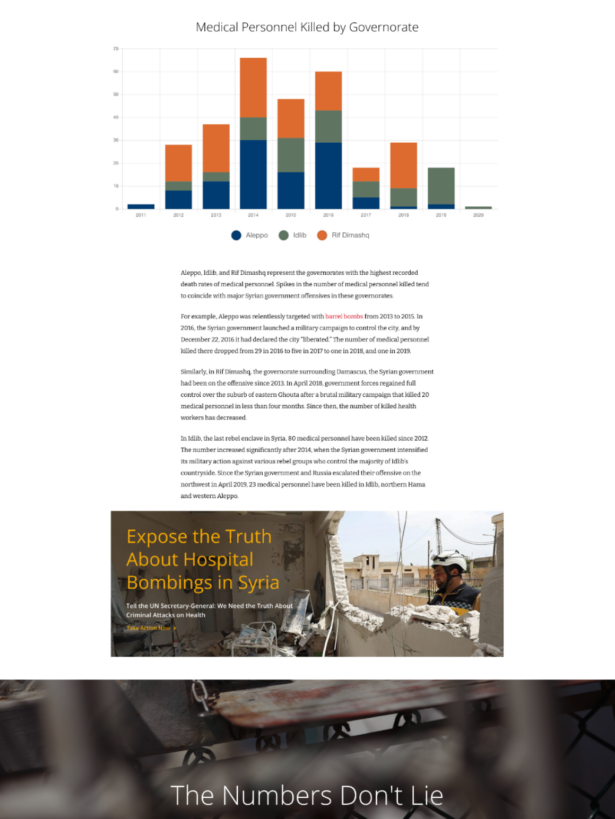 Dynamic Report on PHR Website
Kanopi crafted a dynamic report layout which allows key metrics to be presented in a more engaging way. Users are now able to navigate important topics easily.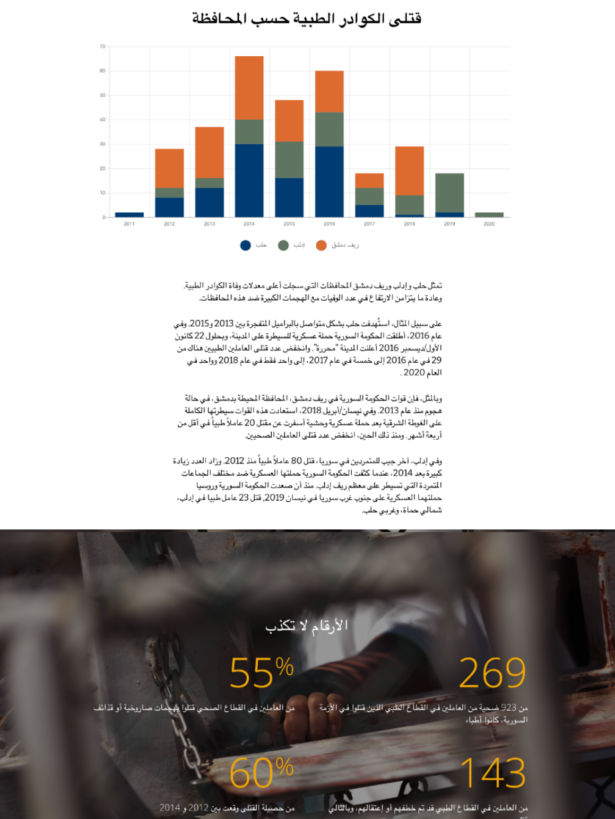 PHR Dynamic Report in Arabic
Kanopi ensured PHR's reports were not only presented in a thoughtful and engaging way, but were also accessible to their users. The new site supports multilingual capabilities so the team can load reports in different languages.
The Result
Moving the site to the latest version of WordPress and developing a new interface has been both foundational and transformational for PHR. The PHR team can now create complex layouts easily and publish content that's accessible for their users. The new site is responsive, accessible and flexible, which means that PHR is better supported in their mission of providing evidence to create positive change.
Increase in sessions per user