When I started Kanopi, I vowed to build a web agency that paired creative solutions with sustainable and strong architecture, while keeping the client's entire ecosystem in mind. I wanted to work with great talent, great clients, and great partners. In order to accomplish this, I had to decide how I would approach the task, and what values I would follow in order to make it happen. I wanted to be a value-driven organization.
Every organization, in my opinion, SHOULD be value-driven. You're running your business for a reason, because you believe in something . . . right? Even if it's about your belief that all people should wear purple while playing a recorder under a square-shaped canopy on a specific day in August, there must be a value behind it!
Kanopi has seven values. These values guide our team so we can work in harmony with each other — and with clients — to create great outcomes.
We value human connection. We are #BetterTogether.
We value being #Nimble and helpful.
We value #Clarity.
We value that when something is complex, we #OwnIt.
We value contributing #Trust daily.
We value supporting our #Community.
We value expressing #Gratitude.
And the hashtag in front? Our remote team uses Slack to communicate and collaborate every day. In order to reward and support each other, each of our seven values is signified with a hashtag so that every day in Slack we can give recognition and prizes to our colleagues via our "HeyTaco" program, which gives tacos tied to our values. It provides constant encouragement to live our values as we improve the internet, one site at a time. And a chance to win fun prizes!
Let's get started . . .
1: We are #BetterTogether
Kanopi is not about one person's ideas. There's no one ego we're following, and it's not about one person's vision or direction. We are collaborators. We work together on everything. Everyone's opinion is heard, always considered, possibly debated, but eternally valued.
It's also why we chose to work in open-source due to its collaborative nature and sense of community. Collaboration creates a better result because multiple voices allow for all angles to be considered, and those differing perspectives make an outcome stronger than what would have otherwise been.
We also really like the people we work with. Not just as colleagues, but as people. If we have to spend most of our waking hours working, it's so much nicer when we can relate to each other on a human level, enjoy each other's triumphs, stories, and support. We have each other's backs.
This is why we value client partnerships. We are excited to spend time with them; to dig into their needs, wishes, and wants. And while we're going to do our hardest to understand their user and stakeholders needs, ultimately they're the expert on their organization. So it's critical to us that they are very much part of the conversation. Their voice matters.
Without it, we would do a good job with our best intentions based on industry knowledge and best practices. But with it, we can create something that exceeds expectations.
This is why we value human connection. We are #BetterTogether.
2: We value being #Nimble and Helpful
We are all problem solvers in our jobs, regardless of industry. Medical professionals, teachers, carpenters, judges, even ride-share drivers — they solve problems every minute of every day. Web agencies do as well: each project is a website that needs fixes and improvements in a number of areas, and needs them done under a certain budget and a specific timeline.
So what makes someone stand out as a problem solver? It's in HOW they solve the problem, especially when they do it in a creative and flexible way.
Kanopi does this really well. Every day we encounter a variety of issues, and our team of Senior talent has seen the most common problems repeatedly. But every once in a while we get thrown a curve-ball, and that's where it gets especially fun. We put our collective heads to the task (remember our first value #BetterTogether?) and find a way to make it work. Solving puzzles is fun and satisfying. And of course, clients like it when we figure it out.
We also are good at pivoting when necessary. Did the project's priorities change? No problem. Is there a budget shift? We'll reprioritize. Web projects can encounter any number of unexpected obstacles. But Kanopi is skilled at managing the unexpected.
It's why we have such a great reputation for amazing customer service. We "Kanopians" just love to be helpful, so we respond quickly, flexibly and creatively. We're #Nimble that way.
3: We value #Clarity
Confusion is really fun when you're at a carnival fun house. Or lost in a corn maze. Or watching a thrilling movie with plot twists and turns.
It's not so fun when you need your website working because your stakeholders can't fill out the form they need, and the solution you got from your web team on how to fix it isn't a solution at all.
Confusion wastes time — and budget — in web design and development. It's why Kanopi puts so much energy upfront in good research and strategy: the clearer the understanding, the smoother the process. And a smooth process keeps the stress levels down and the budget in range.
Kanopi also endeavors to use clear language, so there's no confusion about what's happening with a site. We encourage regular meetings so the status of your project is always clear. Emails and tickets are responded to quickly. And we encourage questions, no matter how small.
We also insert clarity at every stage of our process. Our research is designed to ensure we understand the goals and needs from the start. That informs the UX and design deliverables, which we then present in iterative stages, so we make sure we're always on the right path with the visuals and UX. Our development is also handled in an iterative, agile fashion, so we can address the development in small bites.
All of those small bites add up to create big wins for clients. Plus we provide documentation of every step, so they can always refer back to it. They get an expected result — because there was #Clarity from the beginning.
The unexpected part? How much they enjoy the process. It really can be fun to work on a web project when the process is clear.
4: When something is complex, we #OwnIt
What we do is simple, but also hard.
Some websites are relatively basic — just needing a place to get their content online, perhaps a link to a google map, and a few other basic integrations. But others need so much more: integrations, a particular custom piece of functionality, or a unique design.
This is where Kanopi Studios comes in.
Our team is made up of only Senior talent. We don't hire Junior developers. This means we've got the experience to take your harder use case and find an elegant solution. It will look easy, but don't be fooled: like professional athletes, our team has been practicing for long hours and years. There's a lot of hard work that happened in the background to get us to that seemingly simple outcome.
And if we don't know the answer right away? We figure it out. We're committed to continually improving — both professionally and personally. It's exciting to always be learning and pushing the boundaries of what we can do. We take pride in being accountable for our work, and seeing it through.
And when we get there, we celebrate it. Every time. Because pursuing excellence is tough, and it's always an accomplishment in the end when we can #OwnIt.
Web design and development can be hard. But we make it simple.
5: We value contributing #Trust daily.
When clients first come to us, we convince them that they can trust us with their project.
Then we have to prove it.
How will we do it? With small, incremental steps every day. We like to use the school analogy of, "filling the marble jar:" every time we make another positive step forward on your project, another marble will get added. At the end we've filled the jar up with confidence and goodwill.
As Brené Brown beautifully put it, trust is, "built in the smallest of moments." (Honestly nothing explains trust better than that video. It's 23 minutes of fantastic.)
Basically we have to deliver on what we promised, no matter how large or how small, earning trust one step at a time.
And how do we measure trust? It's admittedly hard to measure. We could send out a bunch of surveys asking to judge our integrity, our commitment to your project, if we treated them fairly, or if we seemed committed to their project. But the biggest metric for us is this: we have a 95% referral rate from current clients who recommend us for new projects, and five stars on Clutch. So we must be doing something right.
We are honored that clients #Trust us to do this work.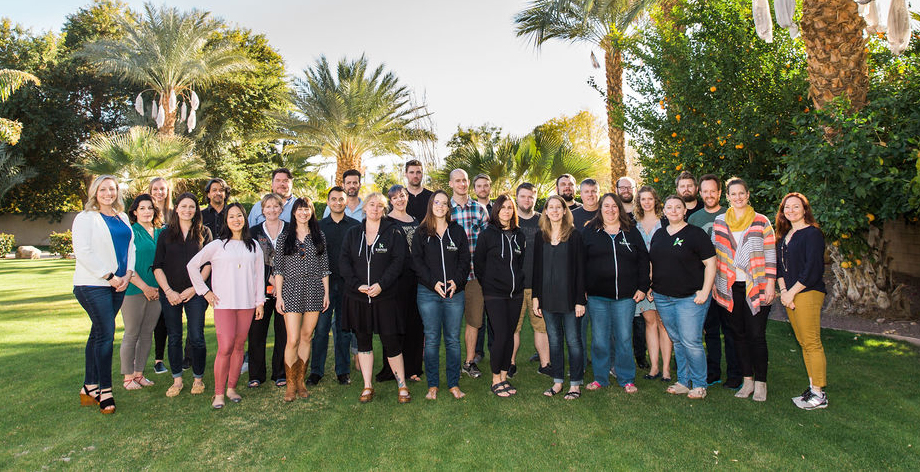 6: We value supporting our #Community
There's a saying about parenting: it takes a village to raise a child. The input and influence of family and friends are nuanced and critical to the comprehensive development of raising each child.
We view website creation the same way. We love our village, because the collaboration makes for better work. And we are fortunate to have several communities that help us in that mission:
We have an internal community of staff who help each other out every minute.
We have our community of clients that partner with us to create that work.
Extending the circle, we have a community of vendors and partners who work with us to provide amazing hosting, multilingual services, and accessibility checks. They enrich the experience with their specialties and support us in our clients' goals.
It's critical to Kanopi that we supporting our communities. We love to help each other grow in our learning, and attend community events so we can collaborate. We believe so much in contributing back, that we are one of the main organizers of BADCamp, as well as one of the few agencies with a dedicated open-source community ambassador on staff. She alone attends an average of 16 events annually. That's not including the other Kanopians who help the community by attending or speaking at events, volunteering time, or contributing code. 
We also were recently listed as one of the top agencies contributing back to the Drupal project.
Community is about collaboration. Learning together. Pushing the work forward with positive momentum. Asking for help when we need it. And giving back when we can.
The stronger the foundation of the village, the stronger the individual. It's why we value contributing as much as we can to our #Community.
7: We value expressing #Gratitude.
Kanopi was born from a desire to build strong, sustainable, creative websites and provide for their growth beyond launch. It was also born out of my love for treehouses.
Having grown up in Costa Rica, my love for the landscape and the forests compelled me to purchase five acres of land in a treehouse community, with the ultimate goal of someday building my own treehouse.
When I decided to start an agency that balanced new site builds with quality support, the name "Kanopi Studios" was chosen because both treehouses and websites are sustainable ecosystems under a larger canopy: both have beautiful architecture, can be simple or complex, are customizable within their landscape, have strong foundations, need to accommodate constant growth and change, and are limited only by creativity.
I don't have my real treehouse yet, but I am proud of what we've built together. I'm lucky that I work with wonderful and talented clients and employees who make the web a better place, one site at a time. Being a value-driven organization has gotten us there.
Our values shine though in our #nimble and can-do attitude, our #trust in each other, the #clarity with which we communicate, and the way each of us works to #OwnIt. From our #Community work, to our client work, to supporting each other, we prove that we are #BetterTogether.
And that leads us to our final value: we are thankful we get to work with great people and great clients to make the internet a better place every day. It's why we feel the need to express #Gratitude daily.
To express my gratitude, here's a Spotify playlist of songs all about giving thanks.
Thank you for being an integral part of the success of Kanopi Studios.
With #Gratitude,
Anne