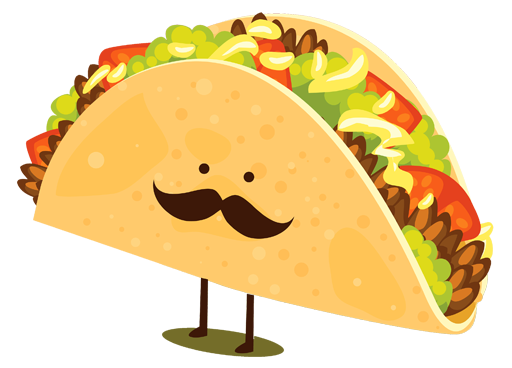 Who doesn't love tacos? They are nature's perfect food: crunchy & fresh meets creamy & savoury! It's a wonderful mix of Mexican culture wrapped in all this yummy goodness and enjoyed around the world. They bring people together one bite at a time (a little melodramatic? I am a bit of a foodie).
Here at Kanopi Studios, we definitely love our tacos. More specifically, we love this crazy little Slack integration app called HeyTaco!, an employee engagement tool which became a huge part of our Kanopi culture. As a completely remote company that heavily relies on Zoom video chat and Slack messaging to stay connected, how could we keep connected in a consistent, interactive and fun way? Now with HeyTaco! we can both literally and figuratively say "Thank you" virtually with tacos!
We have essentially gone nuts over it, giving away tacos we can never eat (kudos to our CEO, Anne Stefanyk, and VP of Operations, Jill Taiji, for bringing HeyTaco! to Kanopi). Each staff member is given 5 tacos a day to give away, which resets the next day (we have since increased this threshold to 10 tacos!). And boy do we give them away, and exuberantly so: with almost 30 Kanopians and a cap of 10 daily tacos, often we have other staff members donating their tacos to someone who runs out, just to keep the giving going. We even have staff members log online over the weekends just to giveaway their daily limit of 5 tacos.
But wait! There's more random goodness, such as giphys of dancing taco people popping up on your screen when you receive a certain amount of tacos. Or collecting special "gifts" depending on how you give and receive tacos; for example, there's a Super Taco (a taco wearing a cape), a taco tree, and bottles of sauce that come in jalapeno and "ghost" flavors. There are even the coveted rare gifts you can unlock (thus far, I have collected a tornado in a bottle, a snow globe, and a pet rock). The purpose of these "special" gifts? To give them away to other team members to show how awesome they are to be receiving such a special gift.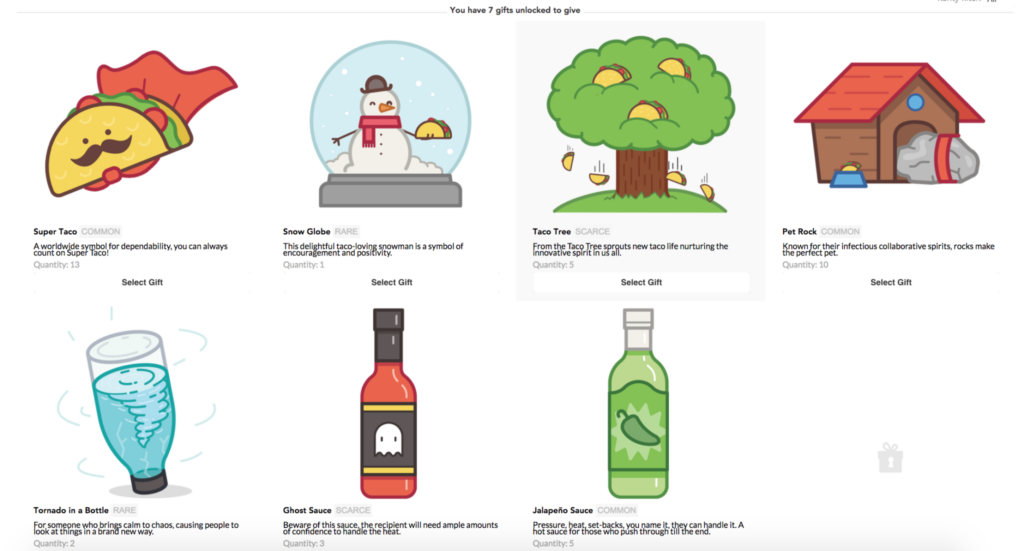 Admittedly it is the stupidest thing, this random taco-ness . . . but it is highly effective at building camaraderie, ridiculously addictive and just plain fun. (Side note: since the introduction of HeyTaco!, there had been an increase of staff members eating tacos for lunch, go figure). This phenomenon is unsurprising given the nature of our team as a whole; it seems that Kanopians really love their novelties and dive head-first into such things for the long haul (we are also obsessed with customizing Slackmojis, and fill our slack channels with our Bitmojis avatars… that's a whole other blog post right there).
So where am I going with this? Well, we have turned this novelty into something meaningful and truly special. Basically this spawned our employee incentive program where we thank one another using specific hashtags that correspond to one of our Company Values:
We value human connection. We are #BetterTogether
We value being #Nimble and helpful
We value #Clarity
We value contributing #Trust daily
We value that when something is complex, we #OwnIt
We value contributing to our #Community
We value expressing #Gratitude
Each month, the person that receives the most value hashtags per value receives an award of recognition, typically in the form of an Amazon gift card. Even the Top Taco giver for the month receives an award. It is our company's way of encouraging everyone to give taco gratitude (with #hashtags) where it is totally deserved as a fun way to recognize the efforts of our fellow Kanopians!
Similar to how we depend on one another to make magic happen here at Kanopi, monthly winners are dependent on the team thanking them as a collective with a value hashtags. It is through team effort and recognition that anyone even wins a prize. It is such a lovely process.
And as-if the spirit of giving stops there, it doesn't! Even recipients of a HeyTaco! reward for that month would request to have their $25 gift donated to a charity of their choice, or opt to gift their Amazon gift card to another Kanopian because they want to recognize their efforts.
I had even had to announce to all staff that it is okay to redeem the prizes for themselves. Like, I literally stated in a staff meeting, "Don't ever feel selfish for claiming your gift!"
We do have it in the works to have a redemption program for staff to trade in their accumulated tacos for prizes, but thus far people are just happy to give hashtag thanks over and over again and collect tacos with gleeful abandon.
Does our culture sound like a place you'd like to either work with or work for? Contact us to get started.
And as much fun as it is give give and receive, there is a bit of intercompany competition here, which adds some spice to the taco fun. A dirty secret about me: I make it a point to be the Top Taco Giver as much as possible because:
I like winning and I am secretly competitive,
Because I know this would guarantee that I would earn a HeyTaco reward, and,
Once I get the reward, I can gift it to a team member that I feel was deserving of a HeyTaco! recognition but just did not pull the highest amount of hashtags.
There. The secret is out. I love to give, and I happen to work for a company that shares this same disposition.
Truth be told, having an attitude of gratitude can do wonders for the psyche. I was once in a really bad mood regarding my personal affairs that seemed overwhelming at the time, but instead of lashing out at the world (i.e. yelling at my plant) or myself (i.e. ice cream therapy), I decided instead to give away my 5 tacos for the day. I found myself reflecting on team mates and how they contribute daily to the awesome that is Kanopi. I thanked someone that helped me in a big way. I thanked someone else for helping me with a small task. I thanked someone that I know hustles but may not be as conspicuous or obvious to others. I was even skimming thru other Slack channels and picking up conversations where one Kanopian fixes a big problem, or helped a client, or made someone laugh and brighten that chat room, and I gave them a taco for being their awesome selves. It's amazing how one can receive such an abundance of something unquantifiable in the simple act of giving thanks to someone.
And this is why the average Kanopian may appear happier. Coz Tacos.