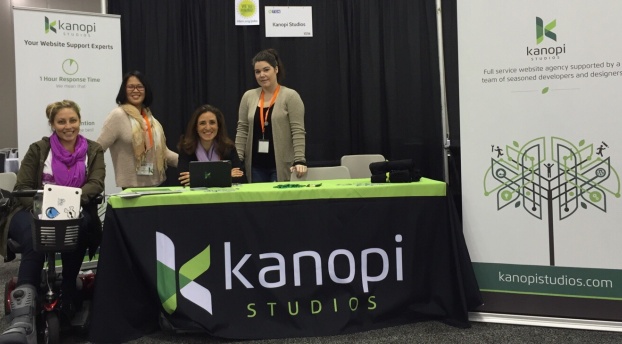 The booth materials are packed and me and my knee scooter are home after four jam-packed days at last week's Nonprofit Technology Conference (NTC 2016) in San Jose. I must say, I was unsure about how I would get through the conference with my broken ankle but as many of you can attest, I covered a lot of ground and got to connect with a lot of great people in spite of my injury!
This was our second year participating in NTC and our first year as a booth exhibitor. It was great to be part of this conference which now in its 16th year, provides a unique platform for those of us in the technology sector to connect with nonprofits from around the country to share, learn and discuss ways that technology can be harnessed for good – whether to engage volunteers, secure donors or create operational efficiencies, the ever-changing technology landscape provides infinite opportunities for advancing the mission of organizations large and small. Thank you to the conference planners and all the attendees for making this years #16NTC an amazing conference!
This year, over 2000 people gathered over the four days that included a day focusing just on Drupal, WordPress and Salesforce, presentations covering  everything from IT to email marketing to CRM administration and of course, the networking parties in downtown San Jose.
Drupal Day + WordPress Day = LEARNING
I really enjoyed attending the Drupal Day sessions as a presenter and as participant. My session's focus was Website Musts: How to Define Everything That Your Website Needs to Do. We hope our user focused approach to identifying website features is helpful – you can Review and share our slide deck! . We were also glad to have one of our nonprofit clients, The Center for Digital Archeology provide a case study on Mukurtu – a free, mobile, and open source platform built with indigenous communities to manage and share digital cultural heritage.
Deborah Pappalau, one of our project managers and communications strategist found Crafting Your Nonprofit Story In A Digital World by Ben Wong from Blackbaud really compelling- this approach takes a unique spin on how to craft your nonprofit story where the problem or issue that the organization is fighting against is the antagonist and how to make your audience the hero.
Attendees + Booth = CONNECTIONS
I was thrilled to have our Executive Assistant, Darlyne Dolap and our Marketing Coordinator, Lynette Sawyer manage our booth presence. Thank you to everyone who stopped by our booth to say hello and to discuss how our team can help nonprofits with their online presence. Our highlight was connecting with organizations who need support for their website, as well as, giving away free site audits to those who are seeking strong data to present to their board of directors as a business case to update their websites. Plus – seems our chocolates, stickers and t-shirts were a hit!
Thanks for seeing us at NTC 2016! We look forward to staying in touch with everyone we met and being apart of #17NTC in Washington D.C. next year. Learn more about how Kanopi can help nonprofits by contacting us today.
#KanopiForGood