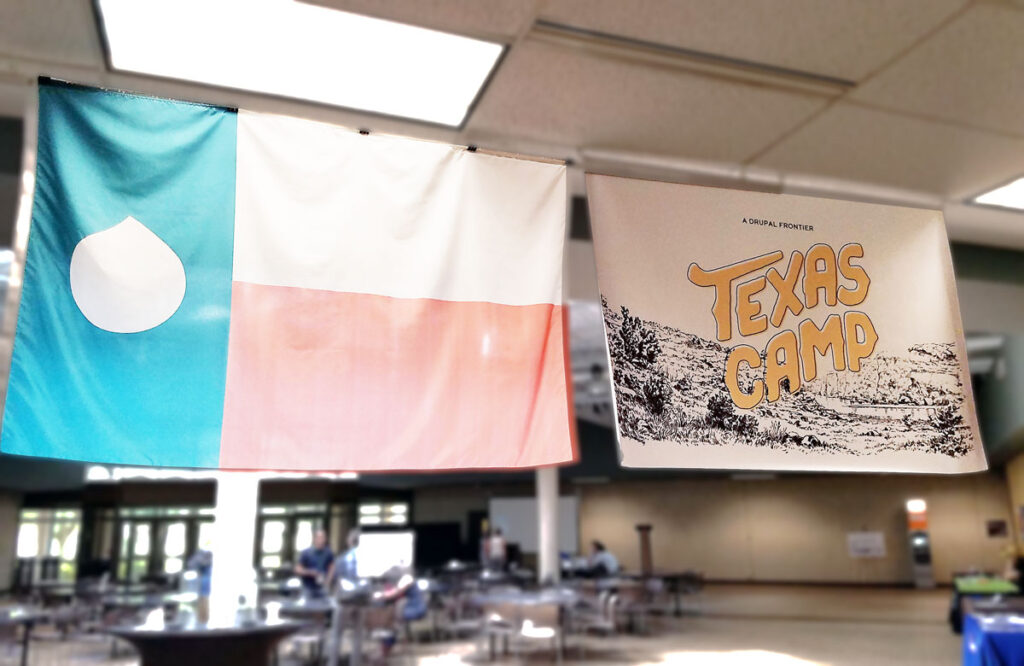 "You may all go to hell and I will go to Texas." ~ Davy Crockett
The slogan for TexasCamp 2017 didn't pull any punches, and the event didn't either! Growing to 200 participants in only its second year, the three-day TexasCamp in Austin went off without a hitch. (Get it? Texas? Horses? Hitch? Okay… never mind.) Kanopi Studios was privileged to not only be a sponsor of the camp, but be active contributors to its success several ways. Our own Caryn Eaton was one of the core planning team members involved in the organization and execution of TexasCamp, handling the program selection, scheduling and on-site coordination. Will Jackson and Katherine White both presented talks at the event.
Despite manning the sponsor table along with Jessica Skewes, talking Drupal with a ton of amazing folks, partying on Rainey Street, and eating lots (and lots and lots) of tacos, the Kanopi team managed to attend a number of the excellent sessions on offer. For those of you who couldn't make it, here were our favorite talks (including our own 😉 ) and our biggest takeaways from the event!
————————
Kanopi Session: Docker in a Flash: Introduction to Drupal Development with Docker
This was the third iteration of the of this session that Will Jackson, Kanopi's Senior Support Developer, has presented at camps across the country. New additions this time around included an introduction to Docksal, a command line utility for creating and managing Docker-based development environment solutions.
Session attendees were engaged, asked great follow-up questions, and were genuinely interested in learning about various solutions available for managing Docker environments
Will always loves nerding out over Docker, so if you see him at an event, don't be afraid to strike up a conversation!
Kanopi Session: Documentation for Developers: How to Plan for posterity and not go insane
As an agency that works extensively with both medium- to large-scale website development projects and support clients, Kanopi sees both sides of the developer documentation equation: the "we don't have the time/budget to write it" and the "it will cost more to support the site because there's no documentation to work with."
This talk by Kat White, Director of Engineering, focused on a simple path to better developer documentation — keeping your documentation with the code in text-based markdown files that cover everything from high-level purpose and usage to installation and local setup instructions to deployment notes and technical architecture. Documentation makes you a better developer, a better writer, and a better member of the open source community.
This was the first time Kat has presented this talk (and it required Will's help to get through it since she lost her voice), and the Q&A afterward was enthusiastic and engaged. Kat is looking forward to extending and refining based on the questions and feedback, so look for the next version of this talk soon at a camp near you!
Other Awesome Sessions We Loved:
Automatic Drupal Updates using Visual Regression
This session detailed an approach for maintaining automatic updates for Drupal based websites. The approach described using Visual Regression testing, as a means to consistently review visual changes to ensure that updates were applied successfully and without error. For more advanced websites, additional tests are also recommended as not updates can be tested visually. Such tests could include Behat or PHPUnit tests, to ensure that site-critical functionality remains in-tact once updates have been applied.
This session reinforced our belief that providing automatic updates is definitely an attainable goal. The level of effort to provide such a service will vary between each site, and site-specific tests will need to be developed for every site where you intend to provide true "worry-free" automatic updates. But it's well worth the upfront investment to get this right to ensure that supporting your website and ensuring its security is a smooth and efficient process.
Applying Design Thinking Methodology (Parts 1 & 2)
This was Caryn's favorite session — not only because of the fantastic user experience tools and tips that were discussed, but because these tools were then applied to a real-world scenario — a guerrilla UX working session focused on TexasCamp attendees which yielded fantastic insights for the camp organizers.
The working session included real UX brainstorming around the motivations of camp attendees overall, mapping the user journey of the thought processes and decisions that lead attendees to come to camp, and worked through the experience mapping of 3 major personas distilled from camp attendees.
From Kanopi's perspective, we were excited to see such a strong synthesis with our own internal user experience process and deliverables. It's always great validation that others are seeing positive results using similar approaches; it helps us know that we're on the right track and in good company, producing the best results for our clients!
————————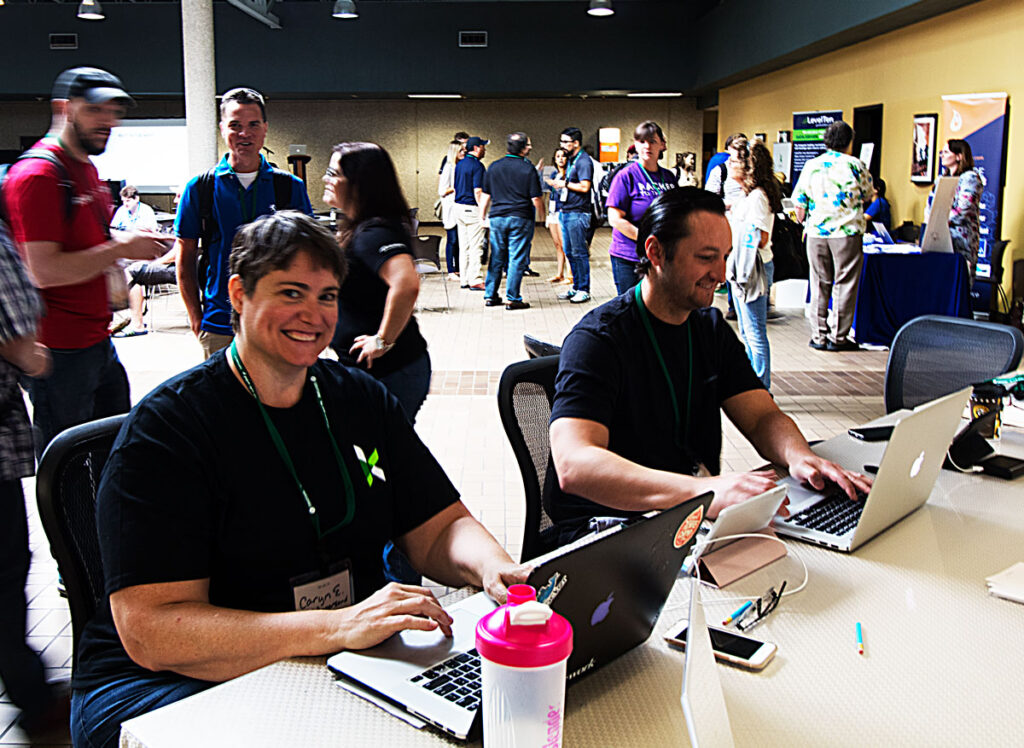 As a fully distributed organization, it is always special when members of the Kanopi family meet for the first time. Put that on top of a great event like TexasCamp 2017 and you can't beat the remote work lifestyle!
Thanks, Austin, for the hospitality. We'll see y'all real soon!
YEE-HAW!