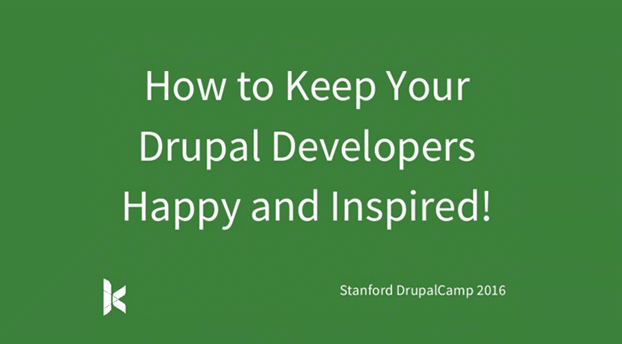 The last two weeks have been very busy for the Kanopi crew as we are in conference season. On the heels of participating in the Nonprofit Technology Conference, we headed over to Palo Alto this past weekend as a sponsor of Stanford Drupal Camp to host a couple of sessions.
Like Legos, developers are the key to building solution-based, effective websites. As the owner of a web development firm in charge of managing developers who are distributed around the country, I love sharing the ways that we work to keep our developers happy and inspired while generating the highest quality work for our clients. You can find my presentation slides here.
Kanopi's own Darius Garza, one of our Designers co-presented a session: 'Contracting & Copyright Licensing for Drupalistas, Agencies & Solopreneurs'. Attended by a fun, small intimate crowd, the session explored how to navigate through common issues that affect many in the creative industry – contracts and copyrights! Whether you are a business or a sole proprietor, if you have clients, you have contracts. Attendees learned contracting basics and the key to developing a contract with their own terms instead of using the clients, as well as, information regarding intellectual property (IP). As web professionals, we are always either using IP, creating IP, or doing both simultaneously by using pre-existing IP to create new IP. "Websites are like onions: it is a container for various layers of intellectual property."
Find more great quotes and useful information in his presentation.
Higher Education institutions like Stanford were some of the earliest adopters of Drupal so it's always great to attend these sessions and share knowledge. Thanks to everyone who attended our sessions at #sudrupalcamp and a big shout out to the conference planners of Stanford Drupal Camp – it was a great conference to attend!
Next up – we will be sponsoring, attending and exhibiting at DrupalConNOLA!