Every October is one of my favorite conferences: HighEdWeb, which this year is in Sacramento. I've been at least 7 times (likely more), and spoken at a few. As someone who attends a variety of conferences in several verticals and industries, HighEdWeb is one of my favorites because of how well it's organized, the quality of the keynote speakers, the chance to see the best sessions compete for the "Red Stapler" Best of Conference award, the social events, and the community of people. And it's all amazingly and smoothly handled by unpaid volunteers!
I was lucky this year in that I picked a few sessions that were eventually voted Best In Track (such as this accessibility talk, and this one on turning client relationships into collaborations). But there were others I thought were also terrific. I wanted to highlight a few of my favorite "Golden Nuggets."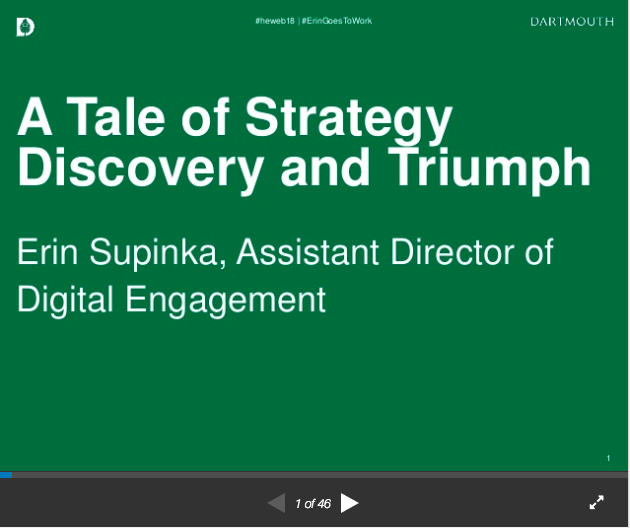 Erin Supinka at Dartmouth College
Erin's presentation, "A Tale of Strategy, Discovery, and Triumph" was a master class on infusing strategy into social media by aligning every move one makes with a business goal. Regardless of industry, this is just smart: whatever content you create for your organization should be tied to a strategic business goal, which provides a framework for the content you create. It also gives you an out in case a stakeholder wants to push content that doesn't align with goals, saving both time and grief. Impressive talk, especially considering Erin is less than five years out of college herself . . . she handles strategy better than many who have worked in the industry for much longer. This talk deservedly won the Red Stapler award for the best talk of the conference.
Jennifer Stroth at Stanford Law
Jennifer's talk, "How do we know what we're doing? Coming up with an analytics strategy that works" was a great overview of how Stanford Law School tracked their site's progress after a full end-to-end redesign and build on WordPress.
Scott Olivieri at Boston College
Scott's talk on "Diversity in Higher Education" was both eye-opening and fact-based. Using examples and research, he demonstrates how to talk about (and how not to talk about) diversity on a school website, and how to market it properly with authenticity.
Kanopi is very familiar with the higher education space, so it's also great to connect with others in higher ed to hear about the problems they need to solve, and to learn how they are solving them, usually with very limited resources. There is so much creativity in this group. HighEdWeb Sacramento was terrific, and I look forward to attending in Milwaukee next October!
In the meantime, contact us at Kanopi if you need help with your higher education site.