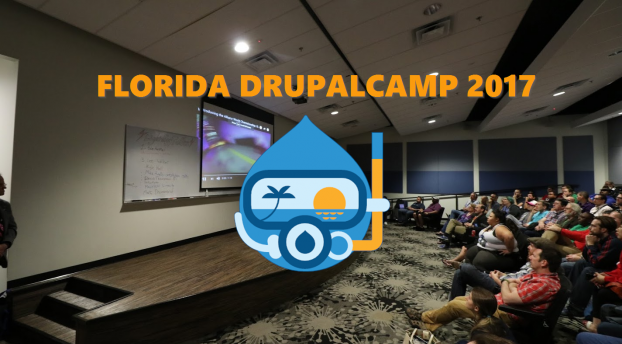 DrupalCamp Florida is an annual event, and I was lucky enough to be chosen as a speaker. I've been to many Drupal Camps across the United States, and although this was not my first rodeo with DrupalCamp Florida, this camp, in particular, is among my favorites.
It's obvious that organizers have been hard at work putting the camp together. Start to finish, DrupalCamp Florida is a polished, professional experience. More than 250 attendees arrive to experience the Drupal community at its finest. With a full schedule of sessions covering a broad range of topics tailored to the needs of attendees, it's the perfect destination for those who want to make connections and expand their knowledge base.
Florida Technical College
This campus set the backdrop for DrupalCamp Florida.
In 2017 and years past, this beautiful Orlando, Florida campus provides an in-kind sponsorship, making services and facilities available to the event and its attendees.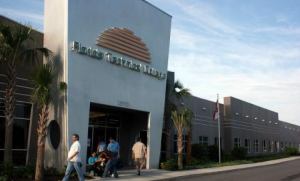 Skywalker the Alligator
In true Florida fashion, there was an alligator in attendance. His name was Skywalker and was a big hit with the crowd!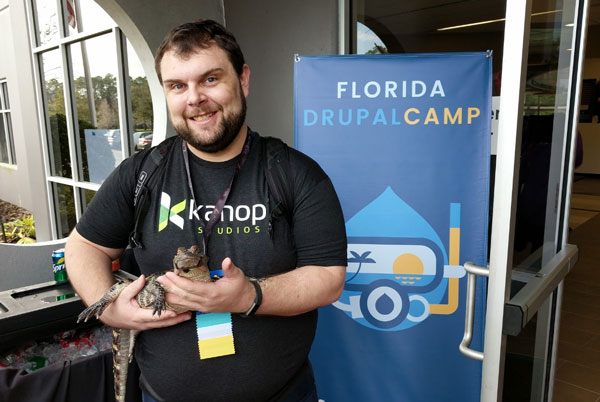 Genius Bar
This concept was borrowed from other open source camps and serves as a BOF-life follow up to the session. During the 30-minute intersession period, attendees were able to keep the discussion flowing, or follow up with further questions regarding session topics.
Sessions Attended
Docker in a Flash: An Introduction to Drupal Development with Docker
This was my presentation topic, and the first time I'd presented it to a DrupalCamp audience. I created this session because I feel that the use of Docker can dramatically expedite developer onboarding, both with projects and by removing a lot of the challenges that developers face when configuring local development environments.
Several sessions during the camp focused on Docker. It seemed that the majority of the audience were not yet familiar with the idea of using Docker as a primary component of their development workflow.
I was able to take advantage of the Genius Bar to follow up with a few particular questions from audience members and demonstrate a new script I have been working on to create Docker containers; importing sites from Pantheon to automatically configure local development environments.
My session was well received, and several audience members provided positive feedback.
The Drupal 8 Theming Experience
looking forward to this session as an introduction to the theming layer of Drupal 8 and what to expect coming from Drupal 7. Scott "Cottser" Reeves not only demonstrated new additions to Drupal 8 theming workflows but proved himself to be a fantastic speaker. Attending his session, I gained the confidence needed to start my next Drupal 8 theming project.
Making Use Of Our Robot Overlords — Automating Your DevOps Workflows
I have a deep fascination with automating all of the things, so I was particularly excited to attend this session. I was not disappointed!
Tools and demonstrations on nearly every aspect continuous delivery and DevOps automation packed this session.
Lightning Talks
A "lightning talk" is an impromptu session lasting only five minutes. The presenter is expected to take five minutes to present on any topic related to Drupal. All of the lightning talks I attended were interesting. However, the one that stuck out the most was Marc Drummond's hilarious lightning talk on How to Extend a Casserole. Watch the video.
After Party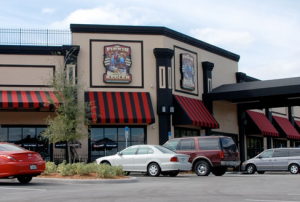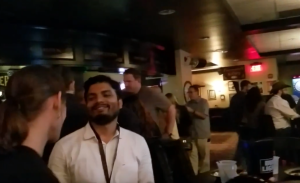 Every Camp needs an after party! Firkin & Kegler Family Entertainment Center, which boasts a full arcade and cosmic bowling alley, provided the perfect venue to unwind at the end of DrupalCamp Florida, 2017. The DrupalCamp crew met upstairs in "The Loft" – enjoying drinks sponsored by Kanopi Studios and Code Journeyman. We used this final time together to network, interact, and have fun with peers in the Drupal Community.