At this year's DrupalCon 2017 in Baltimore, Maryland, we were proud to lend a voice throughout the week to the ongoing conversation about inclusion and diversity within the Drupal community. It was gratifying to have such a strong showing of Kanopians giving back to the community throughout the event. Not only did we engage with industry representatives and leaders all week in the exhibit hall, but we also sent some of our very own subject matter experts to present, connect, and celebrate with the community as a whole via sessions, the NonProfit Summit, BoF gatherings, and parties.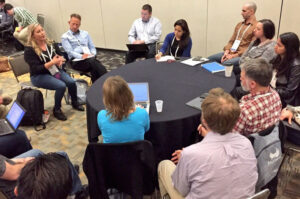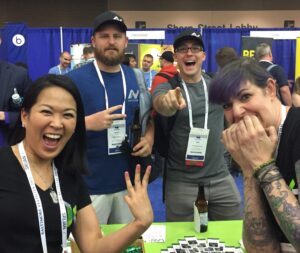 From handing out super awesome t-shirts to bringing people together with the plants in our booth, Kanopians worked throughout the week to spread the good word about our services. CEO Anne Stefanyk was able to zoom around the exhibit hall (scooter- and broken-ankle-free this year), while our very own Nikki Stevens championed inclusion as a representative at the Drupal Diversity & Inclusion Working Group (DD&I) booth. We're not the only ones who think Nikki is a rockstar, by the way: on Thursday; she was the recipient of the Aaron Winborn Award, presented annually to an individual who demonstrates personal integrity, kindness, and above-and-beyond commitment to the Drupal community.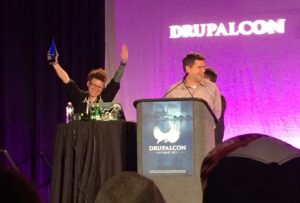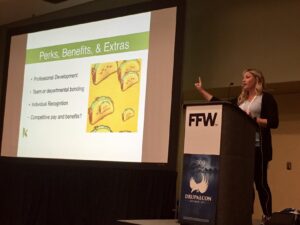 Anne and Nikki were able to bring their expertise to sessions as well; Anne presented on subjects ranging from affordable UX to Creating a Culture of Engagement, and Nikki presented in sessions and panels targeted toward Drupal Diversity. We wrapped up each day with parties and gatherings sponsored by our friends Acquia, Digital Ambit, Hook42, Kalamuna, Four Kitchens, Kwall, and especially Pantheon and Lullabot's Official DrupalCon party at the Maryland Science Center (complete with Dinosaurs)!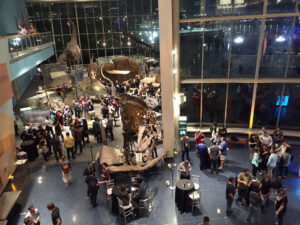 It was exciting to come together with a group of individuals who all seemed to put such a premium on the value of other professionals. Thank you to all of the sponsors, organizers volunteers, and our community. See you in Nashville in 2018!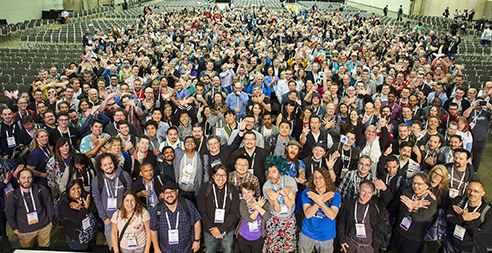 ---
Weren't able to see our DrupalCon 2017 sessions in person? No worries – you can see them here: 
Anne Stefanyk:
Nikki Stevens: