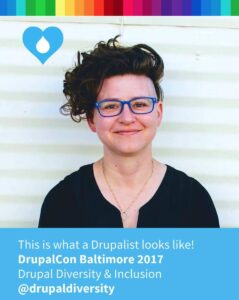 A big, warm and well-deserved congratulations to Nikki Stevens, Kanopi Studios' Senior Drupal Architect, and this year's recipient of the 2017 Aaron Winborn Award. Known as "the Academy Award" of the Drupal Association, this annual honor recognizes an individual who demonstrates personal integrity, kindness, and above-and-beyond commitment to the Drupal community.
Nikki spearheads an ongoing conversation on equality and diversity, citing inclusion as an essential component of both. She founded the Drupal Diversity & Inclusion Group, an independent, volunteer-run collection of community-managed diversity initiatives. Guided by the "Nothing About Us, Without Us" philosophy, she works directly with the Drupal community through crowdsourcing to improve initiatives such as the Diversity of the Web community-drafted survey.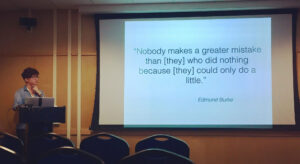 Nikki has shown herself to be a pioneering tour-de-force, raising awareness of and encouraging conversations about diversity, equality, and inclusion among all people who build and create the internet. It is an honor to work and play alongside you, Nikki! Congrats on your Aaron Winborn Award!