Full Build
UCSF Pathology
Scaling Drupal 8 to meet the user's needs.
The Problem
Known for its team of award-winning educators, UCSF Pathology needed a digital presence more representative of excellence while conforming to the revised technical and brand guidelines outlined by the larger University. 
UCSF Pathology partnered with Kanopi Studios to create a user-friendly and intuitive web presence that focused on architecture and visual design, while improving functionality for both search and the mobile experience. To ensure the longevity of the site, the administrative user experience was a key consideration from the start as well.
The Solution
Starting with the "measure twice to cut once" approach, Kanopi led the project team through an in-depth discovery. Using stakeholder interviews, online site surveys, online user session recordings, and a dive into analytics, our team was able to paint a picture of what the users needed and how to best support their journey on the UCSF Pathology website. As this strategic guide was being developed, Kanopi's technical team dove into a technical site audit and workflow assessment that set the expectations of all that could be done in Drupal.
As the needs were explored and users better identified, the project itself evolved. As the Discovery phase ended, we realized we needed more than a new Drupal 8 website geared towards the general public; we also needed to recreate and enhance the existing knowledge center for faculty and other individuals associated with the Department. Both platforms remained true to the original vision for the site and use the UCSF Pattern Library and guidelines. Additionally, we were able to incorporate Single Sign-On (SSO) that may be adopted by the University at large. 
Launched in Q3 of 2019, the UCSF Pathology site will continue to be supported by our Continuous Improvement program.
Key Features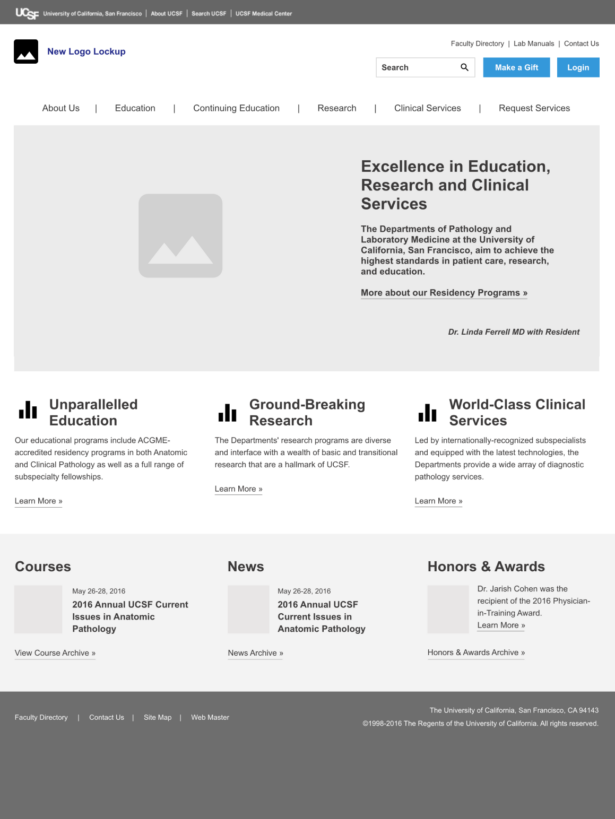 Improved UX
The original UCSF website was difficult to navigate and poorly conveyed the overall mission of the Pathology team. We improved the sites overall navigation to better present their content and improve the user experience.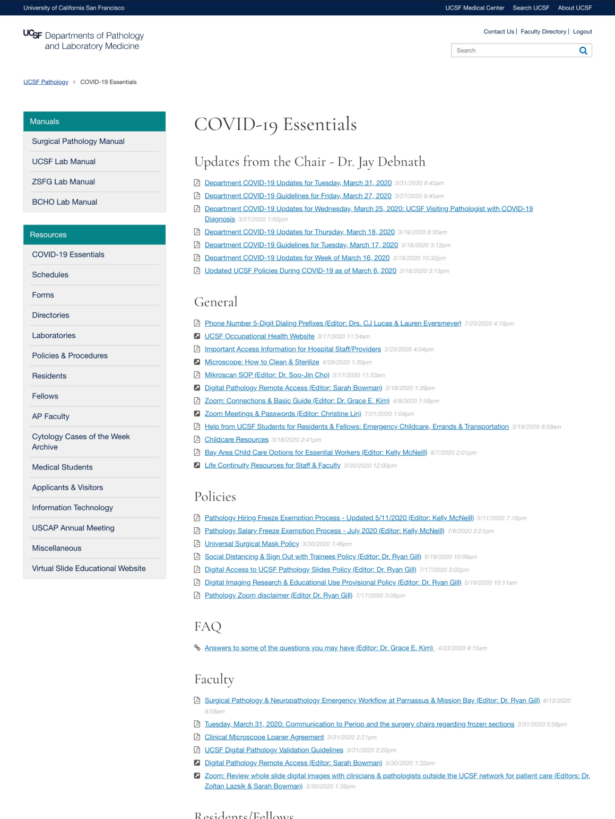 Intranet
In addition to the public site, the team also had a need for a private internal site that they could use as a knowledge center. We built a private, and secure internal site that allows Pathology Faculty and Staff to review and collaborate around their work.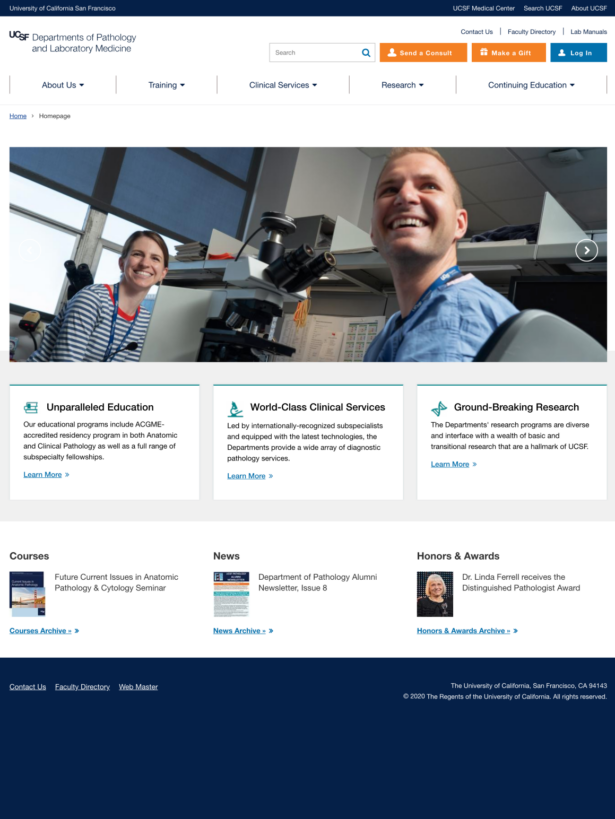 Updated Look and Feel
Both previous iterations of the public site and private site lacked brand consistency with the UCSF digital standards. As part of our effort, we redesigned both sites to reflect the latest UCSF digital standards.
The Results
Increase in Sessions per user
Increase in Session Duration