Support
Teach For All
An online portal that gives educators worldwide what they need to help children succeed
Client Overview
Teach For All works to tackle the complex challenges facing children in disadvantaged communities around the world. Their network spans 59 countries and six continents, each locally led and governed, challenging inequality inside and outside the classroom. Since 2008, their global network mobilizes and develops future leaders to teach in their nations' under-resourced schools and communities to ensure that no matter where a child lives, they can realize their full potential.
Visit Live Website
The Challenge
While each partner's local context is unique, similarities in the barriers facing children's education from place to place mean they can share solutions. Teach for All needed to make it easy for their network to exchange ideas, learn from each other's successes and challenges, and adapt promising innovations in their communities through a streamlined online learning portal. They wanted to provide a single destination where educators could find helpful resources, links, downloads and events, in a way that suits their partner's needs.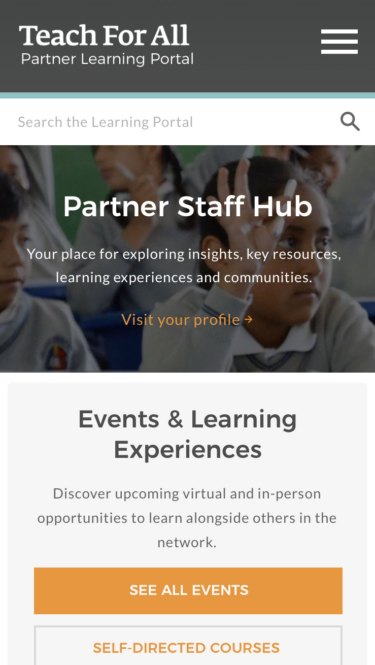 Dashboard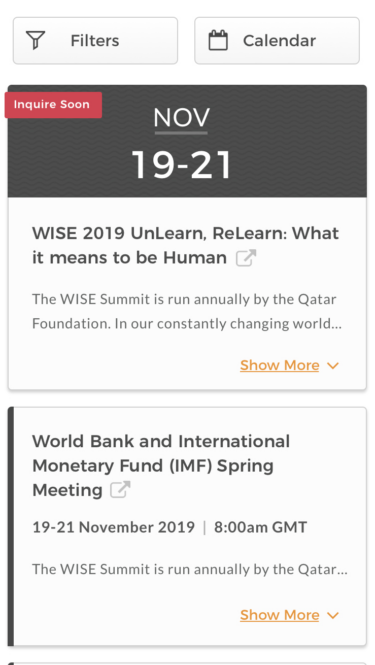 Events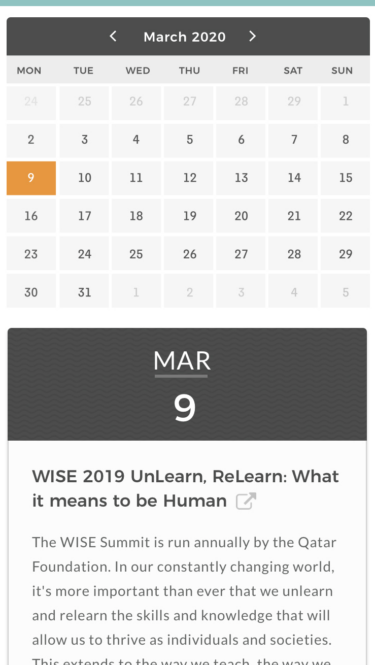 calendar
Resources
The Process
Wireframes
Kanopi created mobile and desktop wireframes of a multi-column dashboard, organizing and streamlining information from high traffic sections, including events, resources, communities, and downloads.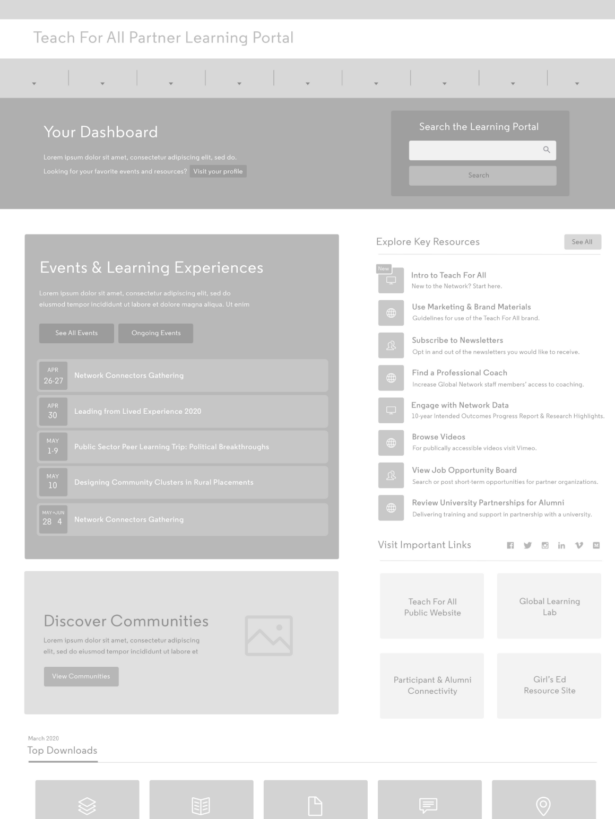 Visual Design
Once we established the new and improved UX, we applied a complimentary UI with a refined color palette and visuals to modernize the Teach for All learning portal and provide intuitive and engaging partner interactions.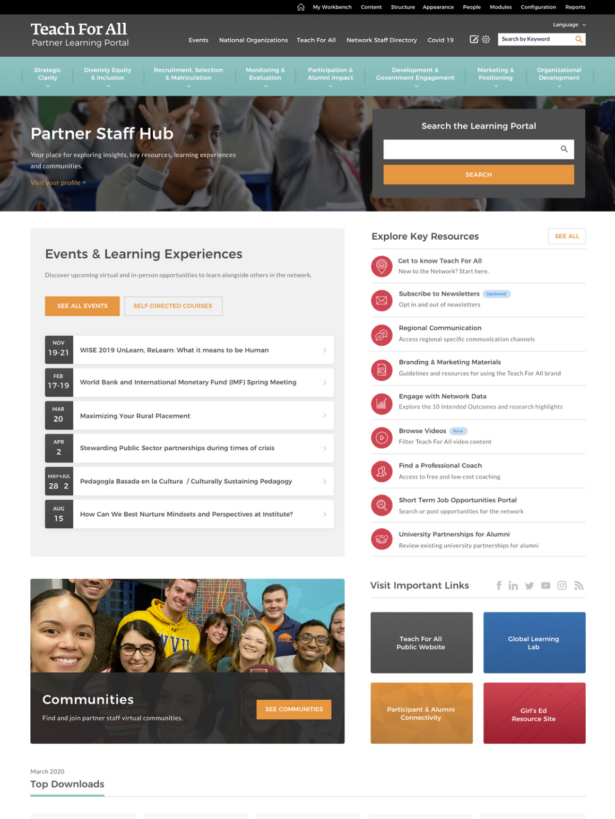 The Solution
Kanopi took a strategic approach to the user experience of Teach for All's entire learning portal — reviewing and enhancing existing content, site navigation, and design. Stakeholder interviews, end-user surveys, a content audit, and heatmap analysis helped us understand how educators used the Teach for All learning portal.
This user research enabled us to define: 
a revised content hierarchy

a user interaction plan 
From consolidating resources to introducing dynamic filter functionality, Kanopi put in place an improved UX, tailored to the needs of Teach for All's partners. We then designed a UI that reflects the Teach for All brand, using a modern color palette and visuals to amplify partner engagement. The final product was a robust dashboard with intuitive interactions explicitly designed for Teach for All learning portal users.
Key Features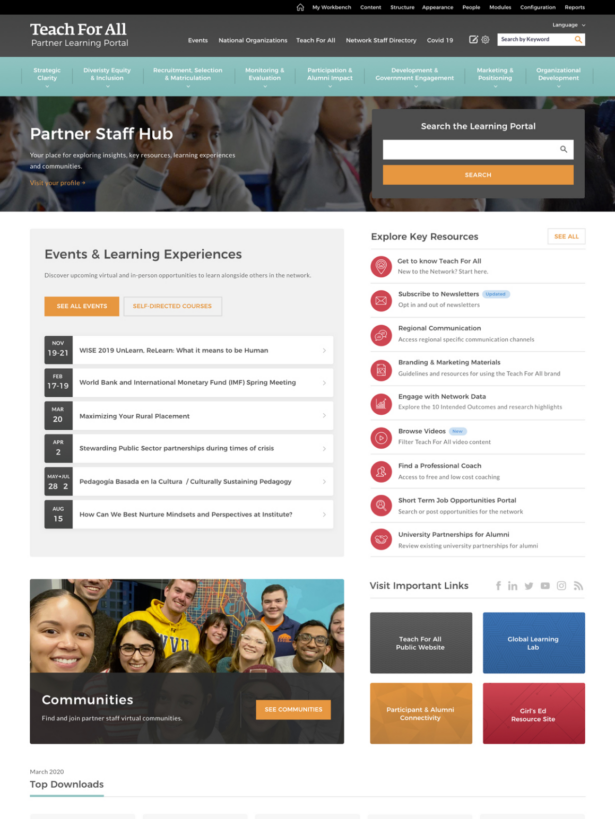 Dynamic Dashboard
New and essential information is now front and center when a Teach for All partner logs into the learning portal, and they're effortlessly guided on pathways to learn more.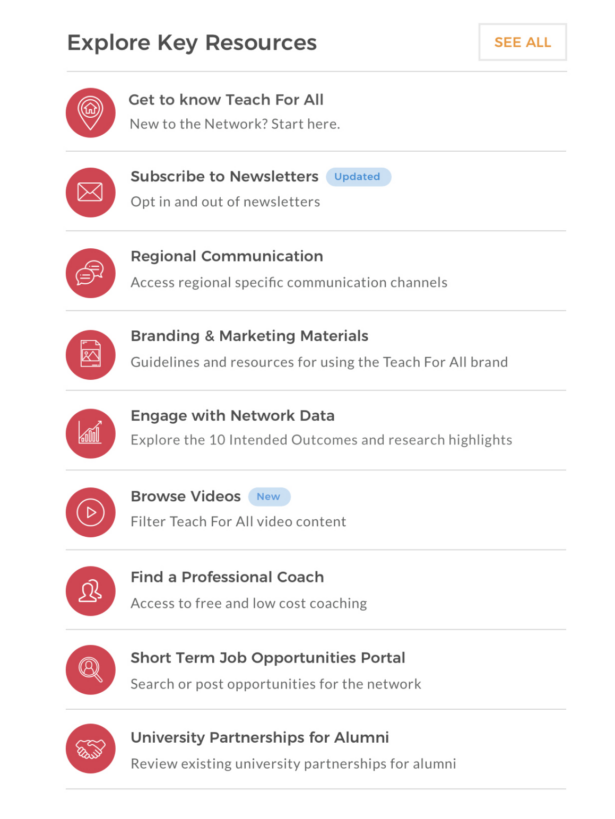 Advanced Filter Functionality
Each section has a "see all" button allowing Teach for All partners to dive deeper into listing pages with advanced filter functionality.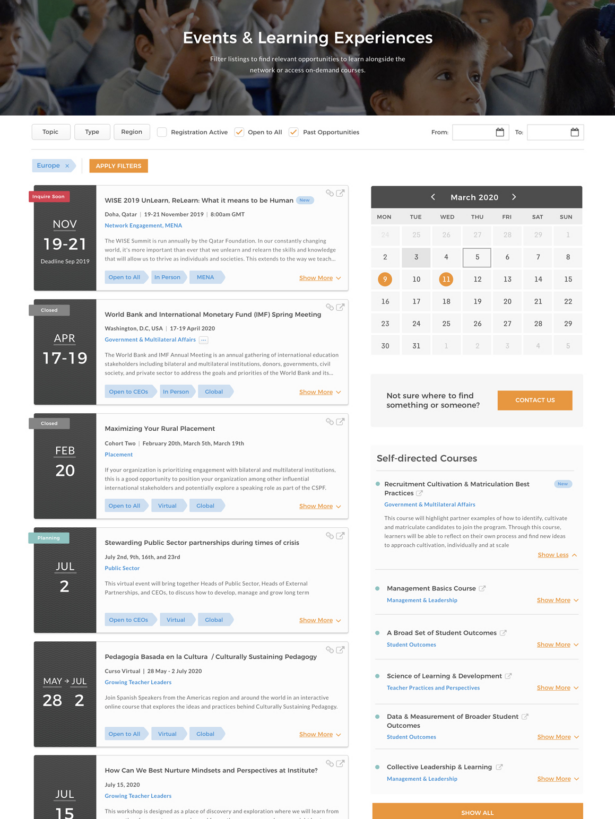 Calendar of Events
Kanopi introduced an events calendar that can be filtered by event type, location and month, including simple "share" functionality and "show more" options.
The Result
A one-stop-shop to empower educators 
By partnering with Kanopi, Teach for All now has an engaging, user-friendly learning portal that makes it easy for educators to share their experiences and ensure children worldwide have the opportunity to fulfill their potential. Their user pathways are crystal clear and provide depth to encourage exploration while showcasing their site as a knowledge and learning hub. With smart metrics set up, Teach for All can review user behavior and improve offerings to ensure their site continues to meet their partner's needs well into the future.