Full Build
Kivalina Archive
Using Mukurtu to thoughtfully and visually preserve a culture's history
Client Overview
Ever since being forcibly settled onto a barrier island over 100 years ago — only one small portion of their traditional land — the Kivalina people in Alaska have been planning to relocate their village. They started an archive of their cultural and natural history by saving documents that recorded their relocation history, taking videos of the land, and recording meetings.
Visit Live Website
Services Provided
The Problem
The archive needed to be organized and presented in a visually meaningful way to decision-makers, including the Kivalina City Council, Kivalina IRA Council, and Kivalina Relocation Planning Committee. No existing system was sufficient to fulfill this purpose.
The Solution
Relocate Kivalina approached Kanopi to build the Kivalina archive due to our extensive development experience in Mukurtu. Mukurtu was a logical system on which to base the Kivalina site. It provides a mechanism by which indigenous cultures can digitally share their heritage without security concerns; its use of cultural protocols provides a layered permissions system that allows for the simultaneous sharing of information with the outside world, while also offering protection from cultural exploitation. 
Beyond the stock Mukurtu build, the site needed to be highly map-centric to make the history visually understandable, and to be useful as a planning tool. Kanopi greatly expanded the mapping functionality of Mukurtu, including the addition of line (rivers, roads, trails) and polygon (land areas, lakes) features. The existing category field on Digital Heritage items was extended to apply styling to its mapped items, including custom area fills and line patterns, with a dynamically generated legend of the categories. Both a list and map view of Digital Heritage items were presented on the same page, synchronized so that clicking on an item in one view will highlight and scroll to / center on that item in the other view.
Existing maps of the area were not accurate relative to local knowledge, so Kivalina hired a cartographer to create the map base layer and turn them into tiles, which are served by Mapbox.

A further significant customization beyond stock Mukurtu was the implementation of a single-page site: all non-content creation use of the site happens on a single page. The goal was to keep things as simple and visual as possible, while still delivering a rich trove of information.
Key Features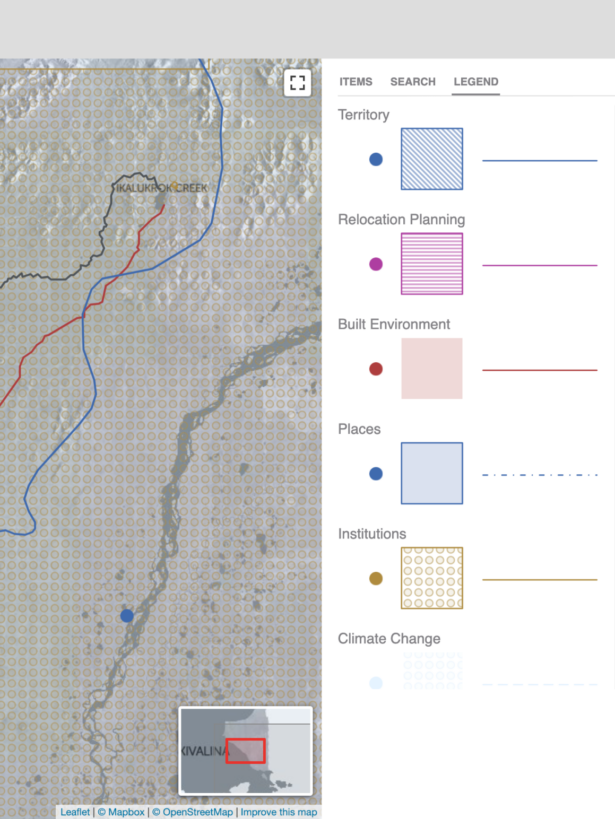 User-definable Legends
User-definable color, stroke, and fill pattern for map features with auto-generated legend.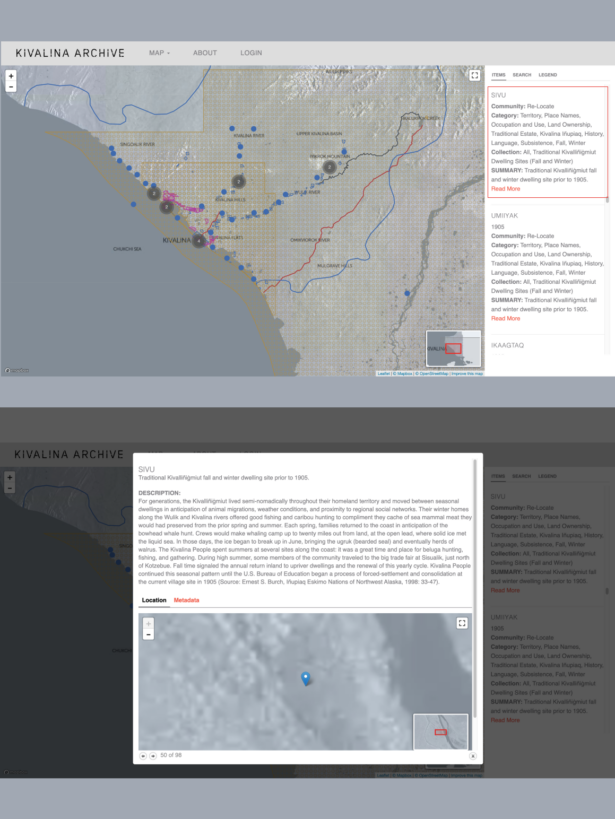 2-way synchronization
2-way synchronization between items in list and on the map. Clicking on an item in the list zooms to the item on the map, and clicking on an item on the map highlights the item in the list.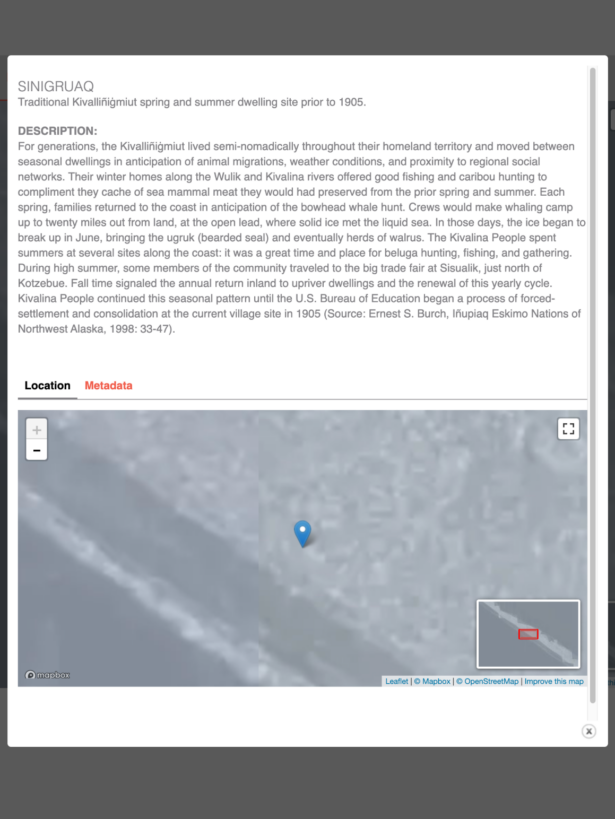 Single Page Site
All site content is browsed and served within a single page using tabs and popups when necessary, providing a lightweight feel and making information quick and easy to access.
The Result
"The result has been for us what we hoped for. It's given us a platform" — Michael Grace, Relocate Kivalina
The new site has provided a central point around which relocation can be organized, juxtaposing human stories as a complement to the more technical documentation. Once word of the site got out, families started contacting Relocate Kivalina to get their own VHS recordings and materials on the site — a wonderful result proving the ability and desire for continued expansion of the archive over time. An additional and unexpected bonus was that Mapbox recognized the social value of the site, becoming very supportive and creating an especially collaborative relationship with Relocate Kivalina. All in all, this project demonstrated the power of Mukurtu to preserve cultural heritage and bring the community together in that singular goal.
Years of History Represented
Digital Heritage items created
Digital Heritage categories created