Client Overview
Family-owned since 1950, COIT offers cleaning services including carpet, area rug, air duct, draperies and blinds, natural stone, tile and grout, furniture, and concrete. They also offer 24/7 emergency restoration services, and have restored thousands of homes and businesses after disaster strikes. Their 100+ locations serve more than 12 million homes & businesses across the United States and Canada.
COIT Mobile Gallery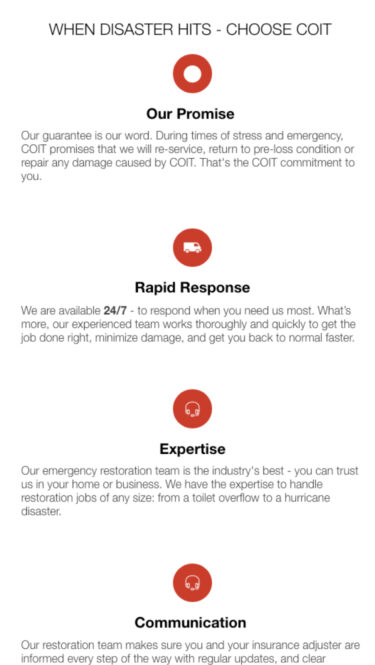 Key COIT benefits
Localized franchises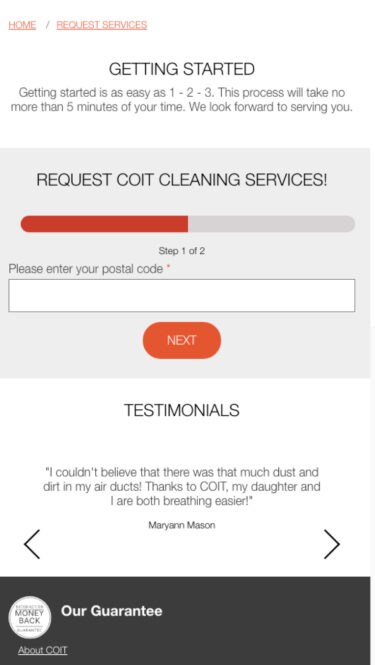 Easier forms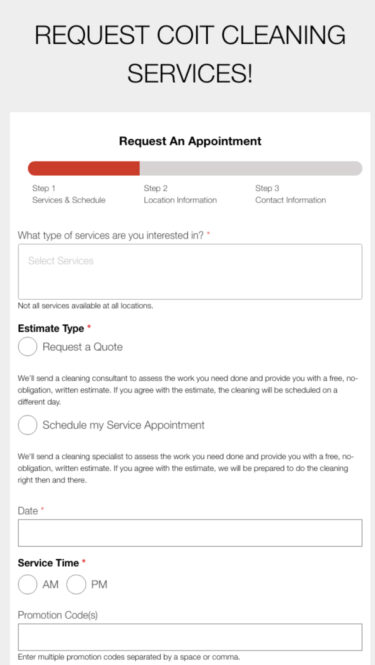 Easier forms
The challenge
It had been years since the COIT site had been updated, and it was no longer relevant from a user perspective.
The navigation was not streamlined to services, the mobile experience wasn't optimized for conversions, and it was difficult for users to take action.
Plus, their largest competitor had just completed an overhaul of their site. It was time to clean house.
The new site had to meet some key requirements. For example, with multiple locations in two countries, it was critical to maintain and improve geolocation. Also, each franchise needed the ability to offer and maintain custom promotions tailored to its location.
It also needed to facilitate three main conversion goals:
for users to schedule services via an online form,
get people to call the phone number for a specific franchisee,
and to request a quote online.
However, it was also critical to not disrupt the existing SEM. We needed to re-architect the site to better meet Drupal best practices and to ease centralized content management, but we had to ensure this wouldn't result in franchises losing their hard-won search engine visibility.
Since this was a corporate site with 100+ microsites, Drupal was the perfect choice to accommodate these requirements and their complexity — while still allowing for a focus on visual design.
The process
1
Pattern Library
Built with atomic design principles, the pattern library for COIT provided detailed views of all elements within the design system — ensuring consistency and allowing for easier visual language scalability.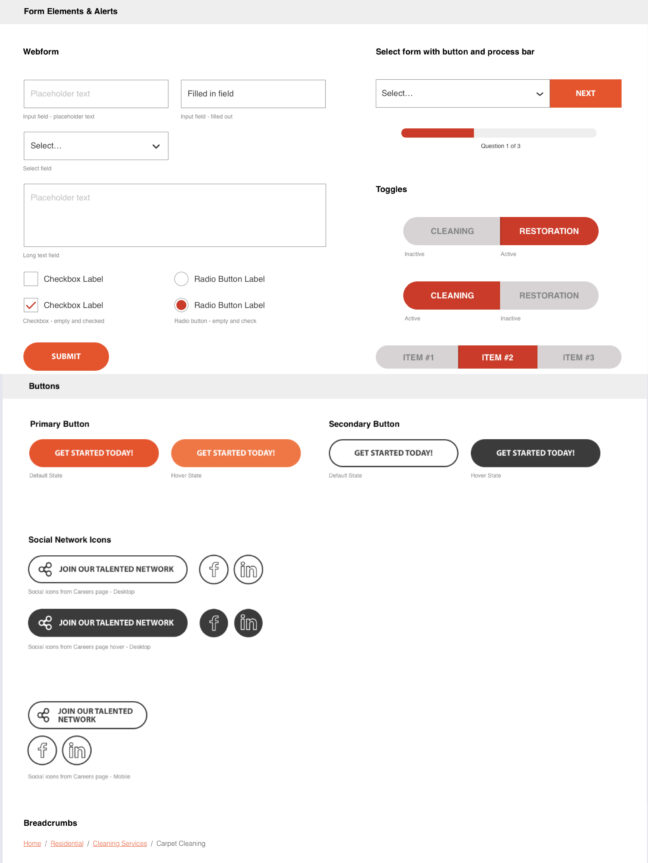 2
Localized Wireframes
In combination with geolocation, over 100 franchises have their own localized experience. This allows for the franchise to choose their top services to promote via coupons and other localized information.
The solution
There were three main areas where the project made the greatest impact: geolocation, streamlined forms, and easier franchise-specific content editing.
Improved geolocation
We integrated geolocation to redirect users to their closest franchise location (this also solved the issue of users from Canada accessing the United States site.) Not only did we maintain the existing franchise promotions model, but we also expanded upon its features and management.
Simple, intuitive forms
On the previous site, there were two forms: a 'request quote' form and a "schedule" form — with a daunting 30 fields!
We streamlined this into a simple three-step process that started by asking users, 'what do you want to do?', providing them with the correct form based on their response.
The geolocation feature also allowed COIT to drop users deeper into the form based on their location, allowing them to access their local franchise's current promotions.
Franchise-specific content
We also needed to fix the disjointed process of adding and editing content from the admin interface. We implemented domain access so that COIT team members can easily add pages to either the US or the Canadian site — and so that each franchise can add pages according to the specific services they provide:
For example, if a franchise does not offer drapery cleaning, its content editors don't need to create that page.
However, COIT's corporate office doesn't want to lose the customer leads looking for drapery cleaning.
To prevent losing these leads, links to all services appear on each franchise mini-site, but the user is redirected to the corporate page whenever the franchise doesn't offer a specific service — so the lead is still captured.
The CMS allows editors to surface important services on each franchise homepage and layout to promote the services that each franchise wants to highlight. Flexible layouts allow COIT to add content at will and build pages based on their needs.
Key features
Geolocation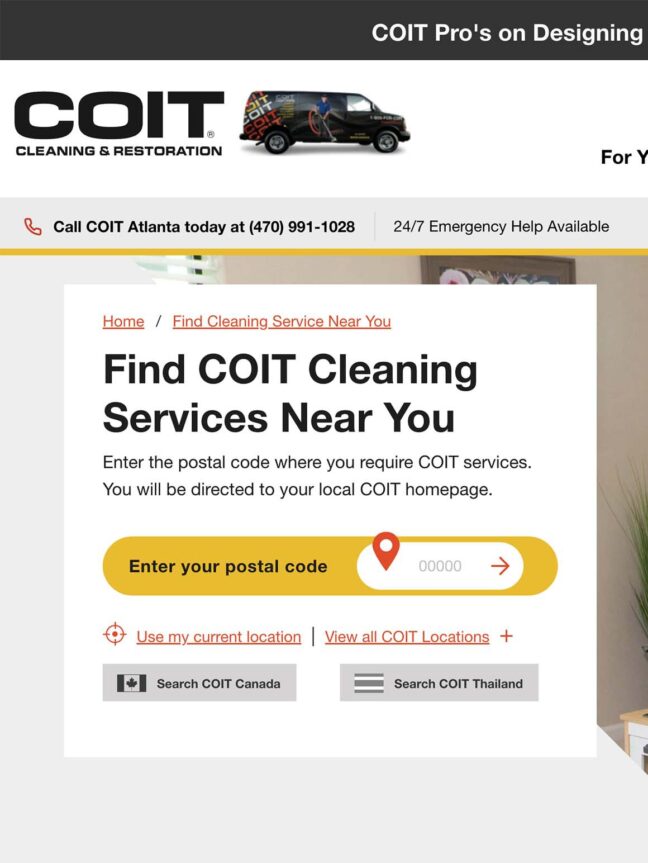 Users are redirected to their closest franchise location based on their zip code. It also distinguishes between Canada and the United States for locations close to the border.
Streamlined Forms
By simply asking, "what do you want to do?" the form became a simple three-step process. Geolocation also allows users to see their local franchise's promotions.
Easier Content Editing
Domain Access allows COIT to easily add pages to either the US or Canadian site. Each individual franchise can now also easily create and edit pages.
The result
With a new and flexible site, COIT can serve existing customers and reach new ones with greater ease. The improved content strategy allows editors to add new lifestyle-focused blog content that can be properly surfaced while continuing to increase SEO.
Their multi-step form now incorporates deeper conversion tracking, allowing COIT to continue optimizing the form process. The new site allows for this constant iteration and improvement. Editors can manage the site better and their customers can enjoy a better experience.
The best decision we ever made was to circumvent working through a digital agency and instead work directly with Kanopi. The Kanopi team are not just Drupal experts, but the staff has strong SEO experience and knowledge who can help create solid and reasonable business decisions. Plus the customer experience was amazing; in the past with other agencies, I never got past a Project Manager. At Kanopi I had a PM who not only managed expectations properly, but who also gave me access to the team directly via Slack and Teamwork. Adding me to the internal channels opened up the lines of communication, and was a level of customer service I've never found anywhere else.
If you're looking for a company that is more than a vendor but a true partner, people that care about your business and you, then Kanopi is the team for you.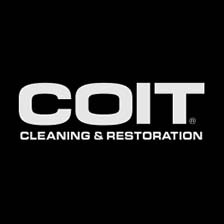 Sara Arlia
Vice President of Marketing
Client Since 2018