Full Build
Benetech Bookshare
Giving people around the world new opportunities for learning and literacy.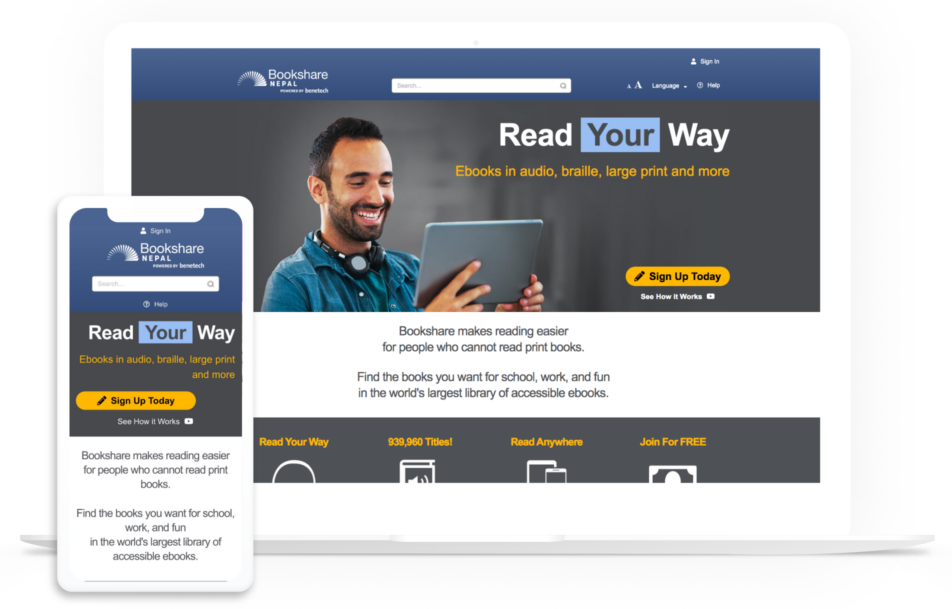 Client Overview
An estimated 1.3 billion people live with some form of distance or near vision impairment across the globe. That's a staggering number that doesn't even begin to include the 700 million people with dyslexia, 10 million with Parkinson's disease, or the many other disabilities that make reading printed text difficult or impossible. Without access to books in accessible formats, print disabilities can create an insurmountable barrier to information that can limit the potential of billions of people of all ages across the globe. 
Benetech Bookshare is helping address this issue by making more than 900,000 titles available in accessible online formats through its Bookshare project. With features that include searchable text, synchronized text and audio, highlighting, and customizable font size and contrast, 
Bookshare gives people with barriers to reading new opportunities for learning and literacy. And thanks to a recent partnership with Kanopi Studios, Bookshare can quickly expand to serve developing nations in any language.
Visit Live Website
Services Provided
The Challenge
Make reading easier around the world.
Benetech's goal is to quickly create Bookshare sites to serve every nation across the globe. To do that, they needed to expand their ability to translate the site into new languages as fast and thoroughly as possible.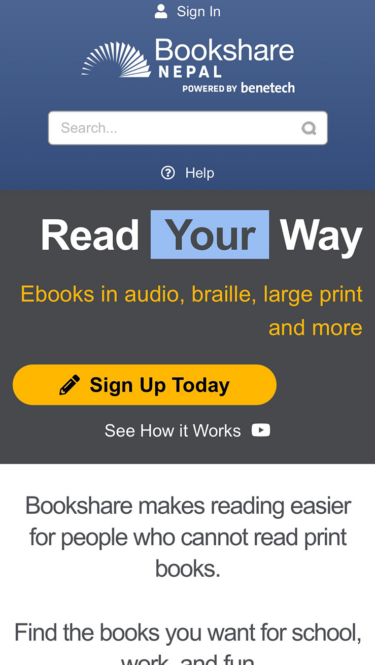 Bookshare Nepal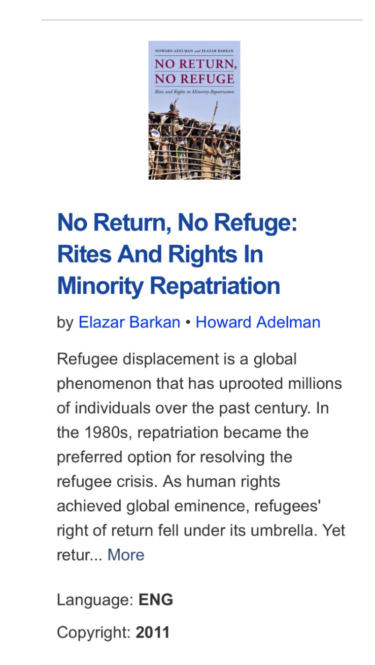 Book Listing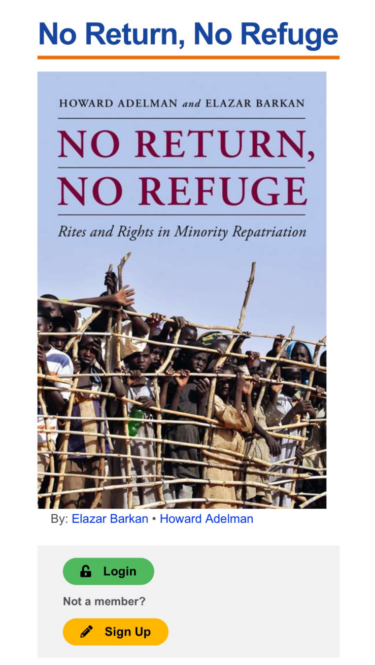 Book Highlight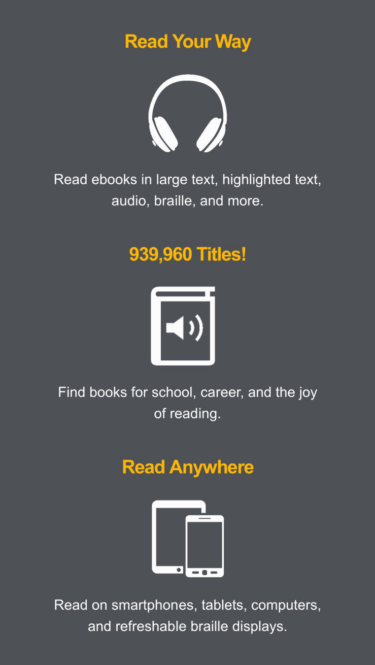 Product Overview
The Process
Development
Working with provided wireframes and designs, Kanopi Studios worked closely with the Benetech Bookshare team and their designer to help turn their creative concept into reality.
Kanopi developed a system that not only delivered the vision outlined in the designs, we also provided a series of site launches with each country.
Staff Augmentation
We iteratively went through improvements as new features became available, bolstering the Benetech Bookshare team to build the site's API portions. With our agile approach and niche skillset, we anticipated Benetech's needs as the project shifted and accelerated.
The Solution
Kanopi partnered with Benetech to establish a rapid and repeatable process to translate the organization's Bookshare websites into any language, making thousands of books accessible for people with visual impairment or other print disabilities worldwide. The Benetech Bookshare team built the API, working with the Kanopi team to build out the websites.
Using Drupal 8, Kanopi's development team provided front and back-end development. We partnered with LingoTek for translation functionality and implemented the wireframes and designs supplied by Benetech.
A Kanopi team member's young daughter with dyslexia tested the site's design, offering feedback on fonts and text sizes that were difficult to read. She joined a group of print disabled users on the Benetech Bookshare team to ensure that the site upheld AAA accessibility standards, the highest level of accessibility for the web.
Kanopi created a fully-functional Bookshare website in less than two hours and complete translation within two weeks. Before the project, similar work would have taken more than two months.
In addition to planning and building the framework, the Kanopi team supported translation and deployment of new sites for 9 countries, including:
Bolivia
India
Kenya
Lithuania
Malawi
Nepal
Peru
South Africa
and Tanzania
to be translated into 10 languages:
English
French
Spanish
Swahili
Hindi
Lithuanian
Marathi
Nepali
Tamil
and Telugu
Key Features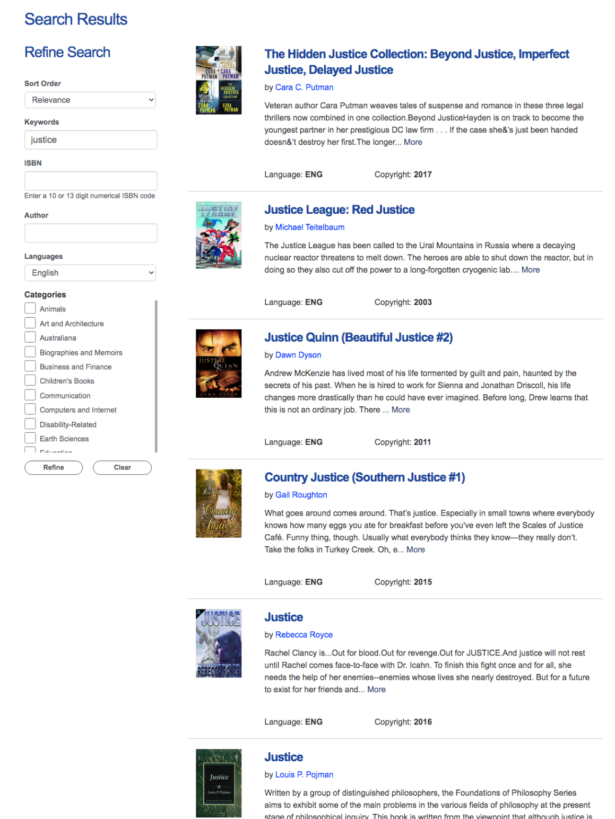 Search & Download
Integration with the Bookshare API allows users to download from a library of over 900,000 books.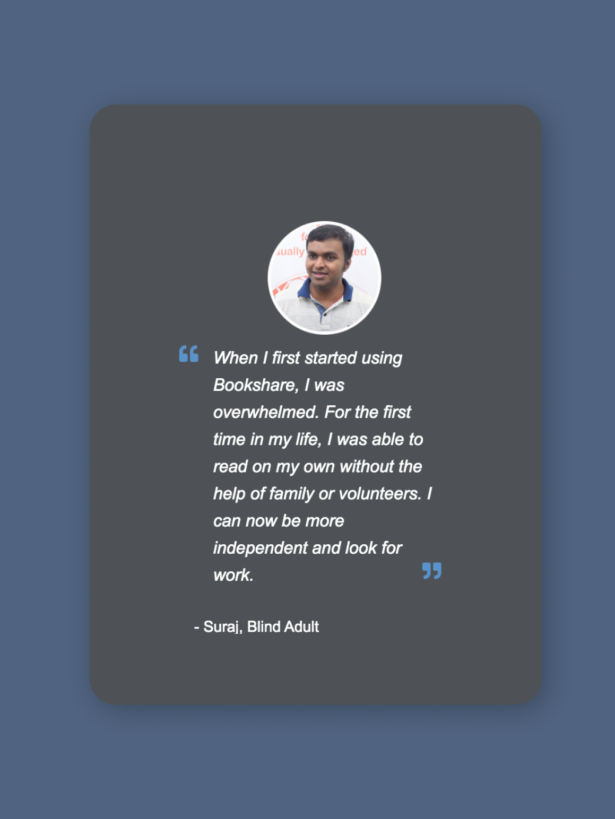 Made For All
The site's focus on accessibility allows users who are differently-abled to browse and download books in various formats, including ebook and audio.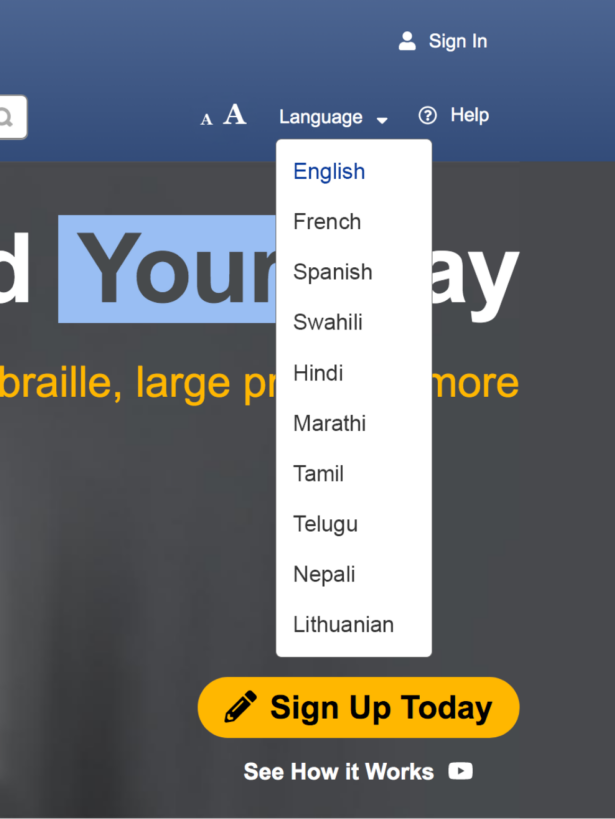 Sustainable, Reusable Platform
We continually add new countries, a process that is commonly completed in a day's work.
The Result
Several sites are now live, including the United Arab Emirates and a site for the National Council for the Blind (NCBI) in Ireland. Both are examples of how each organization was able to tailor Bookshare to their needs and audiences.
With near-future plans to translate the site into more than 100 languages, there is incredible potential for Kanopi Studios to support Benetech's goal of offering Bookshare in every nation across the globe.
We're incredibly proud of this work with Benetech Bookshare to unlock the power of reading, allowing people of all abilities access to printed materials that can expand their success in school, their ability to find jobs, and their pure enjoyment of everyday life.