Whether for your higher education institution, nonprofit, or your software as a service (SaaS) firm, a website build is often thought of as a two-phase process during its construction.
Firstly, you need a platform design and strategy. You'll want to study your typical website visitors, organize and audit your pages and content, and create an information architecture while thoughtfully choosing fonts and colors for your user interface. The UX design process is a crucial part of every platform build, ensuring your site will be a pleasure to navigate while meeting website visitors' needs.
Website development naturally follows once you have your design. Engineers code, test, debug, and retest every component of your site to ensure it's functional, accessible, and secure before it's ready to go live.
It's not uncommon for companies to think of each of these vital phases — design and development — as two distinct and separate entities. Because of this, folks often consider partnering with one agency to design their platform and another to develop it.
We don't deny this strategy can produce fantastic websites. In some instances, choosing a specialized agency to focus on a single phase of your site build makes sense. However, we'd like to highlight how design and development are not as independent as some think, and there are advantages to having the two phases connected.
Working with one agency that's mastered both design and development can save you time and money while ensuring your site is a joy to use and will be for many years to come. We've pulled together our top four reasons firms should consider choosing one agency for designing and developing their website.
Four reasons for choosing an all-in-one design and development agency:
1) You'll launch faster.
When gaining both design and development from the same agency, your project life cycle is more efficient, meaning your website is able to go live faster. This valuable time-saving is the result of consistent alignment between designers and engineers.
Whenever Kanopi inherits a platform designed elsewhere, we ensure the strategic thinking isn't lost in the transition as this is one of the most common blockages when your platform moves from the design agency to a development agency. Accessibility issues, missed content requirements, and an unworkable CMS can also crop up when working with separate design and development firms.
One agency can ensure your site is accessible.
Design agencies that don't offer website development in-house can sometimes create design specs that don't meet accessibility and usability guidelines. When it comes time to build your site, engineers may need to do extra work or modify your agreed-upon design to meet the needs of everyone who uses your website.
With design and development working together, accessibility isn't an afterthought and can be included in the strategy and design of your website from the very beginning.
Understanding your content requirements is more seamless.
Another challenge that can extend project timelines are missed content requirements, as design agencies can occasionally overlook your company's content requirements due to focusing on aesthetics. Unfortunately, we've seen designs break when it comes time to migrate a company's actual content over to the platform design. Without a technical review of the actual content that needs migrating, designers might miss any number of needs, including not taking image size requirements into consideration, ensuring that content isn't being broken up into multiple components, or creating space for headlines that are too short to accommodate actual headline length.
Conversely, what if the designers create visuals around content that doesn't yet exist? It can look great having all the bells and whistles in the design, but if the content doesn't exist, someone has to make it, or the design may look flat. Make sure things like images, videos, and content fields exist or can be created before signing off on that design.
With development and design working hand-in-hand, engineers are able to provide expertise on content needs while designers are beginning to craft a beautiful website that's functional.
You'll get a CMS that's easier to use.
Lastly, disjointed design and development can sometimes leave behind the unique needs of content managers. Busy content teams need a content management system (CMS) that's a breeze to use. With a focus on front-end design, design-only firms sometimes provide designs that do not lend well to editing specific assets in the CMS (for example, image sizes that require Photoshop or another outside tool to crop to proper sizes). Development can lean into the design process to help integrate a CMS that's user-friendly, no matter the skill level of your content team members.
Additionally, having a pattern library within your CMS is crucial to keep your site's design consistent over time. Design firms tend to design each of your web pages, but rarely design full pattern libraries that work across an entire site that help maintain a smooth workflow between design and code when it's time for development. Creating every web page in isolation leads to multiple ways to display content, slowing down your project.
When Kanopi develops websites, we look for patterns we can apply site-wide to eliminate gaps that commonly appear through separate page design. Without pattern libraries, numerous patterns may be created for similar content, which can lead to increased complexity, longer development time, and the need for additional project management support with a heftier price tag.
2) Feature development is easier.
When you decide to partner with an agency providing both design and development, designers and engineers work in tandem and are able to understand the nuances of the features necessary to make your website the best it can be.
When the Golden Gate National Parks Conservancy and Institute of Golden Gate partnered with Kanopi, we were able to take a strategic approach to their visual design, factoring in their complex infrastructure and functionality requirements.
Mapping, in particular, is a complex feature for the park and one that needs to look great while providing an intuitive user experience and a CMS behind the scenes that's fit for purpose. Kanopi created a content administration experience, allowing for polygon drawing and mapping files to direct intricate paths for hiking in the park: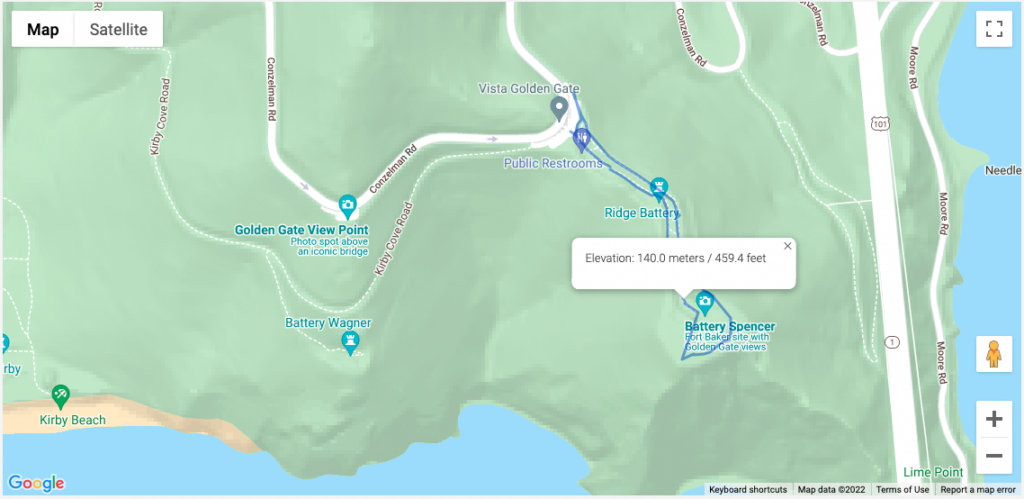 3) Project management is more cohesive.
When you partner with an all-in-one agency, you ensure the smoothest transition possible as your platform passes from the designers to the engineers.
Designers within an all-in-one agency understand the skillsets, workflow, and limitations of the engineers with whom they work. They're familiar with what design practices are going to make the job of the developers as smooth as possible, and which ones might come up against issues in the build phase. Those built-in efficiencies make a huge impact on time and budget.
Working with separate design and development agencies can lead to numerous layers of project management with a costly transfer (in terms of both time and money) between them all.
Working with an all-in-one agency can also help your internal project management go more smoothly. You can avoid misaligned team expectations with the help of the agency, which will work to meet with senior-level stakeholders regularly and keep them up to date on your web strategy. Learn more about this process in our guide to avoiding the "Swoop and Poop."
4) Your designs will have more longevity.
The final reason for choosing the same agency for both design and development comes down to the sustainability of your site. Websites designed and developed by the same team prove the test of time because designers, engineers, and project managers can collectively gain a deep understanding of your company's mission and long-term goals. They are able to strategize a plan for your website post-launch, so it continues to support your business goals and remain a great site to interact with next year and the year after next.
With design files at the ready, simple navigation enhancements and tweaks to key elements can be made quickly and easily, keeping your website looking sharp and delightful to navigate.
Weeks can stretch into months for design updates that need to go back to an original contractor that crafted your initial platform design. An all-in-one agency becomes an expert in your business, armed with a thorough understanding of your history and unique growth plans.
Build a better, more sustainable platform with Kanopi.
Kanopi is a close-knit team of designers, engineers, and project managers, who are all working towards the same mission of pairing creative solutions with solid and sustainable architecture while keeping our client's entire ecosystem in mind.
We're incredibly proud of the award-winning websites we've designed and built for our clients. In addition to design and development, we provide robust support after your website goes live, going above and beyond basic bug fixes and security updates.
'When I describe Kanopi to others, I talk about customer service, great services, a sustainable site, and a relationship that gets better over time. Every project we have done with Kanopi has improved our site and made it work harder and better for us.'

Laura H, Digital Marketing Manager, Stratford Schools
Are you interested in partnering with us? Reach out if you want a better, more sustainable site.