Full Build
The Ethno-ornithology World Atlas (EWA)
A website to engage all people in bird conservation.
Client Overview
EWA is a collaboration between Oxford University's Department of Zoology, the School of Anthropology and Museum Ethnography, and BirdLife International.

EWA promotes the engagement of all people in bird conservation by opening a space where they can share their knowledge, language traditions, and understandings of birds. Founded on the recognition that humans everywhere are inspired culturally, practically and spiritually by birds, EWA is about building relationships between Indigenous and local communities, conservationists, academics, and their institutions.
View Live Website
Services Provided
The Challenge
The goal of the EWA site is to promote bird conservation through the engagement with, respect for and celebration of diverse cultural traditions of knowledge. The team had built a website in-house, using Mukurtu, a CMS with a greater purpose. Mukurtu (MOOK-oo-too) is a grassroots project aiming to empower communities to manage, share and exchange their digital heritage in culturally relevant and ethically-minded ways. It was important for EWA as it aligns with their own values; they're committed to maintaining an open, community-driven approach that fosters relationships of respect and trust.
The site they'd built was good, but it was a stock Mukurtu site, and it wasn't allowing them to reach their goals. The EWA team had various custom needs, and they discovered Kanopi in their search for a web agency that supports Mukurtu. We were able to work with them to customize the site in a way that meets their needs, and continue to work with them as those needs evolve.
The Solution
Having worked extensively with Mukurtu in the past, Kanopi understood the needs of the EWA team and we knew how to bring it to life. Specifically, we launched a Language Map and BirdWords pages, that capture the vast understanding of the naming conventions of bird species as they migrate — and the influences that those migrations have on indigenous peoples.
The site blends the study of birds in relation to human cultures, and the ways in which humans have been inspired by the cultural, practical, and spiritual influence of birds.

Surprisingly, during the Covid-19 epidemic, we identified additional, unexpected, use cases for the site. Visitors to the site who feel the need to return to more traditional ways of living can gain access to historical indigenous information. By enabling the saving and offline viewing of data, this data could be used by site visitors in a unique way. This data may include foraging and other information related to the natural environments in which the birds of that area lived. 
Key Features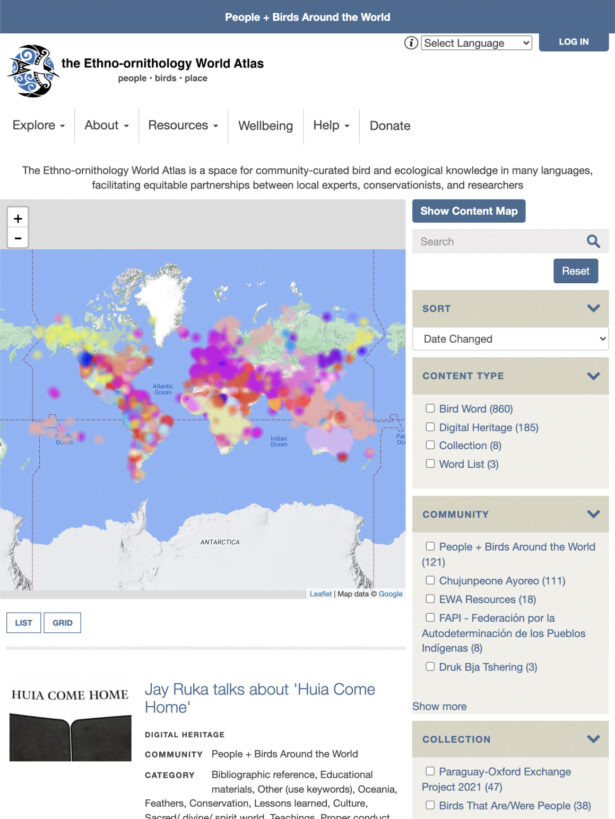 Language Map
We imported the anthropological Glotto language database as an overlay onto existing maps. This includes global languages, dialects, and language families.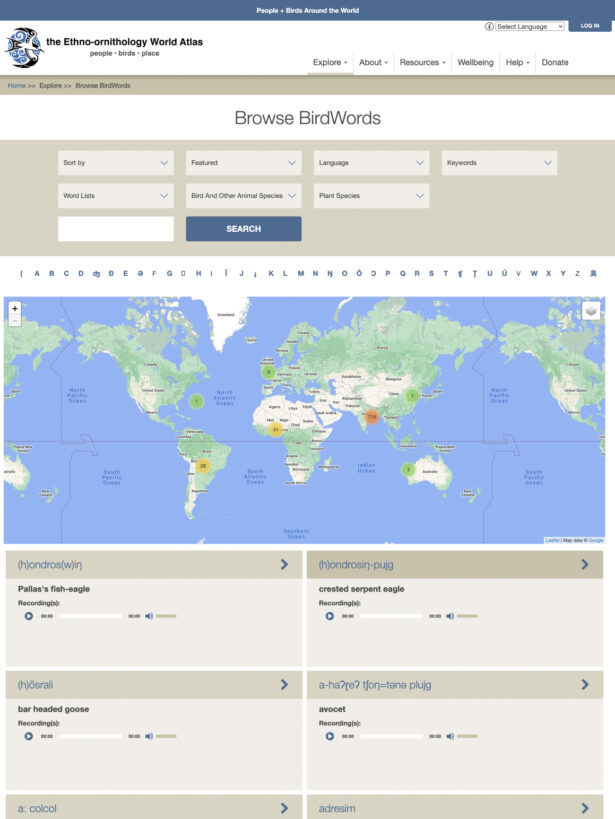 Bird Words
Using the Mukurtu "Dictionary Words" feature we created the BirdWords features, allowing visitors to find types of birds across the world.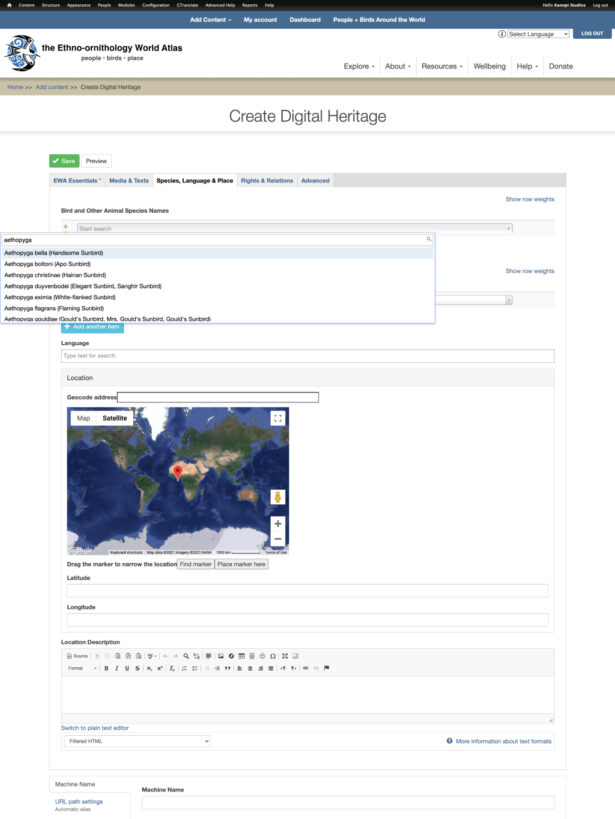 Imported Species
We imported the IUCN Red List of Threatened Species into the site, showcasing it as Digital Heritage content.
The Result
Number of plant and animal species imported
Number of languages imported
Number of communities with their own community page and content