Support
International OCD Foundation (IOCDF)
A dynamic resource to help people living with OCD find the support they need.
Client Overview
Founded in 1986 by a collective of people with obsessive-compulsive disorder (OCD,) the International OCD Foundation (IOCDF) exists to help those affected by OCD and related disorders to live productive and full lives. The IOCDF aims to improve access to effective treatment through research and training while fostering a supportive community for those impacted by OCD and the specialists who treat them. They also are fighting to end the stigma surrounding mental health issues more widely.
View Live Website
Services provided
The Challenge
The IOCDF's existing resource directory provided a wealth of information about therapists, support groups, programs, and clinics to assist people living with OCD. They wanted to expand their services and make it simple and straightforward for people with OCD to find the support they want and need. The IOCDF wanted to modernize its resource directory, focussing on user needs and improving user experience. In addition, because their old directory was built with ElasticSearch and relied on depreciated code, it wasn't as sustainable or future-proof as it could be.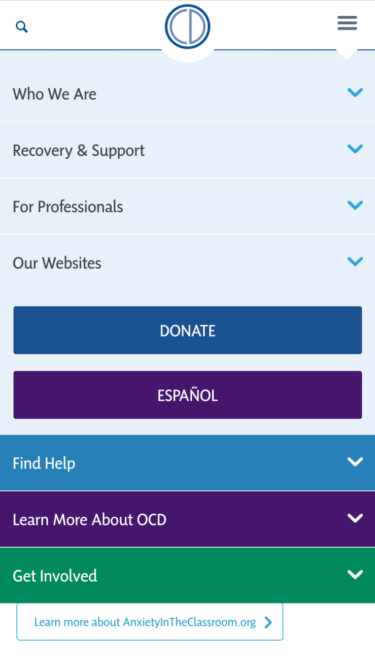 Navigation
Conference Sign-Up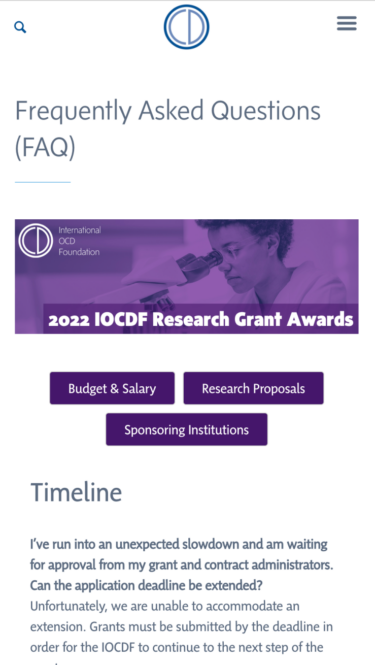 Interior page navigation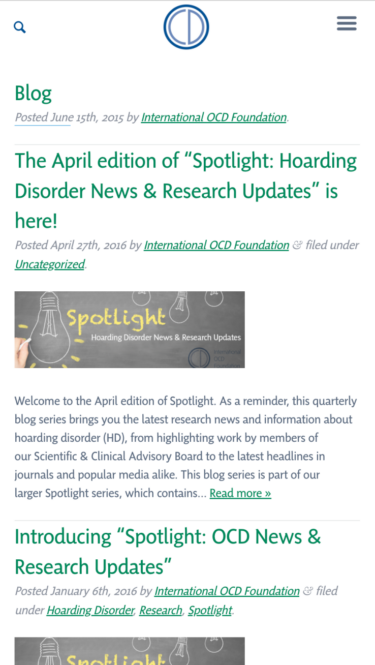 Blog
The Process
User Experience
Kanopi worked with the IOCDF to identify what users needed in order to find support that meets their needs more quickly.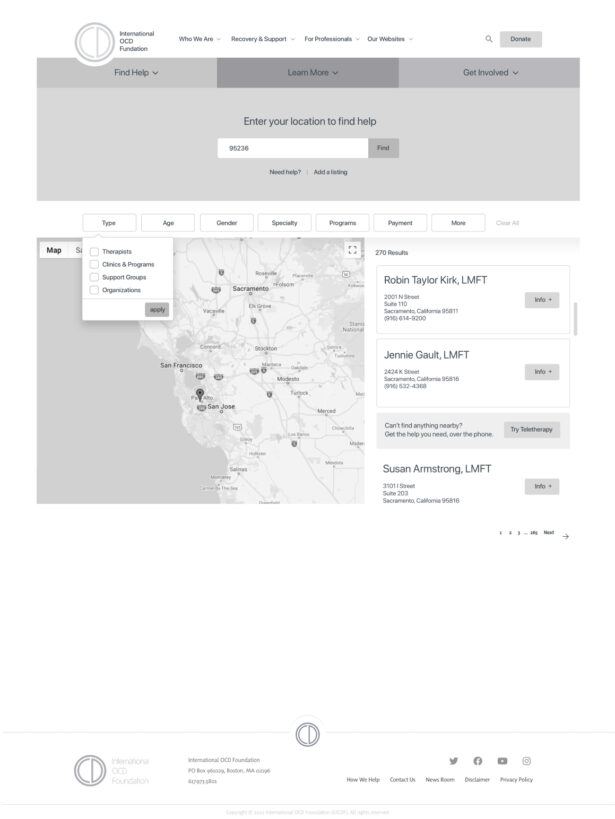 Build
We created a reliable and scalable solution based on more modern code and facets to ensure the IOCDF's resource directory is fit for purpose today and well into the future.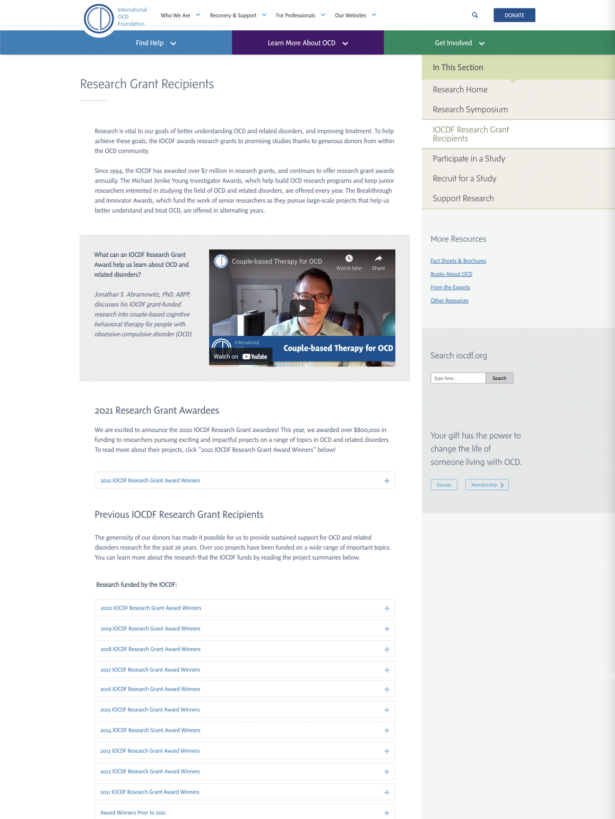 The Solution
Kanopi created a new, dynamic directory that is scalable and includes an entirely updated user journey. From clear filters to an interactive map and provider list, the overall experience helps people living with OCD looking for support to connect with providers more easily. The updated editorial experience empowers the IOCDF team to provide additional resources with ease, as and when needed.
Key Features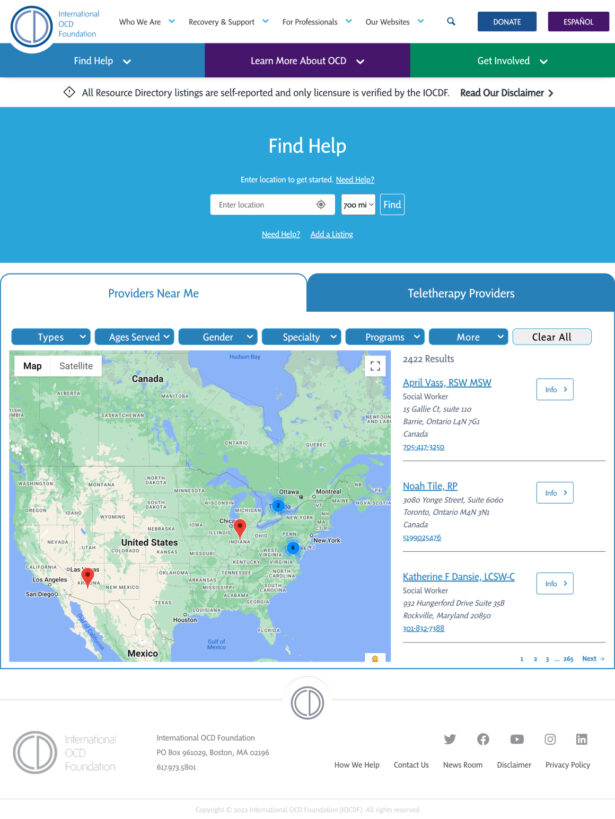 Interactive Map
An interactive map showcases provider availability with key contact information clearly displayed and a 'more info' call to action for site visitors to gain further details about a specific therapist or program with one click.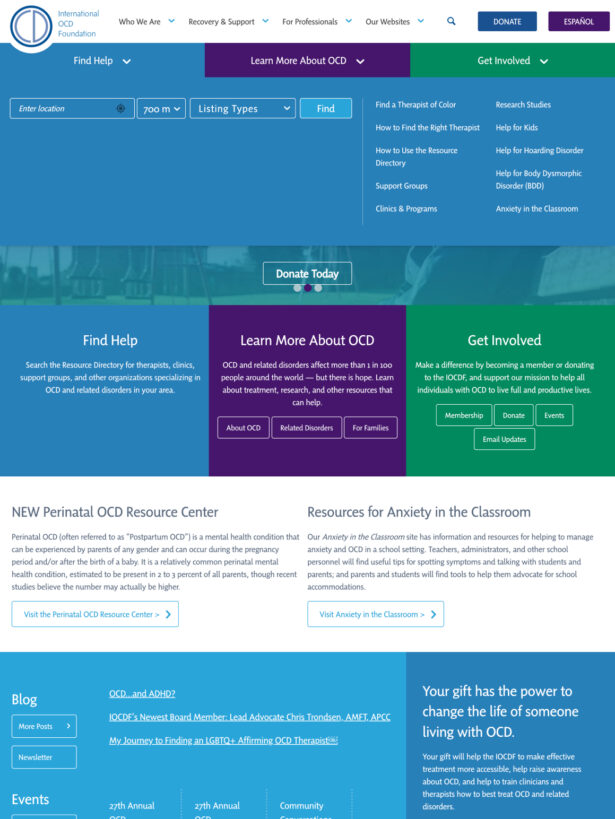 Filtering
The simplified filters allow website visitors to find the type of therapist, clinic, program, and support group that can help them the most, with greater ease.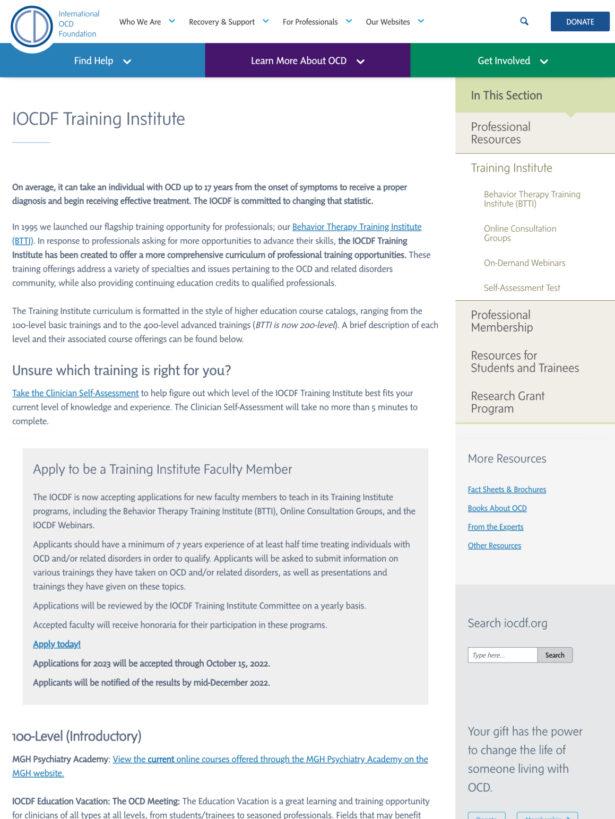 Overall usable experience
Guidance is easier to find and tailored to the people who use the IOCD site, including side navigation that helps them continue to further advice that's relevant to their needs.
The Result
The IOCDF now has an engaging, accessible website that meets the needs of its users. Site visitors can find the support and assistance they need faster than ever before thanks to simplified filtering functionality. They can also access vital information about therapists and programs with just a click of the mouse. The IOCDF team is able to update content quickly and easily, keeping their website current and correct for the people that matter the most to their organization – those living with and affected by OCD.