These days, more and more companies are opting for and promoting remote work environments. It can save money for employers, give flexibility to employees, and allow a company the ability to hire the best talent regardless of location.
The Kanopi team has years of experience working remotely. Our fully distributed team across North America has long used (and argued about) which tools and processes work best for us.
We were new to this at one time too, so we know the mix of challenges you may face. Here is our comprehensive list of our go-to tools and tips that make working remote more rewarding and more productive. There are several other tools that could be included here, but they are not remote-specific (teams use them even if they are all in the same room) so we tried to keep the list more geared towards tools that are needed for remote teams.
Video Chat tools
You don't need to lose the human connection working remotely. Check out some of our favorite ways we keep the personal touch in everything we do.
Zoom
If you've spoken to a member of the Kanopi team you may have know that we love Zoom! With both free and paid plans, this platform allows face-to-face communication and collaboration with video calls, screen sharing, and chat features. It also has webinar capabilities depending on the plan.
GoToMeeting
Like Zoom, GoToMeeting offers many of the same communication and collaboration tools. With screen sharing, auto bandwidth adjustments, and mobile options, GoToMeeting might be your go-to tool. They also have webinar capabilities.
Google Hangouts Meet
Google Hangouts Meet is another great video conferencing tool. Divided into two offerings; two primary products: Google Hangouts Meet and Google Hangouts Chat, it has more advanced features such as auto-captioning and your team can stay connected right from the tool you may already be using.
Skype
Skype has a long history of offering video conferencing options and is preferred by some organizations. With the combination of a video tool and instant messenger, it could be an all-in-one solution for your team to stay connected.
Join.me
Known for its video conferencing with file-sharing tools, Join.me is an app that can integrate with your Google Calendar and lower the barrier of entry for your team.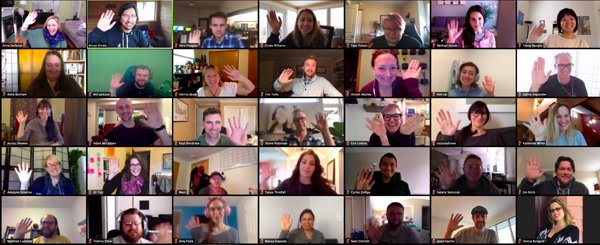 Audio Only
Free Conference Call
Free Conference Call offers all the features and capabilities of the largest paid-for conferencing brands but for free. Their pricing model is pay what you can pricing.
Google Voice
Some remote workers are concerned about giving out their personal number when clients call. Google Voice may be that answer. It can be accessed from your already existing Google account and allows for incoming or outgoing calls depending upon your setup.
Instant Messaging Tools
Slack
Slack is already integral to so many organizations and certainly is ingrained into Kanopi's culture. Slack allows us to have not only department- or project-specific channels, but team-building ones too (some of our favorites include the "pets" and "cool recipes" channels). With free and paid options, your team can get up and running too. Lots of fun add-ons allow you to add Bimojis, gifs, and even reward each other with tacos.
Microsoft Teams
Microsoft Teams is an alternative to Slack and offers the same collaboration tools and asynchronous communication features. This is particularly useful for people who are using Microsoft Office 365 subscription.
Documents
Google Docs/Presentations/Sheets
Our team takes full advantage of these tools for working remotely. From decks/presentations to collaboration on notes (or Blog Posts!) your team can collaborate on that big project from anywhere.
Microsoft Office Online
Much like the desktop application we have come to love, there is now an online version. With the ability to edit word documents, powerpoints, and spreadsheets through an online interface this makes it easy to collaborate and communicate easily with your team.
Dropbox
Similarly to Google Drive, Dropbox allows storage space for teams to collaborate on files.
Design Tools
Sketch
Collaboration at it's finest, Sketch is known for easing the creation of design systems. With the ability to integrate into other tools such as Lingo, and even Invision, you're set up for success.
InVision
InVision is a rapid prototyping tool that allows your team to share interactive mockups allowing for the presentation of UX at its truest form. This is accomplished through uploading designs and wireframes and adding clickable areas called "hot spots" to guide users through the user experience of your design.
Figma
Comparable to Sketch, Figma offers interactive UX that drive the creation of effective and visually pleasing design systems. With a variety of override options, customization is streamlined.
Development Tools
GitHub
GitHub brings together the world's largest community of developers to discover, share, and build better software. It's a web-based platform used for version control: team members can work on files and easily merge their changes in with the master branch of the project.
CircleCI
CircleCi is a continuous integration and delivery platform that allows for automated software testing and deployment.
Project Management Tools
Jira
Jira, by Atlassian, is great for bug-tracking and project management. It comes in several packages depending on your needs, and can get very detailed for tasks. Team members can get assigned tasks and be given deadlines.
Teamwork
Teamwork is Kanopi's software of choice. Similarly to Jira, it's a versatile project management tool that allows for simple customizations while supporting both traditional and agile methodologies. From scheduling and assigning tickets to tracking progress, Teamwork allows for a complete history of the overall project or relationship with accountability and clarity.
Basecamp
Basecamp is very popular among businesses because of its user-friendly interface, though is a bit more limited than Jira and Teamwork.

Things You Should Know
If you lose internet connection
Some of us live in more rural places so we're used to outages, but even urban professionals occasionally experience a hiccup with your connection. If you have an unlimited data plan on your phone, you can set yourself up with a temporary hot spot that can keep you connected. And with so many apps available on your phone (Zoom, Slack, Google Docs and more), as long as your phone has a connection and data, you're free to keep going.
Multitasking
Sometimes multitasking is great! You need to share your screen but still need your team member to look up some info on the fly, no problem. Just keep your Slack open on your phone while you're talking, and you can have that "around the conference call" communication without losing stride.
Finding a quiet place
When everyone is home, sometimes the biggest challenge is to find a quiet place to take a call. It's okay, the most important thing to keep in mind is that we've all been there (especially professor Robert Kelly). If a child or dog makes a sound in the background, it's not going to be the end of the world. But, if you have that critical call for which you need absolute quiet, then find any quiet place and just keep your video off. We've all known people who've taken the random call from a closet in a pinch. We're not recommending it but don't sweat it either. Being on a video call does not mean your video needs to be on.
Create Focus
Laundry! Dishes! Dogs! The list of distractions can go on and on. Set yourself up with a place where you can turn off your attention to those things when you can. And when you're in close quarters, use earphones to help mentally isolate yourself.
Co-working
Video conferencing isn't only for official calls. Some of our team members enjoying popping into a Zoom call just to co-work. It's not the same as working side by side in an office, but it's a good substitute to it and to be able to spontaneously bounce ideas off of each other as you complete tasks. This helps us learn, communicate and keep our team close.
Snacking (no, really, we're serious)
Plan your meals ahead including your snacks. You're going to be likely to find yourself so focused you may forget to eat, or so distracted you'll be grazing all day. Remember to take care of yourself while you're working.
Be aware of the pitfalls
Working remotely can also be isolating and physically damaging; humans are social creatures and remote work can create a lonely environment with little incentive to get up from your chair, or with too many distractions at home. For more ways to make the best use of your remote time, read our post on how to work remotely and foster a happy, balanced life.
You can be successful working remotely!
Working remotely isn't for everyone. But it can be done successfully with the right tools. Kanopi exists only because of the ability to be a distributed team, so we can hire the best talent possible regardless of their location in North America.
As with any of your needs, feel free to contact us for any help with your remote work set up. We're always ready to support you.