WordPress is the most popular content management system (CMS) by far, powering 43% of all websites. WordPress hosts sites for a wide variety of organizations, including media groups, nonprofits, higher education institutions, and corporations. But is WordPress for enterprise the right platform for your business's complex needs?
Enterprise-level companies require reliable and scalable websites to grow and compete with other large organizations in the digital era. Often, enterprise leaders turn to expensive and complicated customized web solutions to host their sites.
WordPress has evolved into a powerful and flexible solution to handle complex enterprise needs. Now, well-known brands like Facebook, Microsoft, and Spotify run their websites using WordPress.
In this guide, we'll walk through the following sections to give you a better sense of how WordPress for Enterprise can benefit your organization:
Let's start by answering some of the most frequently asked questions we hear about WordPress for Enterprise.
WordPress for Enterprise: FAQs
What does WordPress for Enterprise mean?
WordPress for Enterprise is the application of the WordPress platform to meet the needs of large businesses. These organizations are usually multinational corporations with multiple domains and thousands of users accessing their sites at once.
According to WordPress, their enterprise solutions are used "wherever there's a requirement for flexible, cost-effective, and secure creation and distribution of content." Media and publishing organizations, E-commerce sites, and other large-scale businesses use this solution for their online marketing, communication, and commerce needs.
What features do enterprise websites need?
Enterprise websites require the ability to handle significant traffic and user engagement. Often, these sites will need to support features like: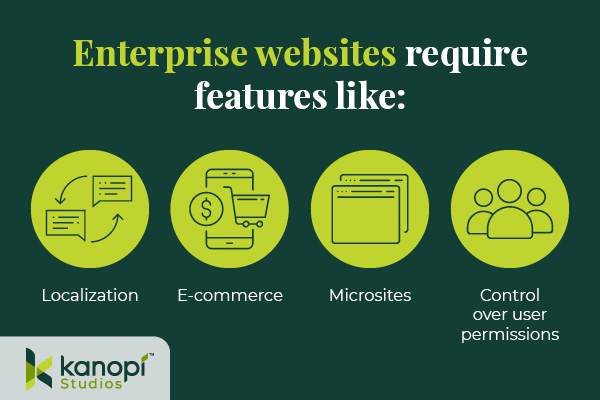 Localization. Localization requires adjusting site content to the cultural and linguistic norms and context of different target audiences. Localization involves translating text and adjusting images and text to ensure all website elements are culturally appropriate and relevant.
E-commerce. Some enterprise websites require e-commerce functionality that allows visitors to browse products or services and complete secure transactions. This involves an online storefront and a secure payment processor with multiple payment options.
Microsites. A microsite is an individual web page or site made to function as a separate entity while still being a part of your existing website. Some corporations use microsites to promote sub-brands or special events.
Control over user permissions. Enterprise websites need to only allow specific users permission to access certain features. This promotes greater security across the organization.
Enterprise websites must connect with a diverse, often global audience. These features make it easier for marketing professionals to promote their businesses while maintaining reliable security and other core features.
What's better for an enterprise — WordPress or Drupal?
As you search for a new CMS, you might also come across Drupal as a top option. Drupal is another open-source CMS that organizations with complex needs, like enterprises and government institutions, use to create robust and secure websites.
Drupal also offers multilingual functionality, security, and control over user permissions. In addition, Drupal has strong accessibility for both back- and front-end users. The release of Drupal 10 in 2022 unveiled the platform's most modern, accessible editing experience yet, along with a host of additional advanced features. When choosing between Drupal and WordPress, consider your corporation's unique needs and what CMS features you will prioritize. Explore our guide to Drupal vs. WordPress to learn more about the primary differences between these platforms and help determine which CMS is right for your enterprise.
Common WordPress for Enterprise Misconceptions
Due to the early days when it was primarily a blogging platform, several misconceptions about WordPress's capabilities have prevailed over time. Here are a few common misunderstandings:
WordPress is only for blogs and is not a true CMS.
As mentioned, WordPress powers 43% of all websites (including websites for some of the biggest brands today), meaning it can do much more than just blogging.
WordPress is not great for security.
Third-party plugins may create a little bit of risk, but WordPress's core system is incredibly safe.WordPress has also invested in fast security releases, with a team of 50 experts managing them. Even whitehouse.gov is on WordPress, showing how far the platform has come in regard to security.
Open source is not reliable at the enterprise level.
Enterprise-level organizations can safely use an open-source CMS. Massive sites like Facebook and Google use open-source systems to power their tech.
WordPress doesn't offer a lot of support.
WordPress' extensive open-source community facilitates access to tons of contributors and developers that create new plugins, themes, and features every day. As a well-known and popularly-used CMS, WordPress has plenty of support from millions of users and experienced developers.
12 Benefits of WordPress for Enterprise
What's the true story about what WordPress can do for your enterprise website? Let's take a look at the top benefits of WordPress for enterprise:
1. High ROI
WordPress's return on investment is very high compared to proprietary systems, especially in terms of the total cost of ownership (WordPress is free!) and implementation speed. Building and testing new features can be completed in just a few weeks because of easy access to themes and plugins.
2. Strong security
As mentioned, WordPress offers consistent updates and security releases to protect users from common hacks. You can also look to additional security plugins to further protect your site.
3. SEO friendly
Search engine optimization (SEO) is crucial to help boost the visibility of your enterprise website across search engine results pages. WordPress offers built-in SEO-friendly features, such as optimized URL structures and category and tag options that help search engines better understand your website's structure. Plus, using an SEO plugin like Yoast, All in One SEO, or SEOPress can make the optimization process even simpler.
4. Access to integrations
Because WordPress is so popular, there is already a vast number of third-party tools that are ready to integrate with your system. This means your enterprise business can quickly add features and make site updates without needing to invest in expensive custom solutions. Besides the many free tools, enterprise businesses can also invest in premium paid plugins with added support!
5. Easy to use
Once your site is up and running, the WordPress platform is perfect for non-technical users. The Block Editor (also known as the Gutenberg editor) offers an intuitive backend experience that arranges content into a series of blocks for text, images, videos, and other page elements. This ensures that any of your enterprise businesses' team members can jump in and make necessary changes.
If you need help along the way with managing your content, there are plenty of resources available—start with Kanopi's webinar on the subject!
6. Open-source community
One of the most valuable features of WordPress is the open-source community supporting its development. These contributors create new plugins, themes, security patches, and features to help WordPress users customize their sites to their needs. This community is always growing and evolving.
7. Accessible
WordPress is devoted to creating accessible front- and back-end user interfaces. Their Accessibility Team runs ongoing audits and tests on themes and functionality using assistive technologies. Also, any code built into the WordPress core system must meet the Web Content Accessibility Guidelines version 2.1 level AA.
8. Scalable
WordPress has made great strides when it comes to improving website performance. You can ensure your website is prepared to handle a large amount of traffic by making use of these WordPress elements:
Keep your code clean and only invest in high-quality, lightweight plugins and themes.
Use a page caching tool to help improve page load speed.
Select an enterprise WordPress host that emphasizes scalability.
Scalability is necessary to ensure that your enterprise website can manage a large volume of traffic efficiently.
9. Streamlined media management
Enterprise businesses use many online media types such as documents, visual media like photos and videos, and audio files. With WordPress, you can upload and manage just about any media type in a streamlined and intuitive manner. Easily manage media on the backend and edit it visually on the front end.
10. User management and multisite domains
Your enterprise website may need to run a network of subdomains or microsites and give access to only a select number of team members. WordPress supports multisite usage with Super Admins, a user role that can set up networks and control user permissions.
11. International capabilities
Your enterprise website must be scalable on an international level. WordPress is available in over 100 languages, ensuring you can effectively reach your global audience.
12. Flexible and agile
This is the true differentiator between a proprietary and open-source system. Your enterprise business' next goal is always going to be starting a new project, making processes more efficient, or releasing updates, all without compromising quality.
That's why you need a system with high agility, like WordPress. With easy collaboration between content editors and developers, the WordPress system allows your team to build and expand website features quickly without breaking the bank.
Enterprise WordPress Development Services
Do you have a large-scale project in mind? Or do you already have a built-out enterprise-grade website and just need support?
Consider working with a WordPress development expert like Kanopi. Our professionals work closely with your enterprise business to understand your unique needs and strategize how your WordPress website can best support them.
Plus, Kanopi takes a continuous improvement approach to ensure that your site is always improving over time — perfect for a quickly-growing enterprise business.
Our WordPress development services include:
Plugin and theme upgrades
Security patches
Performance enhancements
Content strategy
E-commerce updates
Plus, we have a dedicated enterprise support tier customized to your business needs, ensuring that your website stays updated and viable over the long term.
---
WordPress is a flexible, scalable, reliable CMS that can take your enterprise website to the next level. If you're looking to upgrade your CMS or switch to WordPress, the recent release of WordPress 6.1 and the improvements that come with it mean that it's a great time to get on board.
Looking for more information about what WordPress can do for your business? Start here: