Kanopi Studios has a unique company culture, considering that we are completely remote and often our closest co-worker is in a different US state or Canadian province. As Cultural Ambassador, I have had the privilege to be sent to numerous conferences to staff our exhibit booth to engage with the public, and in this had the opportunity to meet several of my fellow co-workers from across North America in person. It only solidified what I know from our video chats: we are intelligent folks, genuinely nice people, and damn good at what we do. And we are ridiculously fun!
In January 2019, for the first time in forever… we ambitiously organized our first-ever Kanopi Studios company retreat. It would be the opportunity to put about 30 of our full-time staff together in one physical place, collaborate together in real life, and determine once-and-for all who is taller than who (and to my shock and to no one else's surprise, I am the shortest person at Kanopi Studios, standing at just under 5'1").

This was a new experience for us: coordinating 30 people to fly out to a locale in Palm Springs, determining lodging in spacious rented Airbnb Villas, and providing the on-site chef a hefty list citing half of the team's food allergies (special THANK YOU to Park Place Productions for the incredibly delicious and thoughtful catering service: we were spoiled, full and happy).
Sure, we had fun. But there was also work: we rolled up our sleeves, put our heads together and sprinted down to the business of how to make Kanopi more efficient and effective in terms of our processes, procedures and other work-life hacks for long-term happiness. We reflected on 2018 and visualized what our 2019 would look like. Our fearless CEO, Anne Stefanyk, gifted everyone The 5 Second Journal. We workshopped and brainstormed on solutions to streamline pain points in each department and in our internal processes. Developers had the opportunity to sprint in the same room together. We partook in team building games and had professional headshots taken. Our remote team was physically together in real life, for the first time, and it was something truly special.
With respect to the team building and fun, here are some lovely highlights:
Greetings. Every time a vehicle approached the villa, a flood of Kanopians would pour into the front yard to greet their fellow arriving Kanopian.
A special greeting for Carlos. He finally arrived after being stuck overnight in a Houston airport. Our team was so excited that we had three false starts, with 30 adults piling outside to greet our comrade believing he was already outside. And when he finally arrived, it was truly celebratory!
We celebrated a Kanopian Birthday. The first of the year! (Morgan on Jan 9th)
Team building. We played a game where Kanopians had to silently form a line in the order from their Start date with Kanopi. It was eye-opening to see how much we had grown.
Group photos. Jumping in the air, posing, having a blast!
Impromptu volleyball. My face took one for the team.
Awards night. We expressed gratitude, gave certificates of appreciation, as well as custom personalized Bitmoji mugs for all staff members.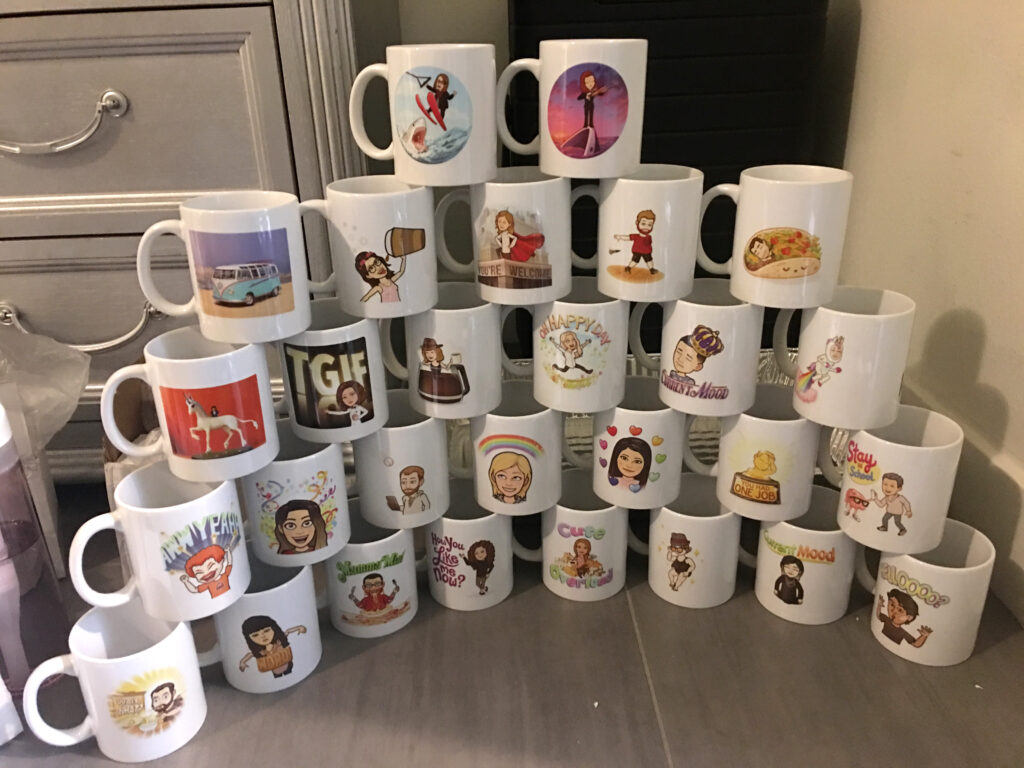 An epic ping pong game. Jim and Fonda had a nailbiter of a match, followed by around the table Ping Pong.
Roommate bonding. One group called their space the "Harry Potter" room, while the Admin team ladies had a "girl's sleepover chat session" in bunk beds.
The never ending goodbye at the airport. Even though we left in separate convoys over the course of three hours, we all wound up together again at the tiny Palm Springs airport to eat together, hang out on the grass, and laugh some more!
We were genuinely happy to be together. With renewed energy and purpose, these 30 travelers returned to their towns, turned on their computers and began making the magic we talked about at the retreat happen.