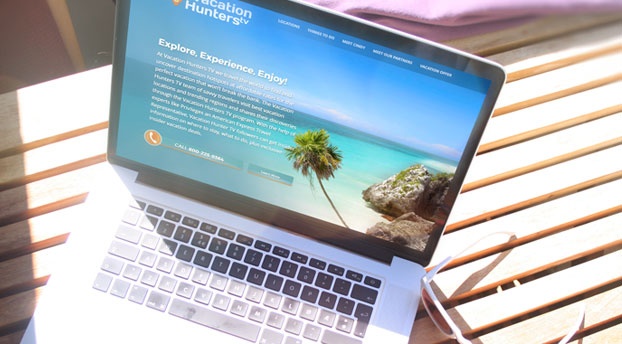 This summer, Canella Response Television partnered with Kanopi Studios to create a website that helps generate sales for their Vacation Hunters TV direct response television (DRTV) program.  Vacation Hunters TV provides an amazing deal for a vacation for two to Mexico's Maya Riviera. Their DRTV spot features gorgeous and enticing clips of locations to visit and things to do in the Maya Riviera- and of course, their killer offer- presented by savvy traveler extraordinaire, Cindy Christi. This was Kanopi's first DRTV website, and we were excited about the challenge to increase their conversion rate.
A DRTV program asks consumers to respond directly to the ad by calling in or visiting their website. The Vacation Hunters TV offer is only redeemable by phone, so our goal was to have users call the 800 number and book their trip.  After watching the show multiple times to get an understanding of their flow of information and call-to-actions, we dove into the UX and design. The site needed to be an extension of the show- informative, enticing media, ample call-to-actions, and be beautifully clean and simple, unlike a lot of in-your-face DRTV companion sites.
We took the tried and true flow of a DRTV show and reimagined it for the web. We designed a one-page, long-scrolling site, introducing users to the offer, enabling them to explore the opportunity and locations through text, videos, and photos. The site also presents the host and Partners that make this deal possible. It wraps up with another offer, all while subtly keeping the call-to-action front and center.
The result? Within three weeks of the site being live, www.vacationhunters.tv generated over 1,000 phone calls and their usual conversion rate of 3-4% was up to 7.5%.  Happy travelers and a euphoric client! Now that we've completed our work, we're ready to pack our bags and head to Mexico. ¡Hasta luego!