Consumers have a lot to choose from, so the first impression of your brand online is critical. Your website is often one of the first touchpoints your audience comes into contact with — if not the first — and that experience can make or break their perception of your company. In fact, 88% of people are less likely to return to a website after a bad user experience.
What is user experience (UX)?
At its core, user experience (UX) is the way an individual feels when they're interacting with a website. It requires an understanding of user wants, needs, values, and limitations. We are not talking about the visual design (such as colors, font choices, or images), but the entire experience for the customer as they interact with your site and its elements, and how each element works to influence the whole.
User experience needs to answer four crucial questions:
Can I find it?
Is your audience able to navigate content easily?
Do I understand it?
Is the language you're using clear and accessible to the widest audience possible?
Can your content be understood by audiences with visual or other impairments?
Can I use it?
Does your audience understand how to use your website?
Does it make sense where I should go?
Do I feel satisfied?
Does your website fulfill a need?
How satisfying is that journey?
If your website misses the mark on even one of these questions, you risk losing your customers to a competitor, and you risk your brand reputation. 79% of users who don't find what they are looking for on one website will go on searching on other websites.
How do we measure user experience?
There are three main categories used to compare your website to others on the market: performance, information flow, and communication style. Let's look at some numbers.
Performance
When we think about performance we consider how quickly site pages load on both desktop and mobile devices. Mobile devices are particularly important as 65% of all website visits come from smartphones.
With 61% of customers saying they'd leave a brand they loved after a single bad experience, it's incredibly important to pay attention to the experience of your site. 
52% of users said that a bad mobile experience made them less likely to engage with a company, and 74% of visitors are likely to come back to your site if it has good mobile UX.
Mobile users are 5 times more likely to abandon a task if a site isn't optimized for mobile.
60% of users will not trust a company that hasn't optimized for mobile.
57% of users refuse to recommend a business with a bad mobile site.
25% in improved organic traffic if you have a responsive mobile design.
40% of people will leave a website if it takes more than 3 seconds to load.
Wondering where we got these statistics? See the resources below.
Information Flow
79% of users who don't find what they are looking for on one website will go on searching on other websites. The attention span of your audience is short — typically less than 10 seconds — and the ability to find immediate information can mean the difference between a repeat visitor and one that never returns.
40% of users will abandon a website if it seems messy.
There's a 400% higher conversion rate with great UX design, which is double what a great visual design can generate.
71% of publishers say content that looks well-organized on mobile devices boosts positive user experience feedback.
Communication of Content
How you communicate your message is just as important as where it's featured on a web page. It helps users get the information they're looking for, and tells them what you can offer. As a bonus, good copywriting can boost your SEO rankings, since 75% of all website traffic runs through Google search.

The format of your content matters too. You want to consider how your audience processes information (whether it's visually, through videos, or through longer content), and tailor your content to their consumption preferences.
46% of all website visitors will not trust a company if its mission statement is not clear.
70% of people learn about a company through their blog rather than ads.
73% of people are persuaded to buy a product or a service through a video.
How to improve your User Experience (UX)?
The best way to ensure your website has a stellar user experience is to take a look at how it's currently performing through quantitative and qualitative research, then apply any findings to make actionable updates and improve your UX.
Gather Quantitative Data
Tools like Google Analytics and Hotjar allow you to see how the majority of your audience behaves, using click tracking and conversion funnel tracking.
Click Tracking
Click tracking identifies where a person clicks and how far they scroll down a page.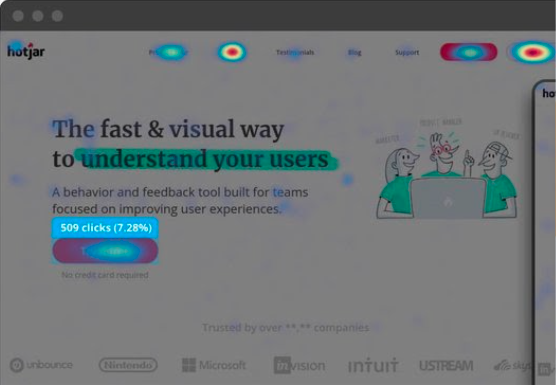 Conversion Funnel
A conversion funnel identifies the biggest barriers to conversions and discovering ways to improve the flow.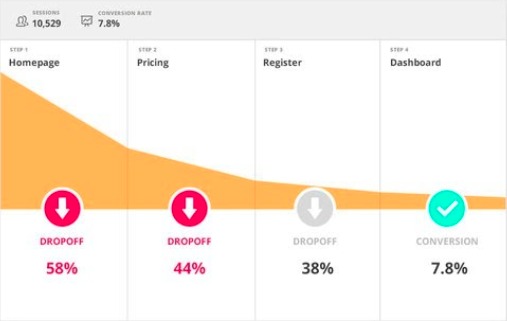 Quantitative questions
Then once we've gathered the data, here's what we typically look for:
How does your audience find you? Do they find you through social media, internet search, or do they know who you are?
What is the first page someone lands on? If not the homepage, is there enough information to entice them to stay on your site?
What is your most popular content? The answer will help prioritize your navigation.
What buttons are used most often? The answer will help prioritize your calls to action placement.
Gather Qualitative Data
Quantitative data can tell you a lot about your UX, but you also need qualitative data to understand the more subjective perceptions of your brand and website. Gathering qualitative data will help you understand how your audience feels about your brand, their interpretation of your value, and their experience with the website.

A great way to capture this information is through surveys. You can capture the audience perspective in real-time through an onsite survey, or you can create a Google Survey to send to current or prospective customers.
Qualitative questions
Once we've gathered this data, here's what we typically ask:
Is your audience finding the content they need? If not, what is the barrier?
Why do they choose you over other organizations? The answer will help shape your value statements.
How does your audience feel about the site design? Illuminate visual design issues you may not be aware of.
Rate qualities your organization wants to embody. Understanding what qualities resonate with your audience helps prioritize message and content.
Apply your learnings
Armed with your rich qualitative and quantitative data, you can start to apply your learnings and make improvements to your UX. There are several areas where most websites need attention that can make a big impact, such as image size, menu navigation, and page layouts.
Size images appropriately
Image file sizes are one of the top offenders when optimizing site performance. Resizing super large images to appropriate sizes can speed up load times.
Streamline menu structure
Think of your navigation as your table of contents. Your audience should know where they can find the information they need, and it should be easy to locate. Take a critical look at your website's menu structure and content.
Optimize the mobile experience
Make sure your website is responsive and that the mobile experience feels just as rich and inviting as your desktop experience.
Optimize page layouts
Use eye-tracking and heat-mapping tools to identify current site behaviors to identify areas that could use a visual boost. And on the back-end, make sure your code isn't loading unused features.
Edit your content
Trim content down to the most salient points. Use headlines to highlight the most valuable information. Strategically use images that elevate your message.
Use relatable language
Your site is the first handshake your organization extends to a person. Using familiar language makes your organization feel inviting and personable. Plus, writing in an easy to understand way will boost your SEO.
Small steps can lead to big UX improvements.
Improving your UX doesn't need to be a big hurdle to overcome. These are mostly small fixes that can make a big impact.
If needed, employ a 3rd party opinion, whether it's through a new employee, a consultant, or an agency. The perspective of an outside party will provide insights you may not see because you're too familiar with your own brand.
Want to dive deeper into the numbers?
Here is a list of sites with a lot of research and UX statistics.
Need more help?
If you need an outside perspective, we're here to help! We can help measure and improve your UX, while keeping your unique company goals in mind.