Tommy Sliker
Drupal Engineer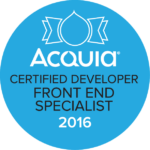 Tommy has been working with Drupal since 2010, initially as a Drupal Themer using contrib modules, HTML, CSS, and JS, while over time gaining more backend knowledge of custom module development, Linux, PHP, and GIT. At Kanopi, he works on Drupal support projects on both front- and back-end, developing new features for existing websites, keeping the websites up to date, and fixing bugs in the existing sites.
Tommy enjoys messing with headless Drupal and Javascript frameworks, building features using PHP or JS, and loves the gratification of pushing something to production after a challenging journey. Within the open source community, Tommy has contributed Drupal rap, as well as created patches to Drupal core and contrib modules over the years. He is also Acquia certified.
Outside of work, Tommy indulges in music, fishing, Fortnite, and spending time with his kids. He also enjoys basketball, though laments that his ball skills are waning.
---
Skills
Drupal, jQuery, JS, PHP, ReactJS, LAMP Stack
Contributions and Accolades
Drupal rap, a custom module, patches to Drupal core and contrib modules.
Favorite Game
Fortnite
Favorite Places
Edisto Beach, Smokey Mountains, Yosemite National Park, Asheville, Home
Did you know?
Tommy was in the marching band for Tenor Drums in both high school and college.