Full Build
Stanford University Dean of Research
Improved UX to ease collaboration of an $8 billion research community
Client Overview
From undergraduates to Nobel Prize winners, the Stanford University Dean of Research (DoR) directs 18 independent institutes, centers, and laboratories, that each provides an intellectual and physical intersection between disciplines and schools. Stanford's Dean of Research has a long-established tradition of breaking down boundaries to tackle sizable problems, engaging students and faculty in collaborations that range from economic and international studies to challenges related to health, the environment, and energy.
View Live Website
Services Provided
The Challenge
Stanford DoR's existing culture of collaboration leads to cutting-edge discoveries, allowing for innovative solutions to challenges facing our climate, our health, and our global security. They needed to modernize their web presence to ease this vital collaborative environment, implementing design changes with their end-user in mind. Stanford DoR wanted to use insight and data into how their users interacted with them online to make valuable content more accessible and their site easier to navigate and update as a whole.
The Process
Technical Visionaries
Through migrating Stanford DoR to Drupal 8 from 7, Kanopi Studios introduced a dramatic upgrade with a cleaner, more sophisticated new technical design.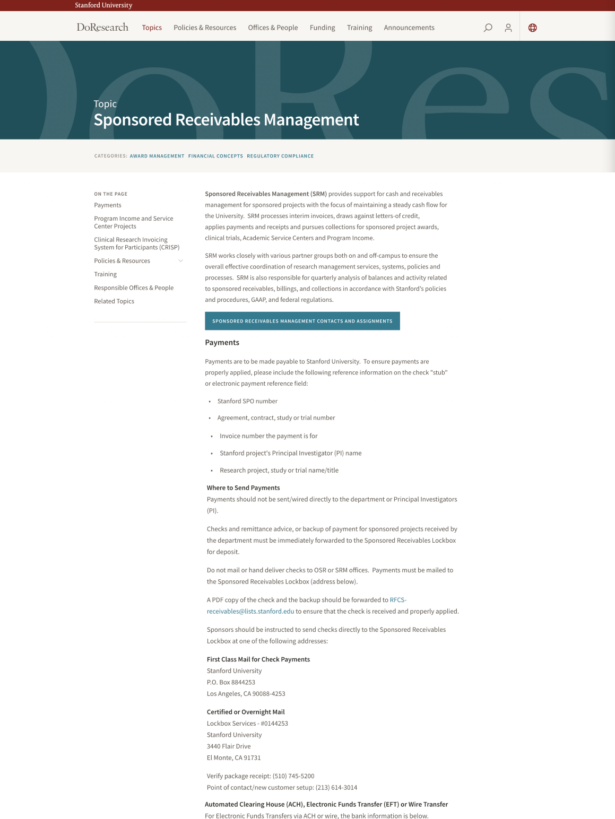 User Experience
From a back-end standpoint, Stanford DoR's site was dated and clunky. Kanopi made it intuitive to navigate and introduced key components that made it easier for Stanford DoR's website team to update their site.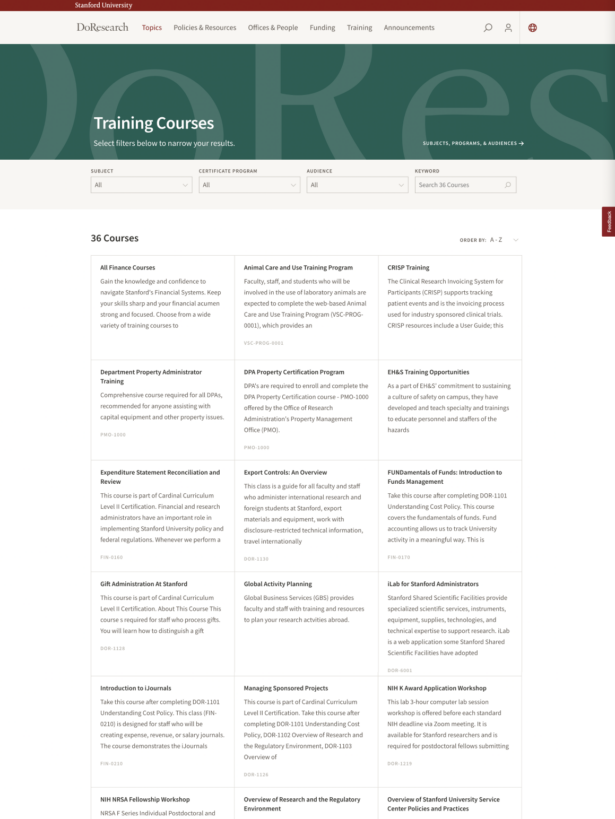 The Solution
Kanopi supported the Stanford DoR team by sharing best practices when it comes to user experience and web development, working in partnership with Three Furies, who led the content and design strategy. 
With a focus on ease of use, we carried over single sign-on functionality to Drupal 8 so that the Stanford DoR community could access vital information in as few clicks as possible. We built a policy book resource with advanced filter functionality and negated the use of custom code, using Drupal core's Book module to assemble the policies.    
By integrating a more user-friendly administrative interface, Stanford DoR can now easily maintain and update content throughout the website on its own.
Key Features
Single Sign-On
The updated website features single sign-on functionality that allows the Stanford DoR community to access the site with ease.
Policy Books
Stanford DoR can effortlessly create and assemble important content with improved advanced filters in a clear and consistent manner.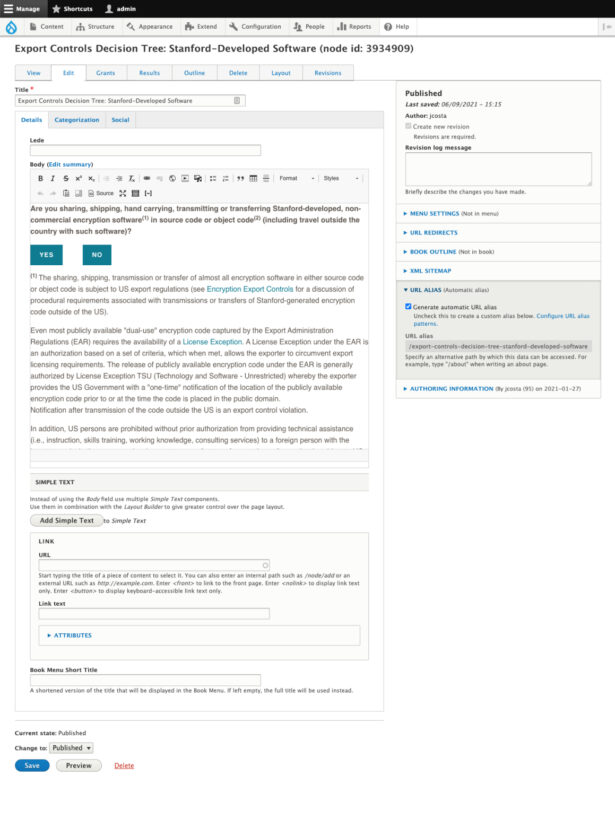 Intuitive Administrative Interface
Essential updates are now quick and easy for Stanford DoR's website team.
The Result
Giving the Stanford DoR team enhanced consistency when creating and publishing content allows them to get vital information to research students and faculty quickly and easily.  
In total, Kanopi migrated 183 nodes from three different content types into a single Policy Book content type, making it possible for the Stanford DoR team to streamline access to essential research how-tos, documents, tools, and manuals previously spread across hundreds of static web pages. This included revision meta data for all 183 nodes.